Inaugural Physician Assistant Class Welcomed During White Coat Ceremony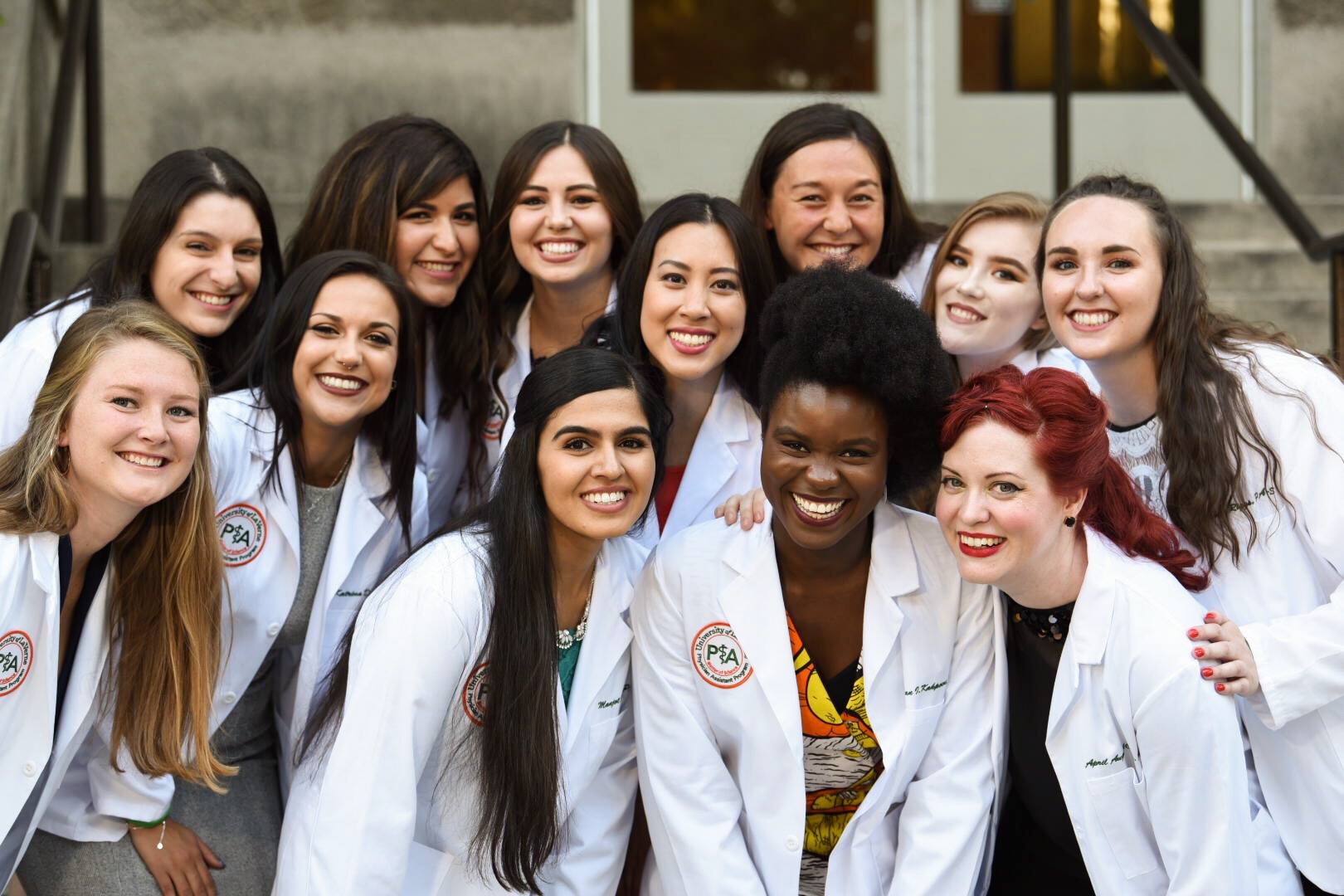 Gallery of Images
Standing before family, friends, and other supporters, the inaugural class of the University of La Verne's physician assistant master's degree program ceremonially donned white coats on Sept. 28 and took an oath to provide care to the sick, seek knowledge, and to collaborate with other health care professionals for the benefit of their patients.
The 22 students, who are expected to graduate in 2020, will spend the next two years working toward their degree and studying and preparing to fill health care jobs that are desperately needed in the Inland Southern California region.
President Devorah Lieberman welcomed the students to the ceremony in the Ann and Steve Morgan Auditorium, telling them that she, members of the board of trustees, and many others had waited for years for this moment to arrive.
"I look at you and my heart is full," she said. "A dream is realized for this university, and you made this a reality."
Physician assistants are trained medical providers who diagnose illness, develop and manage treatment plans, perform medical procedures, assist in surgery, and write prescriptions, among other medical responsibilities.
According to the U.S. Department of Labor, Bureau of Labor Statistics the employment of physician assistants is predicted to grow 37 percent from 2016 to 2026, much faster that the average for all occupations.
Eastern Los Angeles Country and Riverside and San Bernardino counties are experiencing a severe shortage of primary care physicians, exacerbating the needs for physician assistants, and prompting the University of La Verne to launch its master's degree program in the field.
Unlike physicians, who often must commit to one area of specialization, a physician assistant can work in various area of medicine.
Student Oscar Mauricio, a former U.S. Navy corpsman who served in Afghanistan, is among the first students to enroll in the University of La Verne program. He was drawn to the field because of the freedom it allows him to explore various areas of medicine.
"I like learning a little bit of everything," he said. "This gives me the flexibility to move around."
The White Coat Ceremony is a relatively new tradition in healthcare. Some accounts have the first white coat ceremony taking place in 1989 at The University of Chicago Pritzker School of Medicine, and others in 1993 at the Columbia University Vagelos College of Physicians and Surgeons in New York.
The practice that began as a ritual for first year medical students is now a part of the start of the education and training of physicians, physician assistants, nurses, dentists, physical therapist, pharmacists and other future health care professionals both in and out of the U.S.
During the ceremony in Morgan Auditorium, College of Arts and Sciences Dean Lawrence Potter welcomed students to the field.
"This ceremony will join the symbol of the white coat with the virtues of altruism, responsibility, duty, honor, respect and compassion. The white coat reminds physician assistants of their professional duties, as prescribed by Hippocrates, to lead their lives and practice their art in uprightness and honor. The white coat is a symbol of your profession," Potter said.
During the ceremony, Potter also recognized five students – Armando Anchondo, Astrid Alvarez, Daniel Kim, Katrina Duarte, and Mauricios – as the first recipients of the Cardenas Markets Scholarship for Physician Assistants.
Cardenas Markets donated $250,000 to support scholarships for students in the program
James M. Lally, the program's founding medical director, urged students to grow into the types of professionals who take the time to listen to patients and their families.
"Listen to your patients. We can teach you didactic skills," he said. "You can't teach compassion, you can't teach concern, you can't teach empathy. You have to have that."
---