University of La Verne to Host Inaugural California Poetry Festival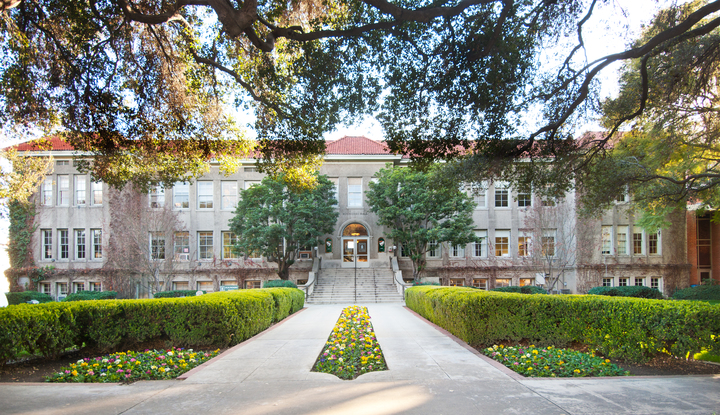 Poetry appeals to many people, but across Latin America, the art form holds a special place in hearts and minds.
"It's customary in Latin America to have poetry readings in public spaces, at book fairs, in schools, on television and on the radio, and, of course, at poetry festivals," said Gabriela Capraroiu, associate professor of Spanish at the University of La Verne. "La Feria Internacional del Libro de Guadalajara, which will take place in November, is the largest book fair in Latin America and the second largest in the world. One million people from about 50 countries will be there. They will listen to poetry from the all over the world, and will leave with a book of poetry in their hands."
That spirit and passion for poetry has inspired the University of La Verne to host the inaugural University of La Verne California Poetry Festival. The festival, which is free and open to the public, will take place over two days and at two locations: Monday, Oct. 8, at the dA Center for the Arts in Pomona, from 7 to 9 p.m.; and Tuesday, Oct. 9, on campus, in the Hanawalt House Courtyard, from 5 to 7 p.m.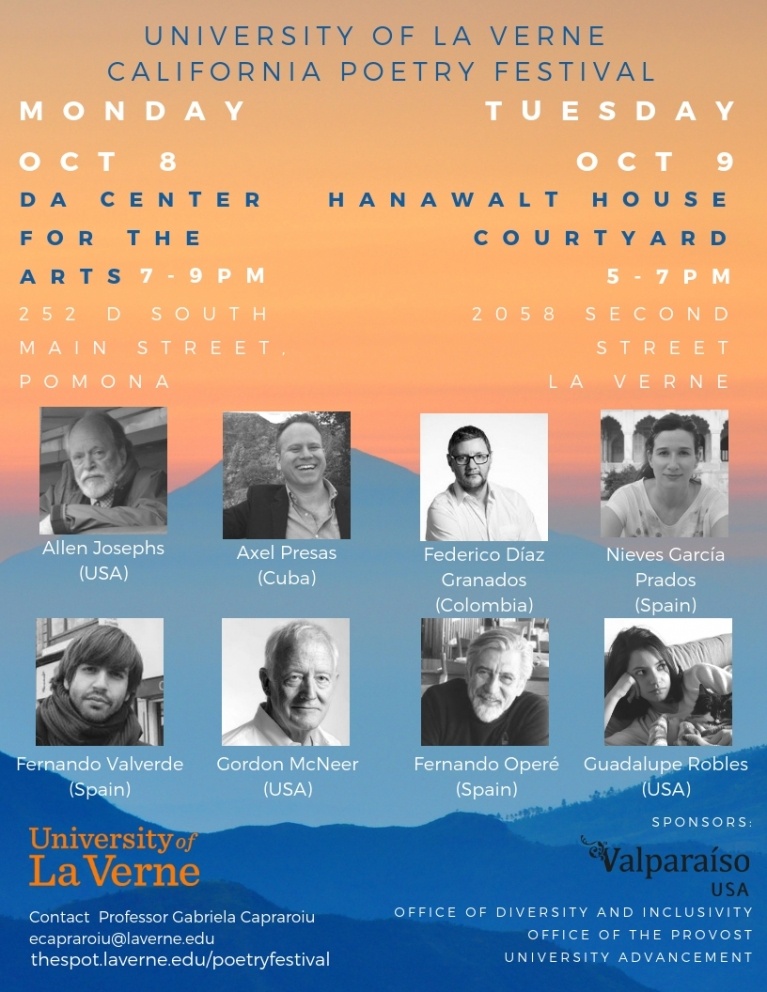 The festival, the first of its kind in the region, brings together poets, translators, and scholars from Colombia, Cuba, Spain, and the United States. It aligns with the University of La Verne's values, said Beatriz Gonzalez, the university's vice provost and chief diversity officer.
"It exemplifies the rich beauty of diversity through the art of these international poets, while feeding our human hunger for lifelong growth and learning in all its fashions," Gonzalez said. "Moreover, the festival seeks to relish that beauty and growth in community – with our university community and with our neighbors."
At both locations, poets will read in Spanish: They include: Federico Díaz Granados from Colombia; Fernando Operé, a Spanish poet and expert on colonial and 19th century Latin American Literature and Poetry; Axel Presas from Cuba, who works on Afro-descendent popular cultures and Literatures in Argentina; and Gordon McNeer, a poet of Mexican American descent, a translator of significant contemporary Spanish poets, and director of Valparaíso Editions USA.
At the Hanawalt House, in addition to the poetry reading, Presas will give a talk on "Magic, Religious, and Popular Convergence in Afro-Cuban Poetry and Fiction." There will be a round table discussion on poetry translation with Allen Josephs, Hemingway and Lorca scholar and translator; McNeer; and Nieves Garcia Prados, whose translations into Spanish include Pulitzer Prize authors Mary Oliver, Charles Simic, Natasha Trethewey, and USA Laureate Poet Juan Felipe Herrera, who spoke at the University of La Verne's Frederick Douglass Human Rights Lecture last year.
The event also includes a University of La Verne alumna among its participants.
Guadalupe Robles graduated last year with a degree in creative writing and Spanish. She recently finished Persistance of Tattoos, her translation of Persistencia de los tatuajes by Bolivian poet Gabriel Chávez. The book was published last month by Valparaíso USA and will be presented at the festival.
Talks and round table discussions will be in English. Poets will read in Spanish to convey the beauty of the language in poetry that comes through sound and rhythm.
The festival will give students the opportunity to begin a conversation with the poets on how poetry deals with issues such as migration, indigenous communities, and languages.
Guests are encouraged to RSVP at at https://thespot.laverne.edu/poetryfestival
---