San Bernardino County District Attorney Offers Advice and Wisdom at College of Law Commencement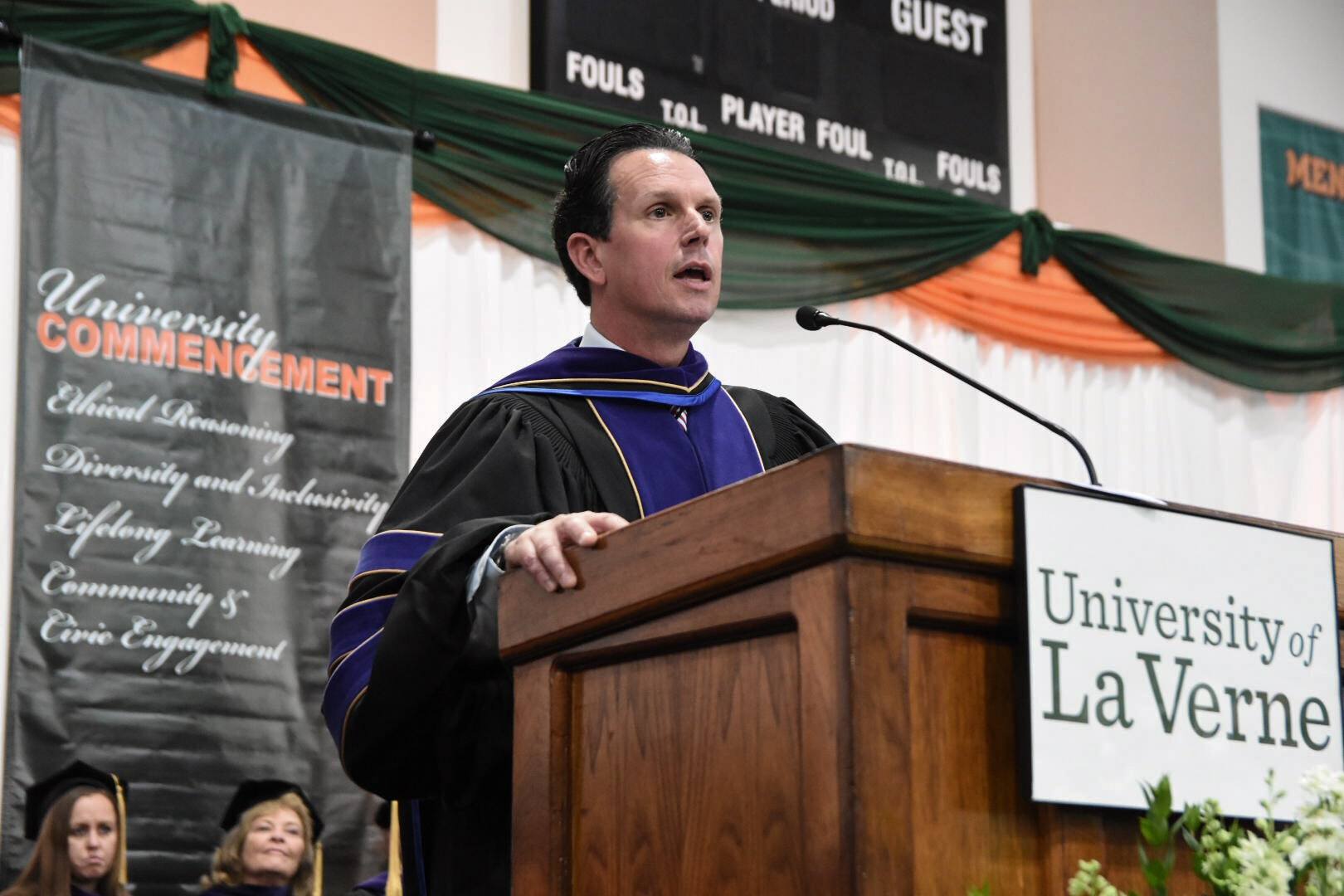 Jason Anderson, the district attorney of San Bernardino County, urged University of La Verne College of Law graduates to use their degrees to make meaningful contributions to their communities and to the legal academy.
"Act humbly always with humanity in mind," Anderson said. "And act intentionally leaving behind a legacy that inspires others."
Anderson, who took office in January, delivered the keynote address at the College of Law commencement ceremony on May 11. He was elected as the county's top prosecutor in November, pledging more transparency to the office. As district attorney, he oversees 200 deputy district attorneys in an area stretching 20,105 square miles and serving more than 50 communities.
At the commencement ceremony, Anderson told the Class of 2019 to have gratitude and remember those who helped along the way. "Make your mark, but also be that person who others will be thanking for your good work and mentorship 30 years down the road," he said.
Anderson challenged the 93 Juris Doctor recipients to be mindful of every stage of their lives – beginning with the launch of their legal careers.
"You will soon start working and it's important to embrace their clients and colleagues. Your clients are trusting you. They are trusting you with their lives in some cases. Don't ever lose sight of that."
Anderson advised the new lawyers to seek out relationships with both advocates and adversaries. "You will likely be spending more time with colleagues than your family. Learn from them and realize the value of your colleagues. … Also, embrace your adversaries. Confrontation is what makes our legal system the best in the world. Adversaries will push you and challenge you, and make sure what you say is true. Your adversaries may end up being your best teachers."
Kevin Marshall, interim dean for the College of Law, reminded the graduates that they have chosen a sacred and honorable profession.
"You are charged with a sacred responsibility of guarding over and securing the self-evident truth that our founding mothers and fathers proclaimed to the world: we are all created equal," said Marshall. "You will soon have the opportunity to become the next civic and constitutional superheroes with the skills and powers to actively engage in securing for us all a just and life-giving existence."
University President Devorah Lieberman congratulated the graduates and urged them to savor their accomplishments with pride and admiration.
"You have pushed yourselves and have grown immensely during your time at the University of La Verne College of Law," Lieberman said. "But I charge each of you to continue to grow professionally throughout your career. The future of justice rests in your capable hands."
College of Law graduate Ashley Sura, who posted the highest grade point average over her three years the College of Law, said the University of La Verne law degree is an opportunity.  "This degree is so much more than a piece of paper," Sura said." It is knowledge and a stepping stone to skill. It is the opportunity to advocate for those in need and to give voice to those who are unheard. It is the foundation of our careers, a future for our families, and a pillar of success. And, I have no doubt that, among us, there are those who will take this degree and change the world."
Gallery of Images
---