University of La Verne is Proud to Welcome Sigma Gamma Rho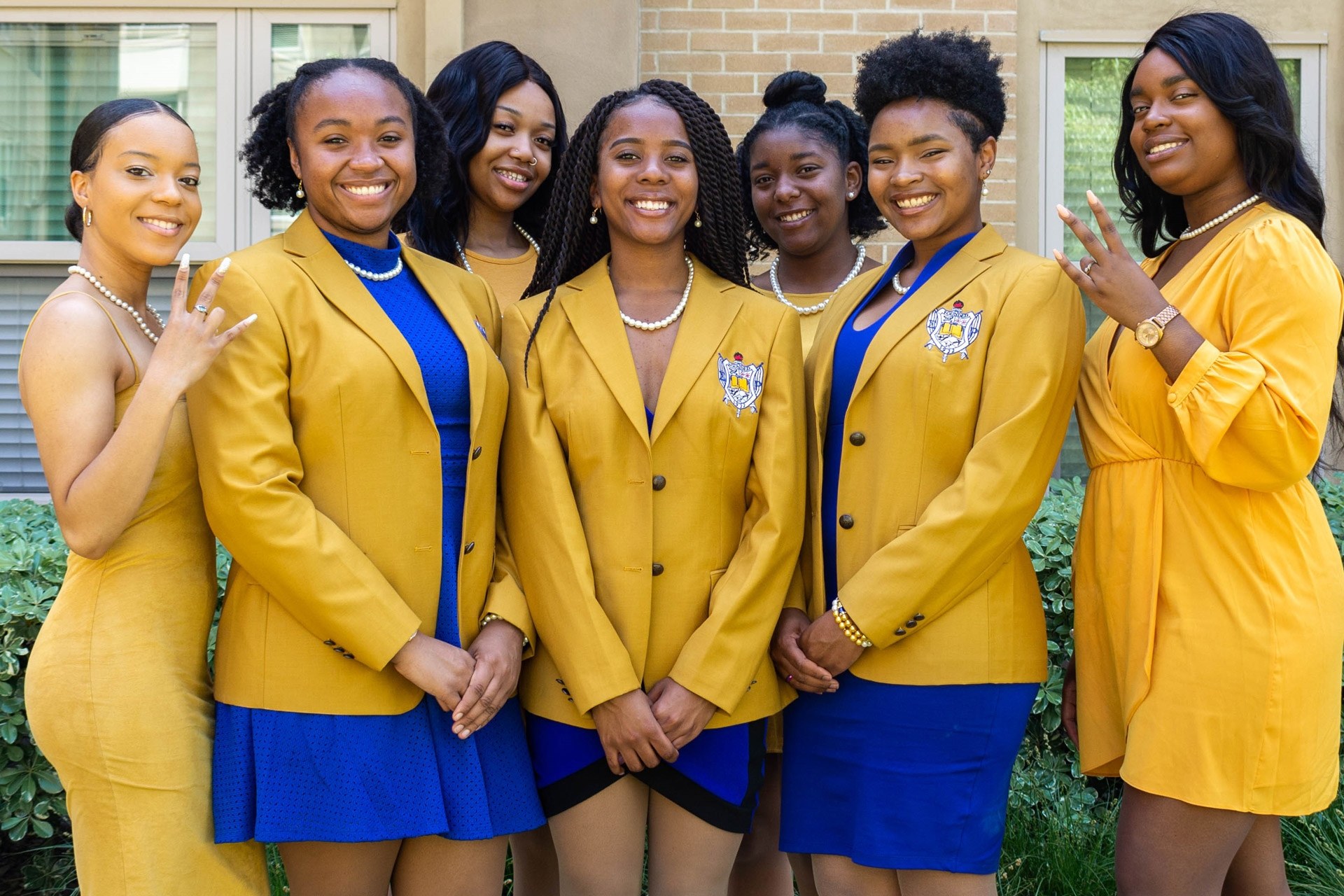 They step, they chant, and they give back–meet the women of Sigma Gamma Rho, Inc., the University of La Verne's first African-American sorority. The eight women of the "tenacious Tau Nu chapter" are excited to celebrate their second anniversary at the University of La Verne.
The sorority is a Divine Nine organization, referring to the nine historically black Greek organizations. Divine Nine fraternity Iota Phi Theta proposed an official charter at the University of La Verne before a panel of administrators on April 23.
The sorority's founding members, senior Keyera Collins and alumna Kyerra Green, were inspired to create the organization following the university's re-commitment to diversity in 2014. They were encouraged by their affiliated graduate chapter and the city chapter that included Cal Poly Pomona and Cal State San Bernardino.
"It's important to have more Divine Nine organizations on campus and create a space for black students to feel comfortable in their blackness," said Gracyn Brown, the sorority's vice president.
The sorority is community service-based, holding many fundraisers and philanthropic events throughout the school year.
"We really try to live up to our motto, 'Greater service, greater progress.' We know that even the smallest event or slightest interaction can really impact someone's life," Chapter President Tyresha Willis said.
Every semester the Poodles participate in their national organization's event, Operation Big Book Bag, a donation drive that fills backpacks with school supplies for children in need. Since their charter in 2017, they have donated over 140 backpacks.
"We also raise money for March of Dimes, St. Jude's, March for Babies and Project Cradle Care," Willis said. "We went to a local facility and hosted a workshop to give mothers information on how to care for the safety of their children and ways to care for themselves after childbirth."
At the event, the Poodles donated car seats, toys, and gift baskets to the mothers.
Of all their yearly events, Willis says their most attended event is their neophyte presentation in which they induct their new members.
"People want to know what's going on when they hear us yelling, chanting, and stepping," Willis said.
Neophyte presentations are traditional of all the Divine Nine organizations. Willis says the new member debut is an opportunity to show the campus how proud they are to be a Poodle, a symbol of intelligence and class.
"There's not a huge demographic of African-American students at the university, so we feel it's important to have a historically black organization, specifically for females, because it fosters a sense of community and belonging we may not have otherwise had," Willis said.
The sorority often collaborates with their sister chapter at Cal Poly Pomona, their graduate chapter and are excited a Divine Nine fraternity is in the works.
"I joined Sigma Gamma Rho because it felt like home. When you're searching for a Greek organization you want to be part of it. You need to make sure it's right for you because once you're in it, you're in it for life," Willis said.  "I wanted to be a part of something that's bigger than me and that gives back. Yes we have a sisterhood and are social, but we have a bigger purpose."
Sigma Gamma Rho will be hosting its second annual "Issa BBQ" on Friday, May 17 from 2 p.m. to 6 p.m. in the Vista La Verne Courtyard. Presale tickets are $7. Questions can be directed to Thandiwe Ware at thandiweware@laverne.edu.
Women of all races and ethnicities are welcome to pledge this sorority. For questions, contact Tyresha Willis at tyresha.willis@laverne.edu and follow the sorority on Instagram @sgrhotaunu_ulv.
---