Broadcast Students Earn Top Honors at Alliance for Community Media Awards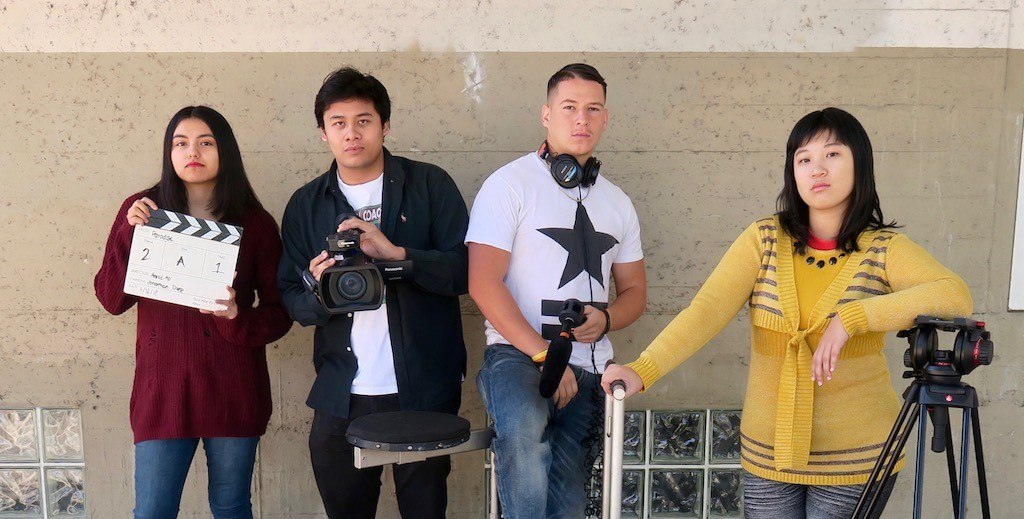 University of La Verne student films took top honors at the Alliance for Community Media's Hometown Media Awards, a national competition honoring the best community media in the country.
Each year, thousands of entries from professionals, community producers, and students are submitted and evaluated by a panel of industry professionals. Awards are presented to the most creative programs that address community needs, develop diverse community involvement, challenge conventional commercial television formats, and move viewers to experience television in a different way.
Senior project film "AVA" placed in the Best Student Drama category. The 20-minute short film, created by an all-female team, is set in a modern dystopia where talking is obsolete and communication is minimal.
"I loved editing the film and it was amazing being part of an all-female group," said senior Florencia Schinoff.
Professor Don Pollock's advanced video class took home two titles in the competition.
"It's a great class because for each project I incorporate what I know and learn from my group mates too," said Daisy Perez, alumna '19.
Pollock's class creates Spotlight, a monthly video magazine that focuses on interesting people, places, and events in and around La Verne and San Dimas.
A segment from Spotlight's Fall 2018 show on the Fairplex's Chinese Lantern Festival won in the Best Student Cultural Perspective category and Spotlight's 2017 show won for Best Student Magazine Show.
"Working on Spotlight is a great way to get real-world experience," Perez, who worked on the 2017 piece, said. "It's always so nice to see our hard work recognized."
The student works will be honored at a ceremony later this summer in Portland, Oregon where they will receive a personalized plaque.
"We have won numerous awards from Hometown in the past. They are on the walls of the Arts and Communications Building and listed on the Communications Department website," Pollock said.
To learn more about the University of La Verne's Communications Department, visit artsci.laverne.edu/communications.
---