University of La Verne Students Participate in 2019 Western Psychological Association Conference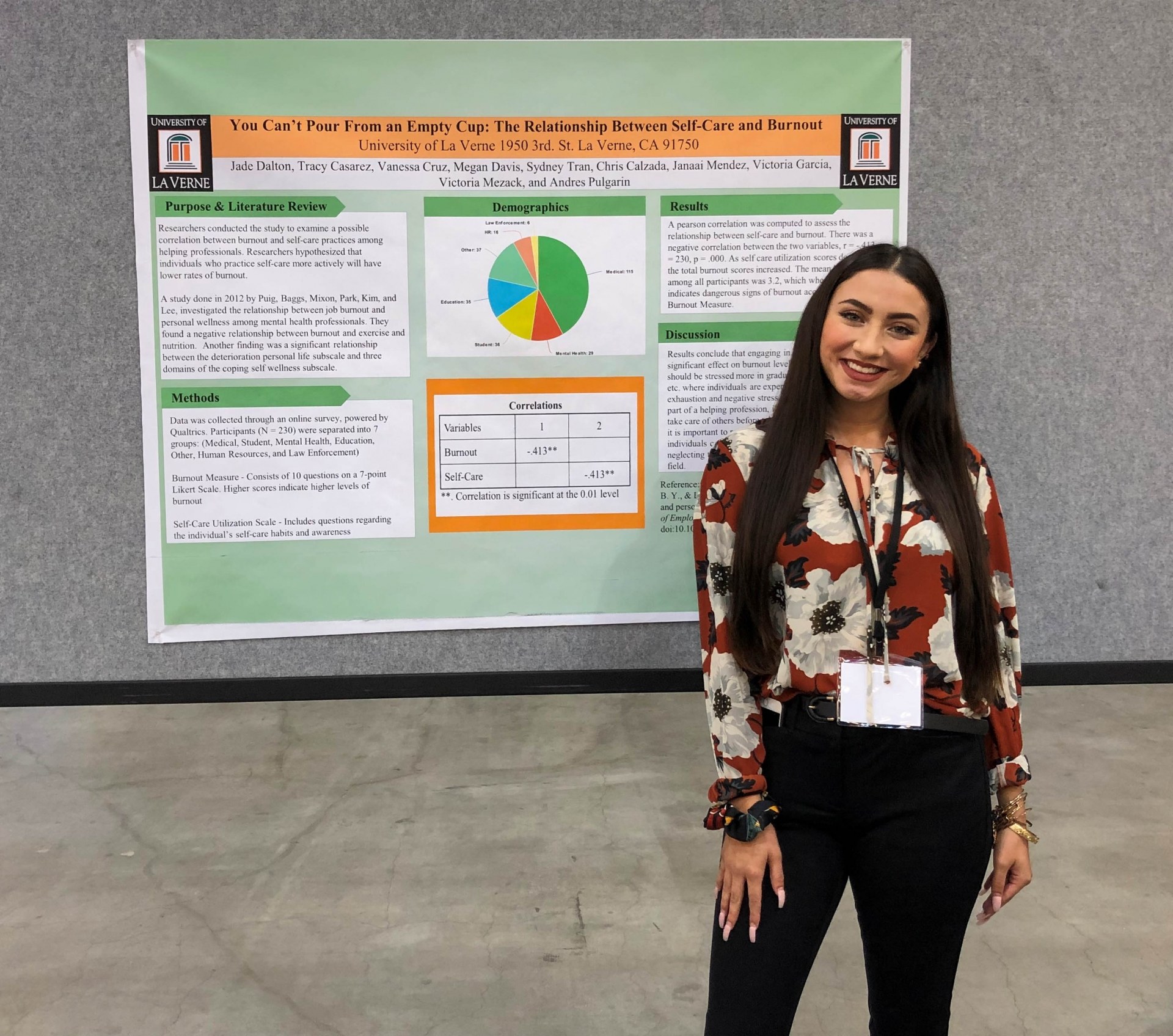 University of La Verne psychology students were among 60 students across the country to present their abstracts in the Psi Chi poster session during the 2019 Western Psychological Association Conference. All 17 abstracts submitted by students at the University of La Verne were accepted and presented earlier this month to a network of industry professionals.
During the conference, students presented on a variety of topics, including "The Relationship between Interprofessionals' Marital Status and Susceptibility to Burnout" and the "Impact of Education on Helping Professional Work Burnout."
According to the research, "work related burnout causes a psychological state that is known to express high levels of emotional, mental, and physical exhaustion." The students took a closer look at the relationship between the highest levels of education completed to the amount of resilience and the level of burnout among helping professionals.
Seeking Answers
"Although our research was enlightening, there are still many steps to take to solve the problems we aimed to study," said Andres Pulgarin, '20. "Burnout in professions and high-level education is ever-present. Representation of minorities and their respective struggles needs to be studied further."
There were many moving pieces to each of the studies conducted over the past year. Students Tracy Casarez, '18, and Megan Davis, '18, served as research creative leads. It was their responsibility to help delegate work among all the students and review the material.
"It is really rewarding and supersizing to see all of the pieces come together and form an elaborate portrait," Davis said. "It is an amazing feeling to see your team work together and discover these results."
Prior to the conference, students conducted literature reviews, located scales, and organized their research for submission to the Institutional Review Board, and followed it by collecting data. The students then had to gather participants, hand out surveys, and later analyze the data by the November deadline for abstract submissions.
Hard Work Pays Off
"It took patience, endurance, and persistence," said Michelle Alfaro, PsyD, adjunct professor of psychology at the College of Arts and Sciences. "But I knew that the students I picked were capable of all that and more."
Some of the more challenging aspects of the research process were gathering surveys, obtaining a strong participant pool, and then analyzing the data. "With over 300 recruited participants, we had to categorize their survey responses based on the type of interpersonal careers they reported, such as medical, teachers, and mental health workers," said Victoria Mezack, '19.
For many of the students, the next step is to continue their research in graduate school and eventually publish their findings.
"I'd like to further my research projects with the goal of finding more significance," Davis said. "I would like to use the data I collect to help bring change for the better."
Professor Alfaro and her students will attend the American Psychological Association Conference held in Chicago, Illinois later this summer. Three out of the four abstracts that were submitted have been selected to present.
"The work these students have put into each project is beyond what I ever expected," Alfaro said. "They showed me their dedication and their level of understanding to how impactful research is."
To learn more about the University of La Verne's Psychology Department, visit artsci.laverne.edu/psychology.
Gallery of Images
---