Alumnae Honored During 2019 Homecoming and Family Weekend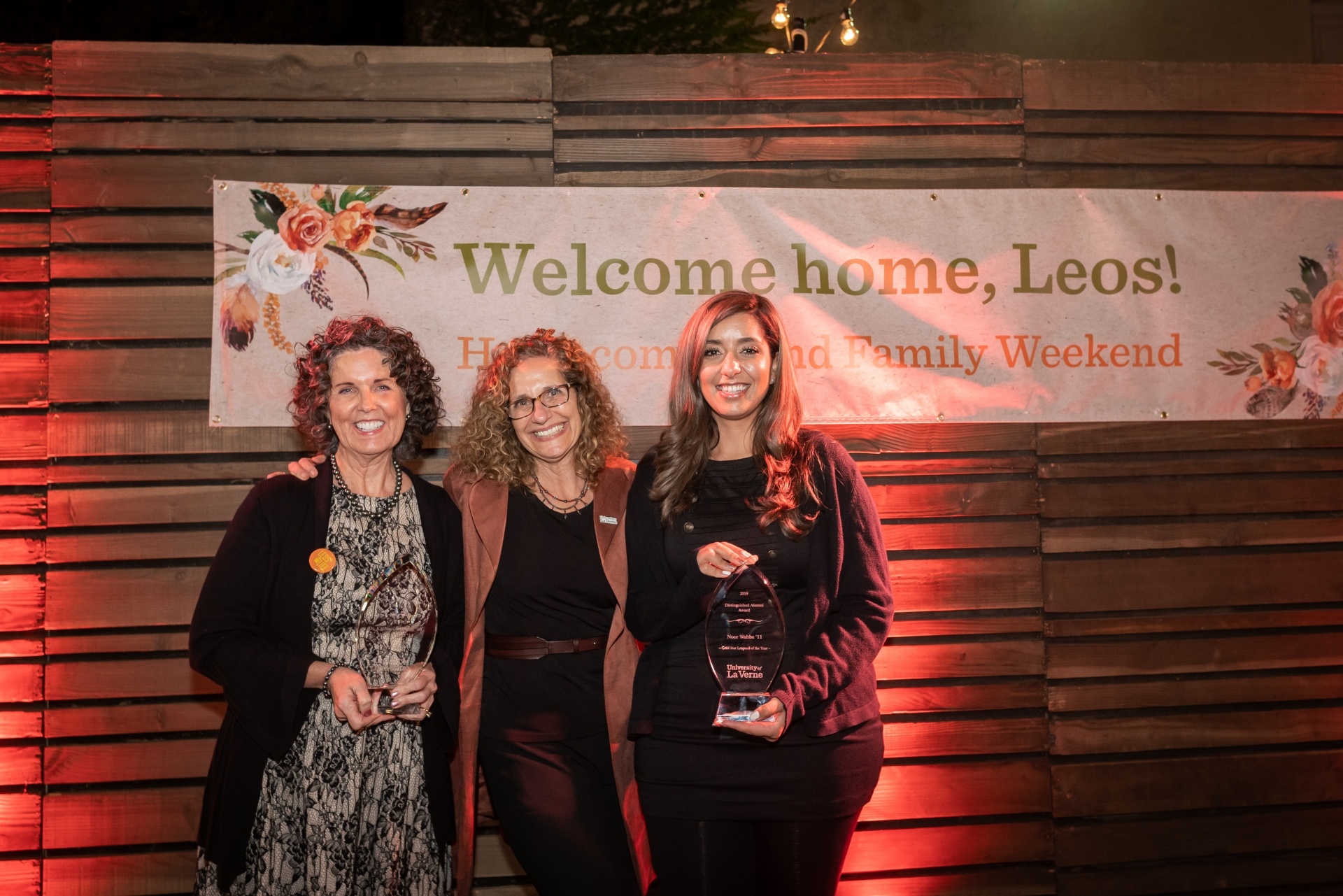 Photo caption (l-r): Kathy Williams, University President Devorah Lieberman, and Noor Wahba celebrate their Leopard of the Year Awards during the 2019 Alumni Reception. 
On Friday, October 18, the University of La Verne honored two alumnae, Kathy Williams '99, MS '02, EdD '15, and Noor Wahba '11 during the 2019 Homecoming and Family Weekend in recognition of their professional accomplishments, community involvement, philanthropic efforts, and support of the university.
During the Alumni Awards Reception, Williams received the Ann and Steve Morgan Leopard of the Year award. The Los Angeles native has spent the past 40 years in the health care field, including stints in pediatric nursing, nursing education, and geriatric consultation in osteoporosis. She played a critical role in the early development and implementation of Kaiser Permanente Southern California's Healthy Bones Program. She currently serves on the board of directors for American Bone Health in Oakland, California, and works as a bone health consultant.
"A huge thank you to my husband, Ron, and Dr. Peggy Redman for their continued support over the years," Williams said. "Redman was truly my inspiration for pursuing my doctoral degree." Williams completed her doctoral degree at age 60.
Wahba received the Gold Star Leopard of the Year Award during the reception held in the quad between Miller Hall and Founders Hall.
"I'm beyond proud to be honored as a Leopard of the Year," Wahba said. "The University of La Verne truly created the best version of myself, and more importantly has molded me into the leader I am today."
Wahba is the producer of Nick Cannon Mornings on Power 106 FM in Los Angeles. Her passion for media began when she majored in radio broadcasting at the University of La Verne. In her current role, she produces the morning show, creates and edits the multimedia content as well as supervises contests, manages interns, and operates the board.
Stay connected with the University of La Verne at Leo Connect, an online networking platform specifically for the university's alumni. Join today at leoalumninetwork.com.
Photos by Enzie Photo
Gallery of Images
---