University of La Verne Partners with Western University of Health Sciences for a Special Vision Screening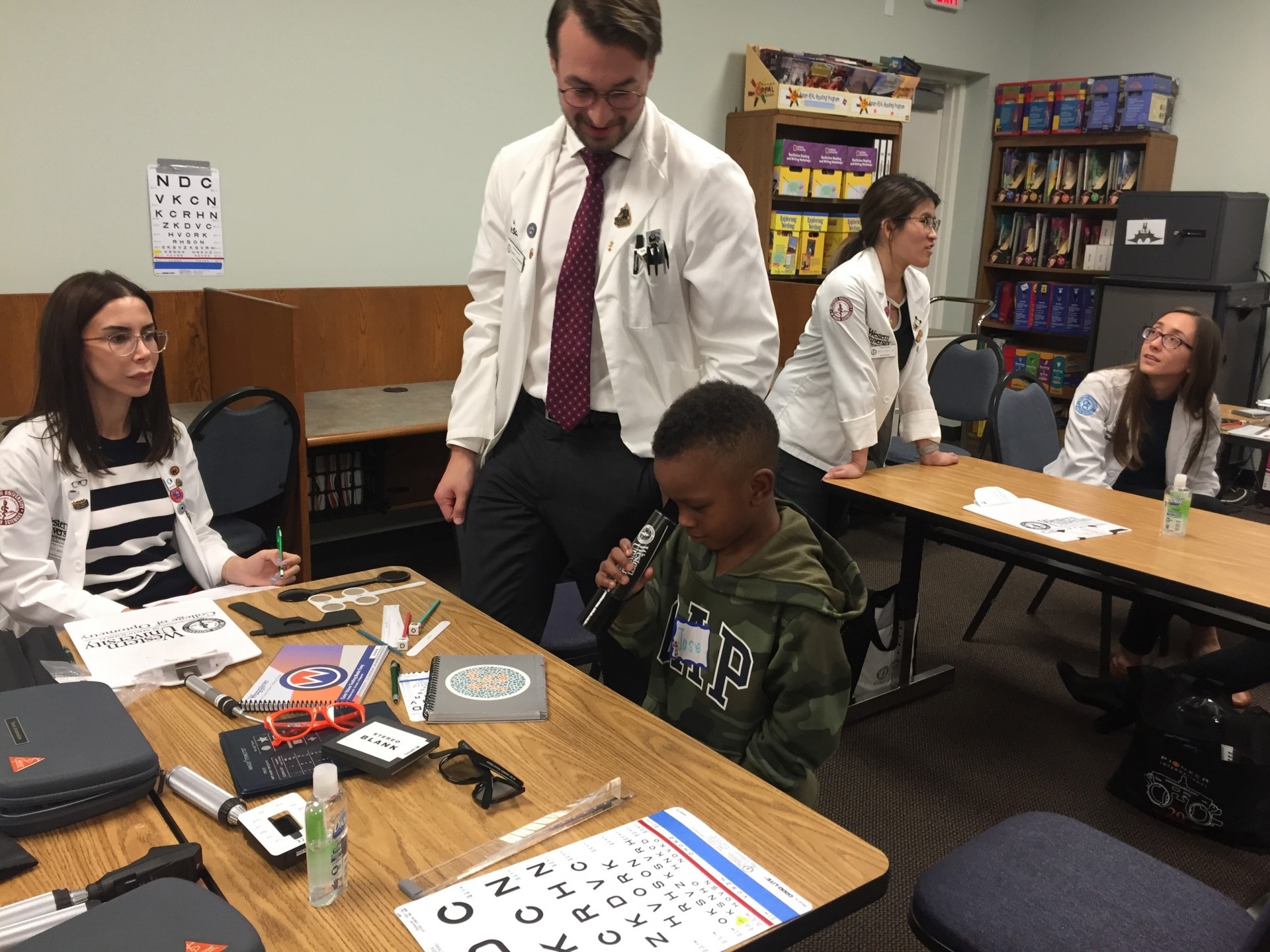 The University of La Verne's Center for Neurodiversity, Learning, and Wellness (CNLW) partnered with Western University of Health Sciences (WesternU) for a special vision screening for children in the community and those participating in the center's literacy tutoring program.
Nine second and third-year students conducted exams that consisted of identifying problematic symptoms around eye focus, coordination with moving objects, and depth perception.
"Our goal is to help children improve their visual skills by identifying specific markers that indicate their eyes are working too hard," said third-year student Audriana Arcenenox.
After each screening, parents were briefed on their child's performance by Brady Habermehl, OD, chief of vision therapy services and assistant professor at WesternU and John Tassinari, OD, chief of pediatric optometric service and associate professor.
"Many of the parents we met were relieved to hear the results," said Habermehl. "It gave them the knowledge and resources if needed to identify any red flags and learn more about vision therapy."
Vision therapy is an individual treatment plan designed to help children and adults who experience visual function and performance challenges. Every 12 weeks, individuals are evaluated based on their strengths and weaknesses.
According to the American Public Health Association, 25 percent of students in grades K-6 have visual problems that are serious enough to impede learning. It is common for children with learning disabilities to possess a high prevalence of visual deficiencies.
"It was a natural collaboration for the center and WesternU," said Amber Bechard, associate director of literacy and outreach for the CNLW. "We are all committed to helping our students succeed with the tools for improved vision literacy."
Following the screenings, graduate students from LaFetra College of Education at the University of La Verne converged with the students from WesternU for an in-depth discussion on the screening results and how to help their students in the classroom.
All programs offered by the CNLW are designed to help neurodivergent students of all ages to recognize and develop their unique strengths while gaining the skills and accommodations needed to maximize cognitive function, emotional regulation, physical health, and social inclusion.
For more information, visit education.laverne.edu/neurodiversity or contact the Center for Neurodiversity, Learning, and Wellness at 909-448-4435.
Gallery of Images
---