University of La Verne Physician Assistant Program Steps Up During Global Pandemic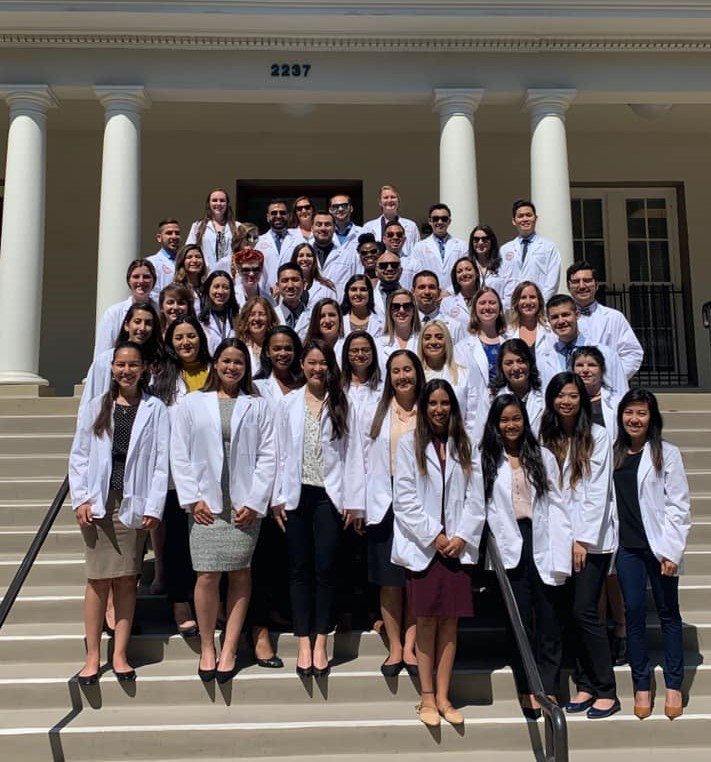 This week, the University of La Verne celebrates essential healthcare workers for National Physician Assistant (PA) Week. This national event is celebrated yearly from Oct. 6-12 in recognition of PAs and their contributions to the healthcare profession.
Students in the Master of Science in Physician Assistant Practice program at University of La Verne study the holistic complexities of the profession both inside the classroom and in the field through clinical rotations. Students in the program prepare to serve in this high-demand career field, which has become even more coveted during the COVID-19 pandemic.
Caroline Le, MS '20, is in the inaugural cohort of physician assistant students and serves as student liaison in the PA program as well as a University of La Verne presidential ambassador. Since starting her graduate program, she has dedicated herself to classroom studies and clinical rotations. Once the sudden rise of COVID-19 shifted the University of La Verne to primarily remote operations, she and her classmates were sent on an expeditious track of hands-on experience. Thanks to the coordination and dedication of faculty and staff, classwork and clinicals were shifted online quickly, which resulted in minimal to no delays.
"Our clinical coordinator was very persistent in securing us clinical sites, as many had shut down temporarily during this time for students," Le said. "Dr. Williams, Dr. Estrada, Laura Cantrell, and the rest of the faculty have worked very hard for all of us, so we are able to graduate on time."
Le and her colleagues have gained clinical experience in placements such as nursing homes, emergency departments, intensive care units, and in operating rooms, to name a few. Each student has shown their dedication to the profession by continually showing up to serve safely alongside doctors and patients, despite COVID-19 concerns.
According to program policy, students are not directly tasked to assist positive COVID-19 patients. However, the services students are providing in routine healthcare operations have alleviated stress to practitioners on the frontlines and have been essential to keeping clinical sites operational.
"We are trying to face this pandemic together," Le said. "Although we may not be together as we'd like to be, we are still making a difference within the community."
Outside of classwork and clinical rotations, Le and her colleagues volunteer to make positive impacts in the community.
Haily Helton, MS '20, is in the inaugural cohort and serves as community service committee chair. She has helped coordinate volunteer initiatives such as toy drives, cancer charity walks with Relay for Life, homelessness assistance programming with Adopt-A-Family, and more. Helton has found ways to continue some of these efforts virtually and sees the importance of volunteering as a student in the healthcare profession.
"Now is all the more reason to get licensed as a PA," Helton said. "The community needs more healthcare providers."
Brittney Diffiné, MS '21, is in the second cohort and serves as PA Student Society (PASS) outreach chair. She has dedicated time to distribute hygiene package donations and 130 face coverings to the INSAN Foundation, a non-profit organization dedicated to ending hunger and poverty to vulnerable populations in the greater Los Angeles area. Diffiné also found ways to creatively continue their volunteer efforts by contributing to the foundation's GoFundMe account online and, along other participants, collectively raising $7,000 to support a homeless shelter in Pomona. They also created a virtual Relay for Life team and raised approximately $1,200 in support of cancer research among other charitable initiatives.
"Transitioning to remote operations was tough, but our team did not skip a beat moving forward," Diffiné said.
Katie Richardson, MS '21, serves in the second cohort as PASS president and has used this time to add social justice awareness opportunities into their community. After a candid conversation with classmates on their personal and professional experiences in the healthcare profession, Richardson saw a need for further dialogue. With this in mind, she helped create an anti-racism initiative within the program to continue dialogue and stay grounded to the socioeconomic impacts that affect patients. Christina Massuros, MS '21, serves as PASS diversity chair and also assisted with the creation of the initiative.
"Our class had so much to say on the topics of race after the murder of George Floyd and countless others, so we opened up a town hall discussion to get to the root of our practice and purpose," Richardson said.
Monique J. Williams, assistant professor and academic coordinator of the physician Assistant program, teaches holistic healthcare to her students. Her course load includes a three-part series of courses titled "Health, Medicine, & Society I, II, III," which spans multiple topics on societal influence in the medical profession.
"Holistic education means more than just understanding medicine itself," Williams said. "We focus on patient concerns just as much as medical concerns, because PAs tend to take on the responsibility as patient advocates."
Williams and other faculty members have made it a point to provide personal and professional check-ins with each student to ensure they were taking care of themselves mentally and physically.
Michael Estrada, founding program director of the Physician Assistant Program and associate professor of health, sees how each student, faculty member, and staff member in the program has made strides to support communities during COVID-19.
"This is a crash course of reality that not many students will be able to say they have experienced," Estrada said. "Our students' holistic education, safety, and well-being is our top priority."
Estrada recognizes how his PA students have continued to find ways during this time to follow the physician assistant program mission, which aims to, "educate diverse, ethical, collaborative, and holistic medical providers committed to eliminating health disparities."
To learn more about the physician assistant program, please visit artsci.laverne.edu/physician-assistant.
---