Alumnus Gives Communications Department His Two Emmy Awards for Public Display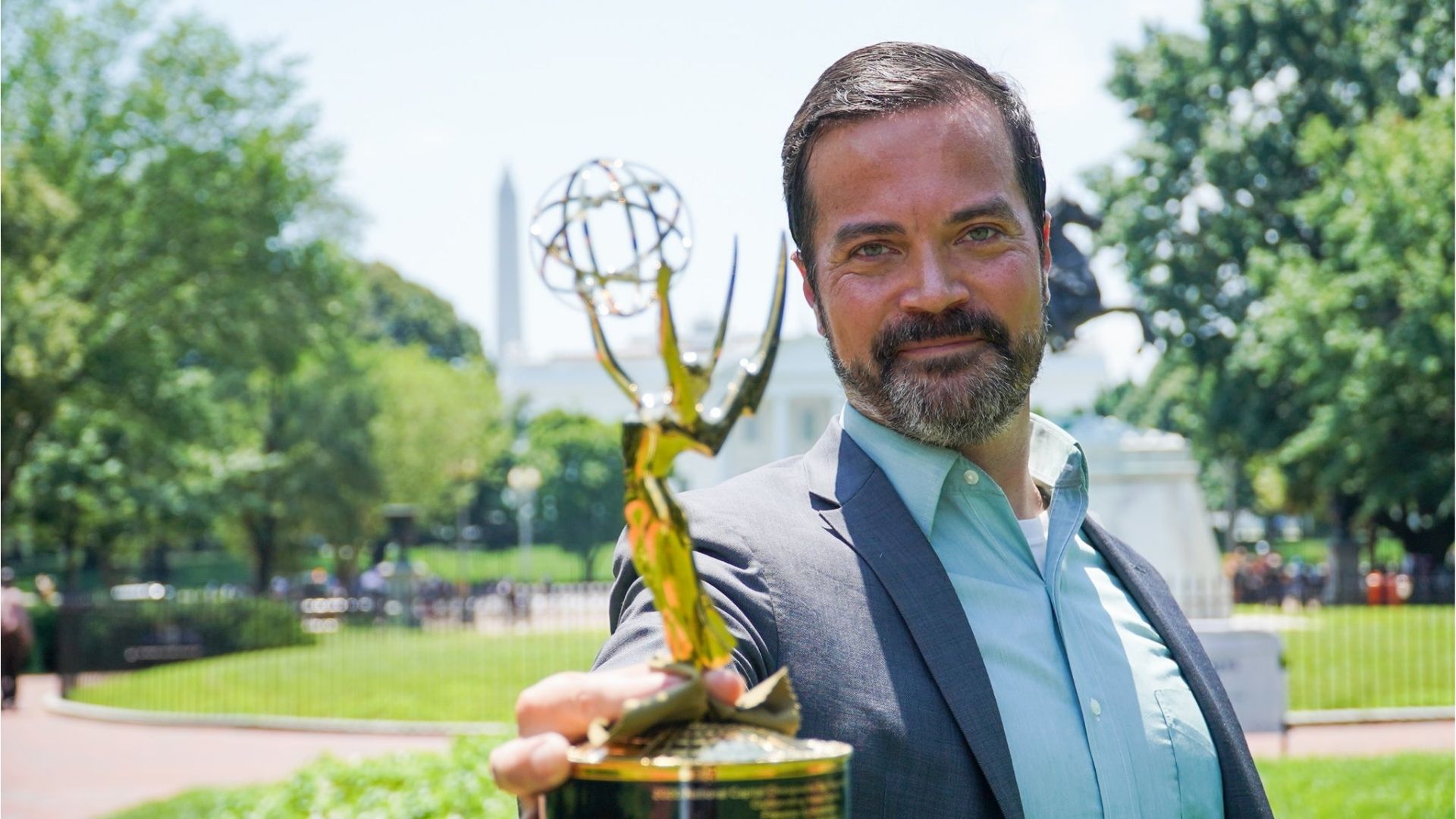 Broadcast journalism alumnus Nathan Baca '03 has donated to his alma mater two Emmy Awards that he won in 2020 for investigative reporting at television station WUSA 9. He won the awards for coverage of protests in Washington, DC. Baca won three Emmys in 2020.
Baca's gift to the Communications Department will join awards won by fellow alumni that are displayed in and around the Arts and Communications Building. Baca remembers walking past the wall of awards as a student and the impact they made on him. He vowed to make a similar gift someday and has now kept that promise.
Baca got his start in journalism in 2003, became a reporter two years later, and then transitioned to investigative reporting in 2010. He began his career at NBC affiliate KMIR in Palm Springs as an intern, then became a general assignment reporter for the Palm Springs ABC affiliate KESQ. He later worked in Las Vegas and in Columbus, Ohio before heading to Washington, DC, where he is currently a reporter at WUSA 9.
Baca said his experiences with faculty and staff such as Don Pollock, emeritus professor of communications; George Keeler, professor of journalism; Shane Rodrigues, manager of broadcast operations; and recently retired professor of radio and communications Mike Laponis made his education personalized and special. He felt his experiences at the university prepared him for journalism as part of the national dialogue.
"A La Verne education was just as good, if not arguably better, than larger schools," Baca said. "I would put a La Verne education against any program at any time."
Baca added that "what La Verne has to offer is that individual education where you really get to know your professors, you really get that mentorship." As a student, he enjoyed smaller class sizes and the ability to individualize his program. He felt that the broadcast program "incentivized self-initiative," which he has carried into his career today.
As an alumnus, Baca wants to encourage students to seek greatness. He hopes that the awards will serve as an inspiration and as a reminder that the University of La Verne provides the tools needed for career achievement.
---