University of La Verne's 2022 Scholarship Gala Raises Record Amount for Student Support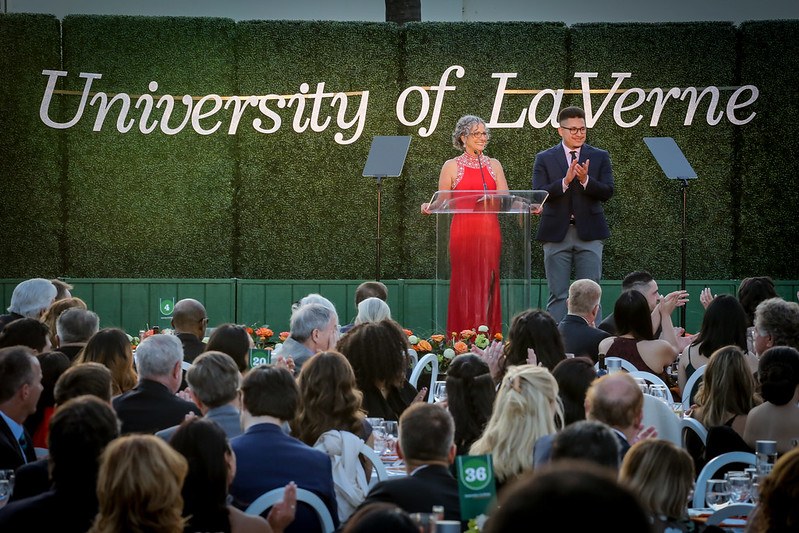 The University of La Verne raised a record $1.1 million for student scholarships—and announced the receipt of more than $2.7 million in additional gifts and pledges—during the 2022 Scholarship Gala on Saturday, April 23.
About 600 guests, including civic and community leaders, attended the black-tie celebration, which was held for the first time in the event's history on the University of La Verne campus. Guests mingled, dined, and enjoyed a short presentation outdoors amid elegant ivy-covered walls, floral bouquets, and festive university colors.
"This setting has reminded us why we love the University of La Verne and why we continue to work tirelessly for our students," President Devorah Lieberman told the attendees. "And, tonight, it is about you and our student scholarships."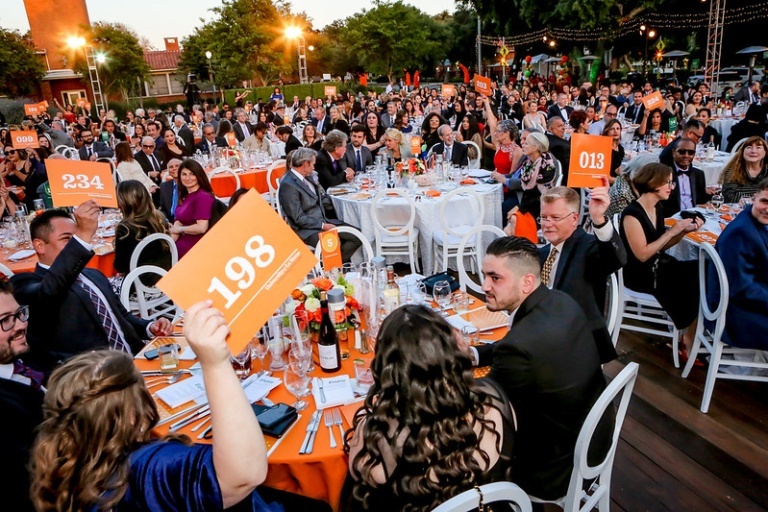 About half of University of La Verne students are the first in their families to attend college, and 98 percent need and receive financial aid. This year alone, the university allocated about $55 million in institutional grants and aid to support them.
During the Scholarship Gala program, Lieberman invited one such student to the stage to share his story. Ian Mendoza, a first-generation college student from Rancho Cucamonga, plans to use his business administration degree to help his family expand its food truck business.
He was joined on stage initially by just his parents. Then, one-by-one, Lieberman called up nearly 20 university faculty and staff who supported Mendoza on his college journey. When complete, he was enveloped by the comprehensive support network that made his college education possible.
"Ian and his champions represent all University of La Verne students," Lieberman said. "Our students come from various backgrounds and circumstances, but they all have the common goal of gaining a quality education so they can graduate, having successful careers, and positively impacting their communities."
In addition to the $1.1 million raised by the event itself, several other significant contributions to the university were announced at the Gala. They included:
$1 million from San Bernardino County Chair of the Board of Supervisors, Curt Hagman, to support the new Randall Lewis Center for Entrepreneurship, Innovation, and Social Impact, located in Ontario, intended to positively impact San Bernardino County.
$1 million from Inland Empire Health Plan Foundation by and through the efforts of Chair of the Board of Supervisors, Curt Hagman, to support the College of Health and Community Well-Being, intended to positively impact San Bernardino County.
$720,000 from Adventist Health White Memorial Hospital, led by Trustee John Raffoul, to support the nursing program at the College of Health and Community Well-Being.
"Knowing that there is such strong support for our university is deeply encouraging and only strengthens our commitment to providing a relevant, equitable, and quality education to our students," said Sherri Mylott, vice president for University Advancement. "Our future looks bright indeed."
This year marked the return of the Scholarship Gala following a two-year hiatus due to the COVID-19 pandemic.
Civic leaders in attendance included: State Senators Anthony Portantino and Susan Rubio; San Bernardino County Supervisor Curt Hagman; La Verne City Council Members Muir Davis and Wendy Lau; Ontario City Council Member Debra Dorst-Porada; Pomona Unified School District Superintendent Richard Martinez; Pomona Unified School District Trustees Roberta Perlman and Andrew Wong; Rancho Cucamonga City Council Member Kristine Scott; Western University of Health Sciences President Robin Farias Eisner; Ohlone College President Eric Bishop; and Julie Miller-Phipps, president of Kaiser Permanente Southern California and Hawaii Health Plan and Hospitals.
The Scholarship Gala closed with a drawing for a 2022 Toyota RAV4 XLE, which was generously donated by the OREMOR Automotive Group, and won by alumna Melissa Chavarria '18.
Presenting sponsors of the Scholarship Gala included Trustee Sue Searing and her husband Lee Searing, and the Ludwick Family Foundation.
Gallery of Images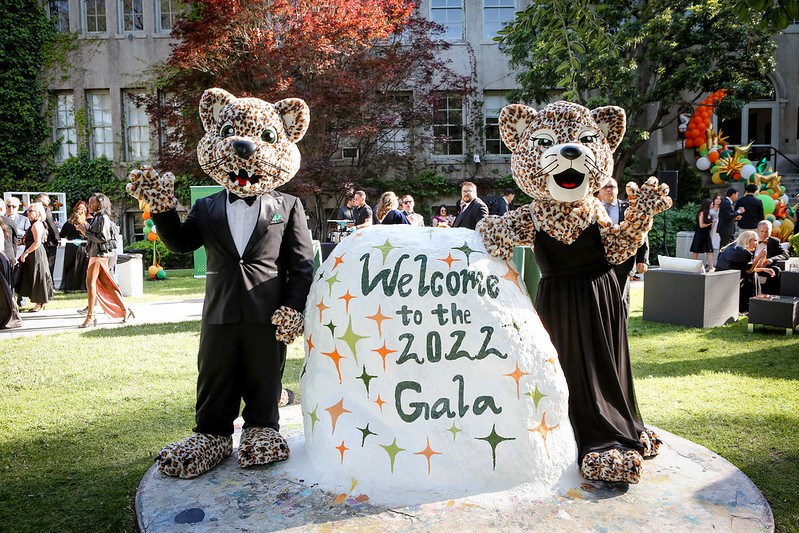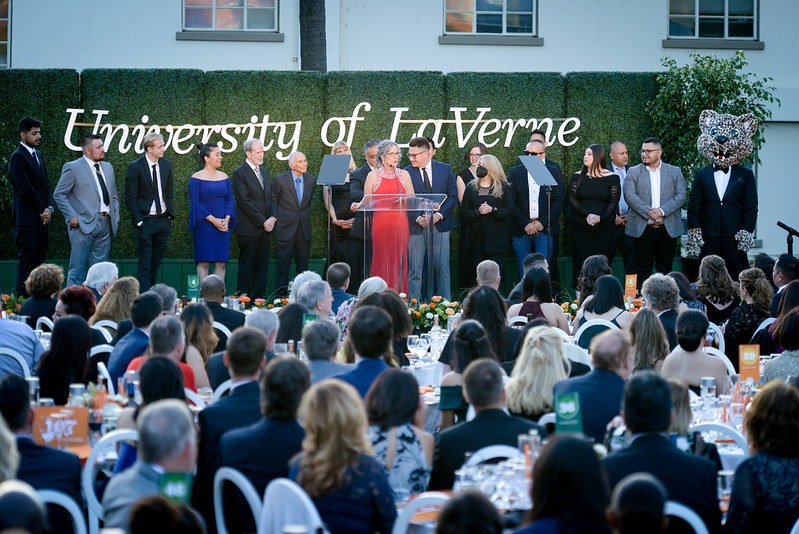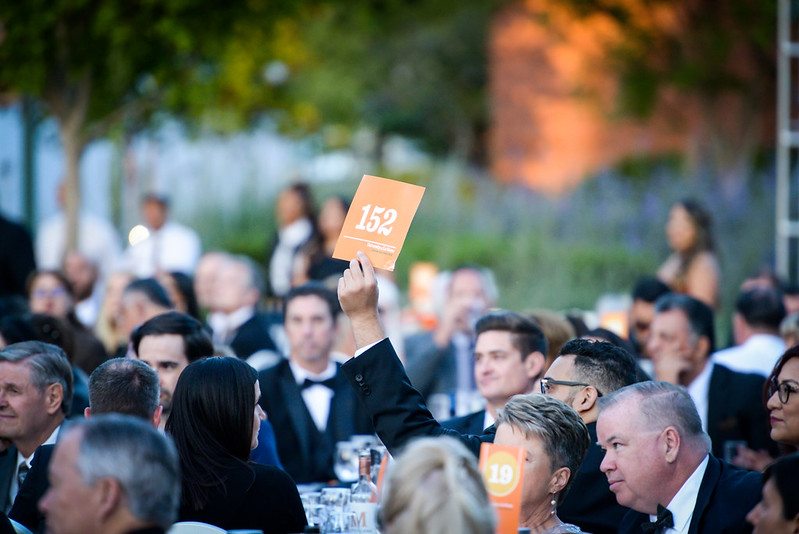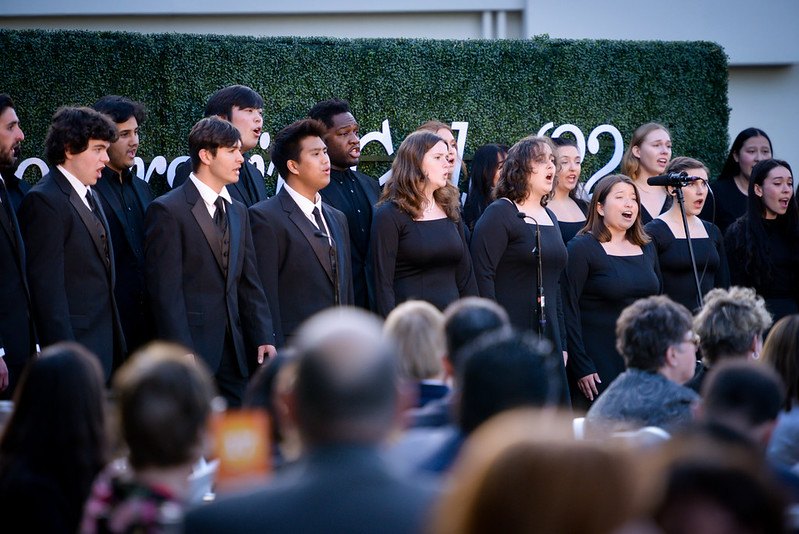 ---