Integrated Business Program Students Raise More Than $21,000 for Charity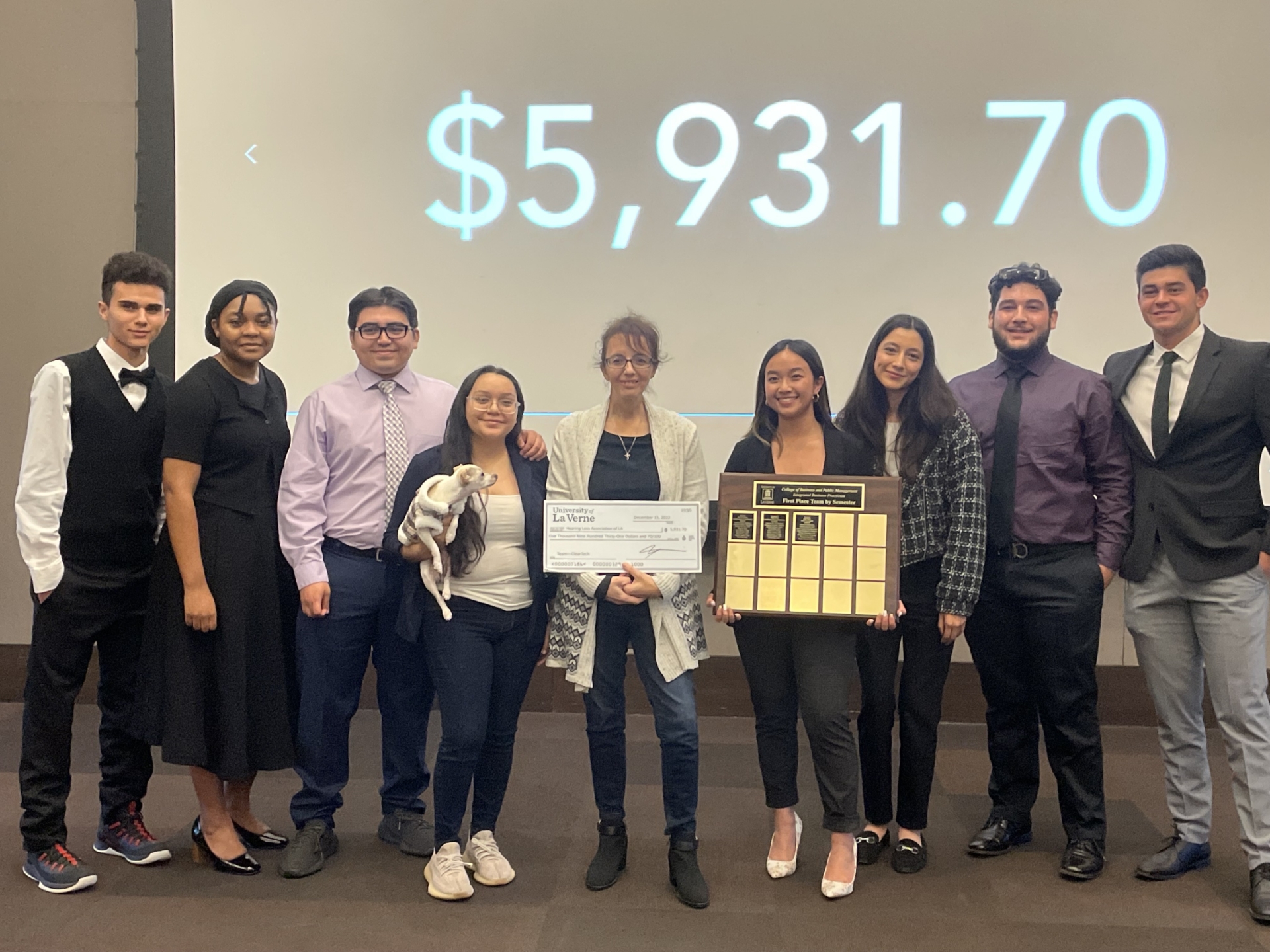 Students from the University of La Verne's Integrated Business Program raised more than $21,000 for local charities during the fall semester, while learning important lessons on how to lead and manage real life business.
IBP is the signature academic program in the College of Business and Public Management. It teaches undergraduate students how to create and operate businesses that sell actual products, with teams donating the profits to charities.
The six IBP teams sold their products throughout the semester online, on campus, and at community events, generating $40,429.71 in total sales.
Students, faculty, staff, and representatives from local charity organizations celebrated the accomplishments in the Abraham Campus Center on Thursday, December 15, and the students presented their donations to the charities.
Professor of Marketing Frank Fialho told the students that "learning to fail, and fail well" will help their self-efficacy as they head toward graduation.
The businesses included:
Bee Fresh: An eco-friendly food wrap made of beeswax used to cover perishable foods and other products. The team raised $2,749.31 for their charity, Starlight Children's Foundation, a foundation supporting children in hospitals by providing fun opportunities to engage in during their medical stay.
Cover, Sip 'N Save: A flexible drink cover that can fit most cup surfaces that helps protect beverages from tampering. The team's sales reached $4,005.65. Profits were allocated to the charity Generous Water, a purpose-driven bottled water company that gives back to people experiencing water insecurity.
Powder Buddy: A powder container used to easily store loose powder items such as protein shakes and makeup. The team's profit of $2.335.90 is going to St. Jude's Children's Research Hospital, helping pediatric patients thrive by advancing cures and disease prevention through research and treatment.
VerneX: An electronics cleaning kit designed to sanitize and remove unwanted debris from most devices. A donation of $2,241.28 was sent to the Inland Empire Autism Assessment Center of Excellence, a non-profit organization committed to providing the highest level of care to Inland Empire children and families with autism through neurodevelopmental evaluation that provides accurate diagnoses, referrals, and resources.
ClearTech: An Apple AirPods product cleaner that delicately cleans the earpiece without damage to the speaker. Their donation of $5,931.70 has been accepted by the Hearing Loss Association of America – Los Angeles chapter, the nation's largest organization for people with hearing loss.
Priceless Packs: A clear, stadium-approved, and water-resistant fanny pack. The team's sales hit $4,133.01 and benefitted the Priceless Pets no-kill animal shelter in Claremont.
All six teams sold out their products. This is the first time that has happened since the program began in 2011.
Rick Hasse, faculty instructor in the College of Business and Public Management and IBP program administrator, awarded ClearTech with a plaque for being this semester's first place team.
"The skills they all learned from this program are going to help them in 3, 4, 5, even 10 years into the future," Hasse said.
---