President Honored as Woman of Distinction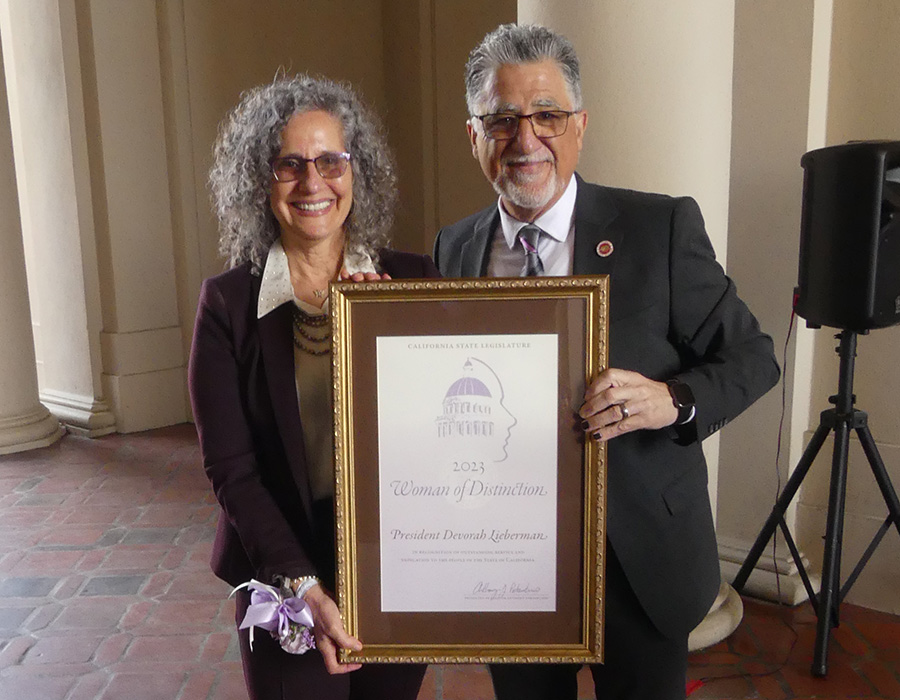 President Devorah Lieberman was one of 15 women recognized during the annual 25th Senate District's Women of Distinction Awards Ceremony held earlier this week.  
In honor of Women's History Month, the California Senator Anthony J. Portantino recognizes accomplished women who have positively contributed to their communities and the State of California.  Honorees typically reside or work in the district and exemplify and extend volunteerism, philanthropy, and leadership. 
The California State Legislature first recognized March as Women's History Month in 1987 and has since continued the tradition. Each year, members of the State Legislature recognize exceptional women in their district with a celebration commemorating their efforts. 
"I am proud to recognize 15 remarkable women who are dedicated to serving our communities with distinction," stated Senator Portantino. "The breadth of their successful efforts are reflected in countless individuals they have helped and inspired.  They are all deserving of this special recognition, and I am thankful to be in a position to shine a light on them and the difference they make for the 25th Senate District." 
Lieberman is the University of La Verne's 18th and first female president. During her tenure, she has raised $128 million in the largest comprehensive campaign in institutional history, significantly increased funding for student scholarships and expanded the international student population. President Lieberman has also increased the number of named colleges and institutional endowments.  
She is currently chair-elect of the New American Colleges & Universities and serves on the boards of the Coalition of Urban and Metropolitan Universities and the Association of Independent California Colleges and Universities. She has broadly published books and articles in higher education on intercultural communication, faculty development, diversity, and institutional transformation.  
Lieberman is also a 2016 recipient of the National Ethnic Coalition of Organization's Ellis Island Medal of Honor, which honors those who exemplify a life dedicated to community service and celebrate the history, traditions and values of their ancestry. Other honors include being named "President of the Year" by the Association of College Unions International and being approached by the Gates Foundation to serve on two national 'think tank' groups focused on examining and reimagining higher education funding models.
---