Meet the Graduates of 2023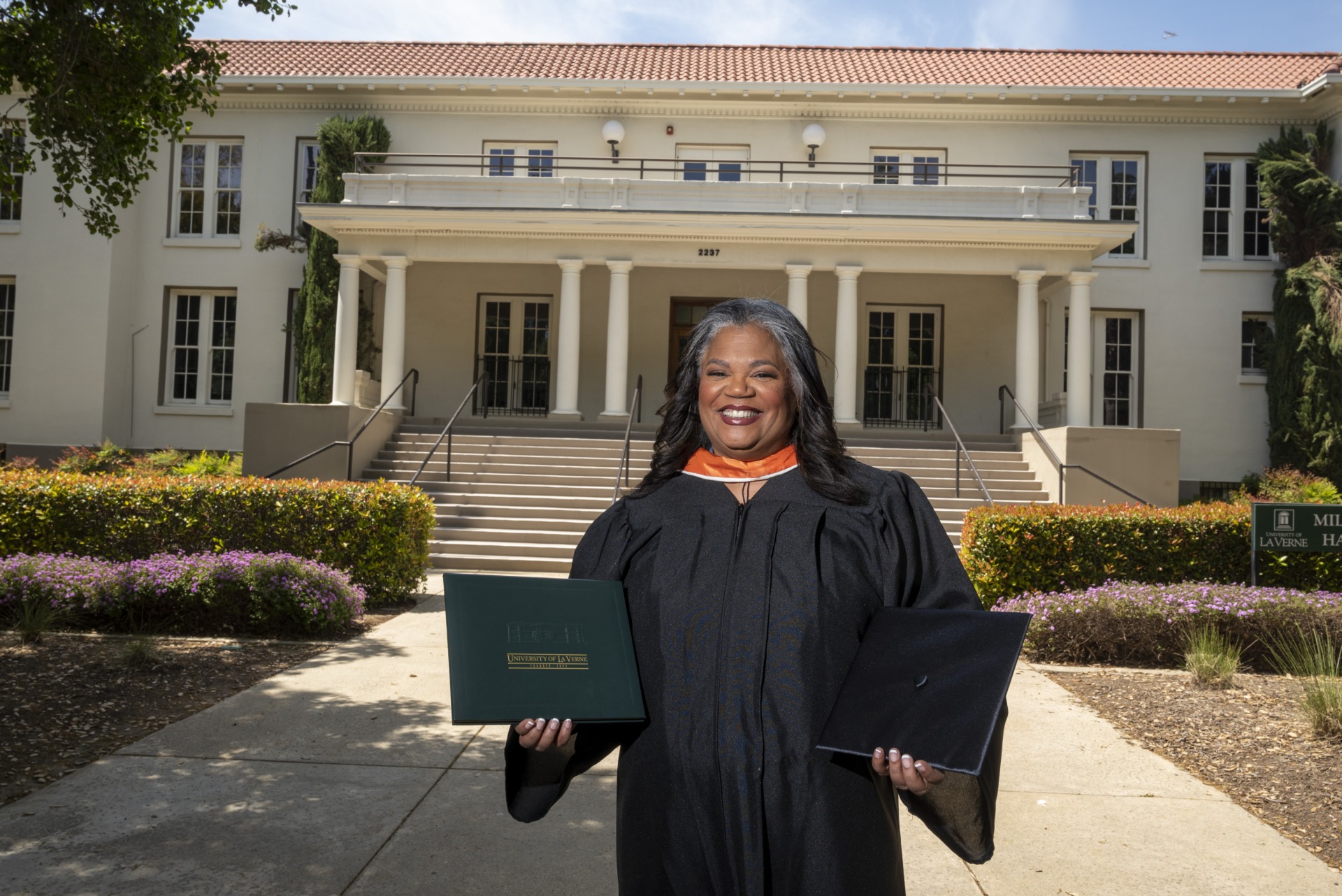 Darcelle Jones-Wesley | Photography
Daughter. Wife. Mother. Artist. Advocate. Business Owner. Friend. And now: Graduate.
Darcelle Jones-Wesley gets the picture. She values each of her life's roles and takes them seriously. Though not too seriously, as she is always found on campus complimented with a smile on her face and a laugh that lights a room. She is weeks away from walking the graduation stage to earn her bachelor of arts in photography from the University of La Verne. And the impetus that keeps her going is simple: a love of life and all its beautiful twists and turns.
Darcelle, 60, is one of the many adult learners who took a non-traditional route to higher education. She arrived at the university in January of 2019 after a 19 year hiatus from school to take care of her family and recover from the loss of her mother, which stripped away her passion to go to school. During that time as a stay-at-home mother, she immersed her energies into raising her two girls. But she knew in the back of her mind that she was going to someday join her family as a "Leo for Life," for she is part of a family generation of Leopards – Namely, her daughter Danielle '20 and husband Robert, MS '03, whom are both graduates from the university. When she heard of their great experience at the university and found the time to pursue college again, she picked up her camera and proudly rekindled her passion for art and never looked back. She transferred to the University of La Verne in August of 2020.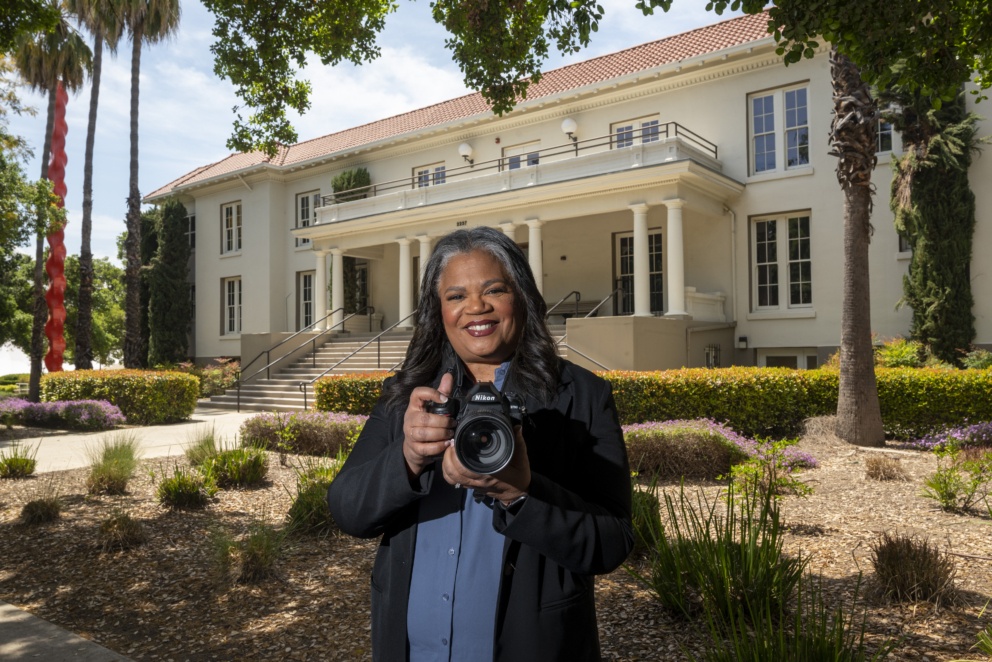 She was always interested in photography — even history and genealogy — but had never pursued her fusion of interests academically until she became an adult learner. She started taking classes with professors such as Shannon Benine, Fred Brashear, Andrew Thompson, and others that mentored and inspired her to pursue her dreams. She appreciated their insights and felt seen by them, and not just another paper they needed to grade.
"When they gave you information, they gave you [insight on] other artists that worked in similar styles, they gave extra research and history," Jones-Wesley said. "The applied work and history merger was important to me. They also meet you where you are as an artist. And they were not out of touch."
Her passion for photography grew with each passing semester. She found the program challenging but rewarding and was especially grateful for the support and guidance she received during her senior project. Her goal was to photograph lasting relationships in Black couples, advocating for a better national narrative regarding the love stories that exist in her community. Showcasing Black love stories that span 30 plus years is near and dear to her heart, as she has been happily married for 38 years to her cheerleader and supporter, husband Robert, and "family means everything" to her. She was able to combine her love of genealogical storytelling and visual artistry to make a difference and succeed in her personal, professional, and artistic pursuits.
Though she's ready to not have any more homework, she sees herself continuing to be a lifelong learner — her favorite university core value.
"This degree has been a journey to help myself grow. Even though I'm considered a "senior citizen," the journey to continue to learn hasn't stopped. I'm still in the pursuit to grow and learn and be better," Jones-Wesley said.
She looks forward to using her skills to capture the beauty of the world around with her photography business and hopes to inspire others to follow their dreams, no matter their age or circumstances. With the help of her support system and a lot of love in her heart, she captured the moment and has now achieved her dream of becoming a trained photographer.
Congratulations, Darcelle! Welcome to the Leopard alumni family. You are now a Leo for Life!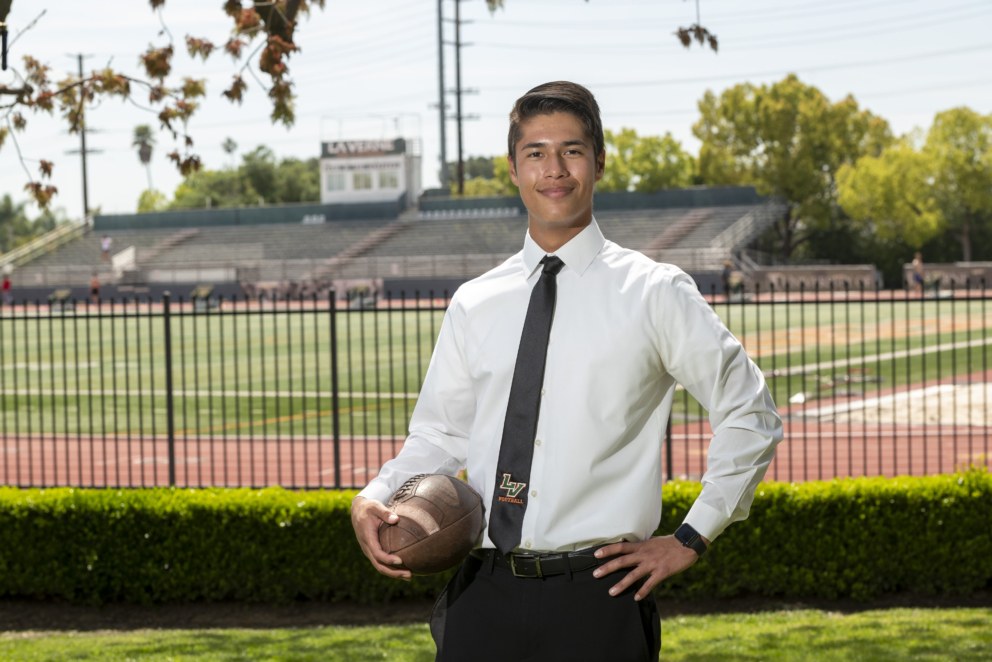 Kapena Kamakawiwoole | Kinesiology 
A series of life struggles hit Kapena Kamakawiwoole just as he started college during the height of the pandemic, but he says he was quickly enveloped with university support and tools to help him tackle challenges and create a gridiron of resiliency.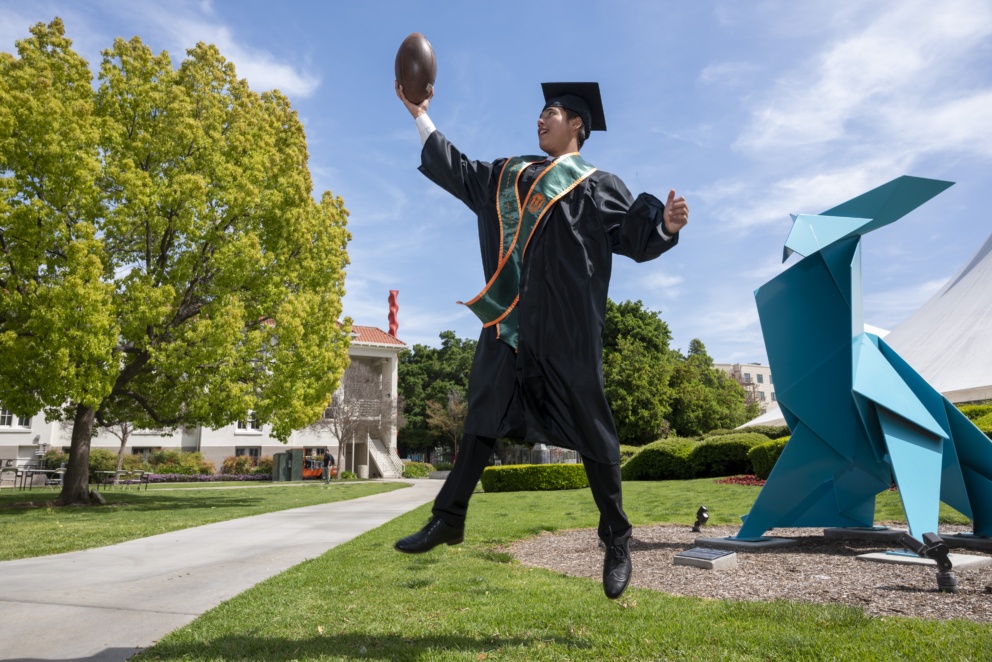 Today, the student athlete and active volunteer is graduating at the top of his class with a bachelor's degree in kinesiology a year earlier than he expected. He has become a pro at balancing multiple jobs, honors courses, and football with a variety of community service projects.   
"The support from my professors, peers, coaches, supervisor – pretty much everyone at the university – gave me a better headspace for school and helped me succeed on campus," Kamakawiwoole said.  
A community service requirement turned personal passion also impacted Kamakawiwoole. He deepened his understanding of community, diversity and inclusion through more than 450 volunteer hours where he mentored, packed supplies, served as a football coach and helped out wherever he was needed at local schools, a hospital and other university partners. He enjoyed connecting with individuals, found purpose in his work and how his future career aspirations fit into the communities he served.  
"It shows that learning can take place anywhere and such service makes you well-rounded and better suited for the real world, said Kamakawiwoole, who wants to become a physician's assistant, working specifically with veterans. 
He says it's an area he feels he can continue to give back the most in for now. He eventually wants to go into family medicine.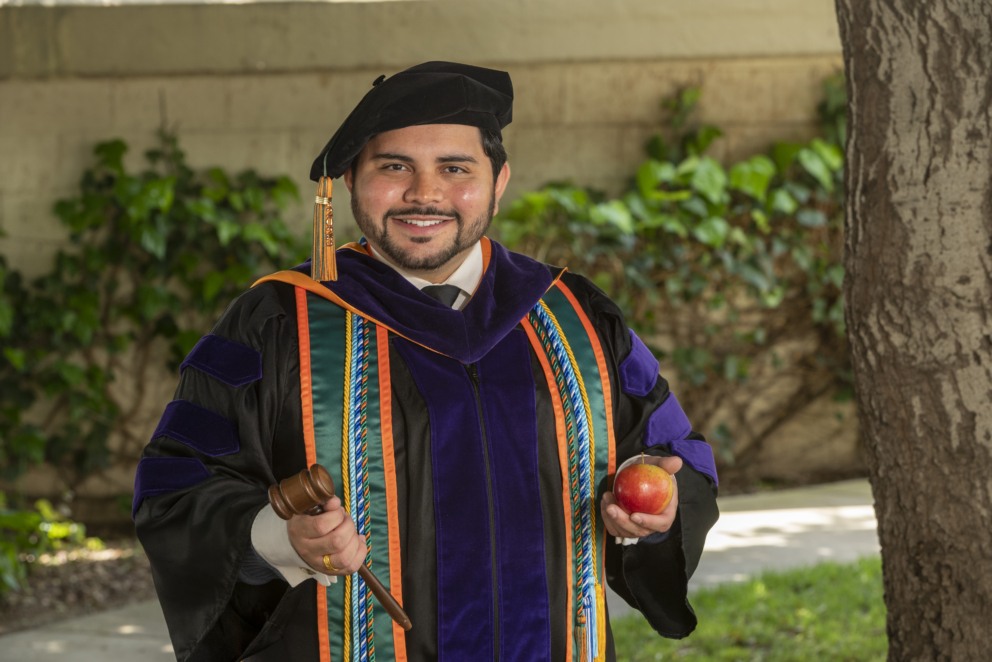 Jeffrey Torres | Law & Education
From an early age, Jeffrey Torres took advantage of educational opportunities. As a teen, he would head out at 5 a.m., take two buses, and walk a mile and a half to his high school to get an extra morning class. And after the last bell rang, he would immerse himself in after school programs until late in the evening. 
"I knew the power of an education, especially as the first to in my family to graduate high school and growing up in a community and environment that was not really sustainable," said Torres, who is the only University of La Verne student to graduate this year with joint Juris Doctor and Master of Education degrees.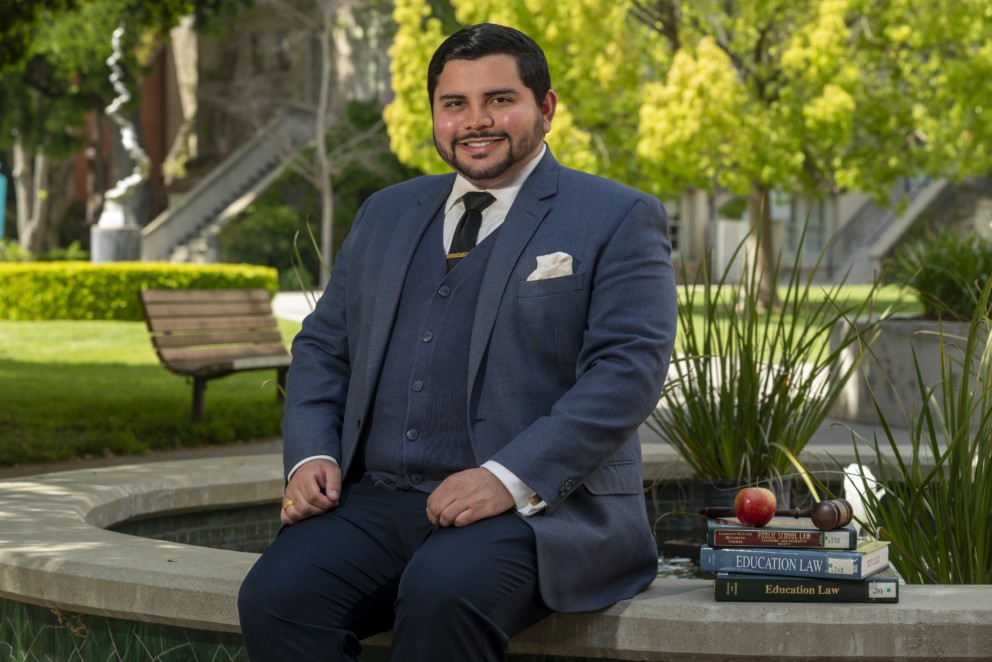 After high school, Torres got his bachelor's degree in political science  in three years from the University of California Berkeley and returned to his hometown of San Bernardino to advocate for higher education and resources to overcome barriers such as finances or lack of information on options at his former high school.  
"I felt obligated to help my community and provide support like they did with me," said Torres, who was recently recognized by former high school mentees, who have since graduated and headed to college.
After six years working in education, Torres felt he could make a greater impact in his community by becoming a legal advocate, but he also felt a continued calling in the education field. University officials helped create and guide him on a custom path, though extremely taxing at times, towards the practice of education law.  
"When I started, I didn't know what could come about in my journey," said the academic scholar who has immersed himself in educational opportunities once again, taking a summer internship with the Los Angeles Unified School District's Office of General Counsel, becoming president of the law school's student government, earning a research fellowship, and competing in multiple national moot court competitions. "I'm really blessed and thankful to the University of La Verne and my peers. They've given me so much that I would never have had anywhere else, and I am eternally grateful."
Torres has a post-graduation offer to become a lawyer with Atkinson, Andelson, Loya, Ruud & Romo, a major law firm headquartered in Cerritos with several offices throughout California. The firm represents many public and private sector clients, including those in education. He is currently a law clerk for the firm and once admitted to the bar plans to practice in both general education and special education law on behalf of school districts and educational entities throughout California.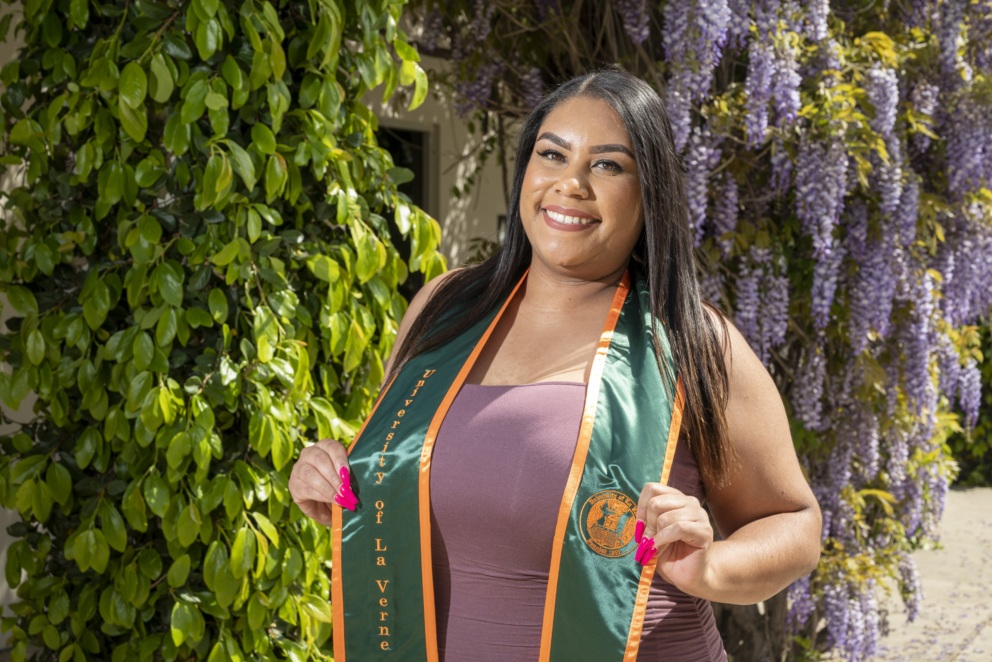 Janelle Bowens | Business Administration
Janelle Bowens had stopped and started college several times before having her child ignited a fierce determination to complete her degree.  
"It changed everything for me," said Bowens, a single mother who is looking forward to celebrating her bachelor's degree in business administration with a minor in human resources. "I realized it could help me further my career and support my baby."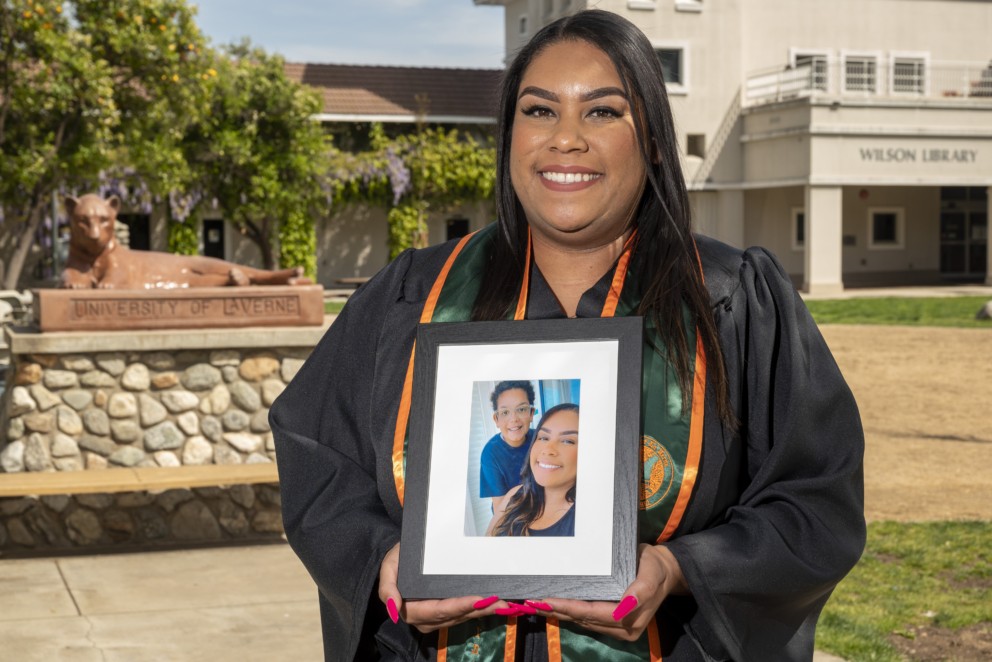 Still, she struggled to stay focused with parenthood, work, and school at night. Her boss encouraged her to take it slow and try one class at a time and before she knew it, she had completed a full semester at a community college. But one class at a time was time consuming, so when it came time to transfer, she knew she had to make a change. The University of La Verne's online degree program was just the right fit. 

"I loved the fact classes were eight weeks long, enough time to not lose interest and set up online for me to do in my own time at my own pace," she said.
She picked up the pace, with an advisor supporting her fast track to completion and her now 11-year-old son cheering her on and sitting by her side while she finishes  her final class assignments. 
"I know he's proud of me," said Bowens, who recently received a promotion at work and hopes to one day complete an MBA. "This is for him!"

The University of La Verne will celebrate the graduates of 2023 from the five colleges during the annual commencement ceremonies held Friday, May 26, and Saturday, May 27 historic La Verne campus. This is the first commencement for the College of Health and Community Well-Being.
---