Record-Breaking Donations, Largest University Gift Announced at 2023 Scholarship Gala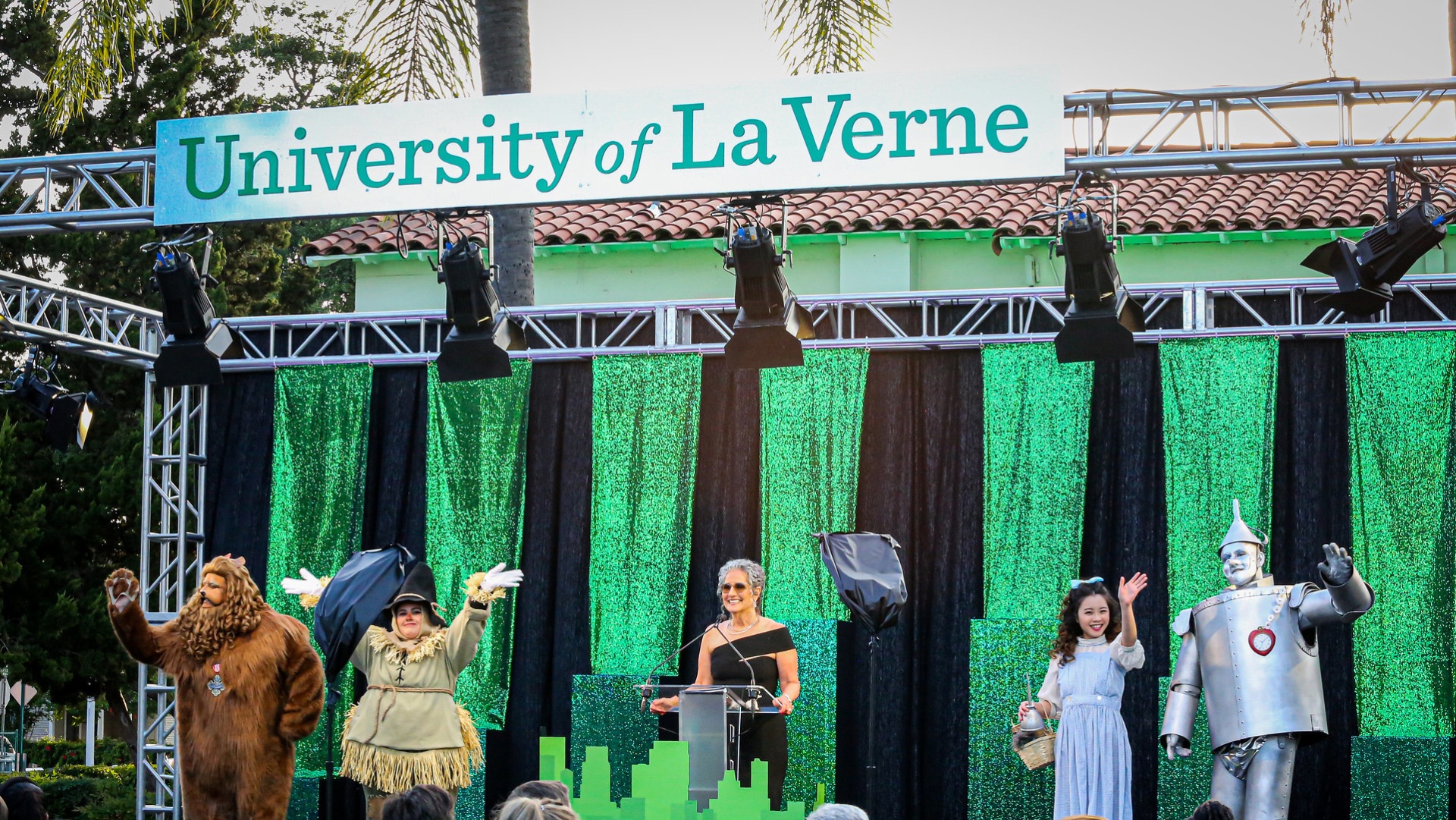 The University of La Verne raised nearly $2 million in scholarships and announced the largest in university history — during its 25th Anniversary Scholarship Gala held on the historic La Verne campus May 6.
"This is truly a mic drop moment," President Devorah Lieberman told hundreds of attendees, including civic and community leaders. "These funds, each of you and the entire community make a significant impact on the university and our students."  
During the celebration, Lieberman shared the personal stories of four students and how they benefited from scholarships as well as the support of staff and faculty across campus. 
"More than 90 percent of all our students receive scholarship support from donors and supporters like you who recognize the intellect, empathy, bravery, and belonging these students have to offer the world," said Lieberman. 
She later recognized longtime university champions Sara and Michael Abraham. They recently made an additional commitment to the university and the College of Health and Community Well-Being. 
"Sara and I believe the value of what you can give is not important in life, but the value of giving to others is what makes life important," said Michael Abraham, who has served as a member of the board of trustees for 24 years. "From veteran students who have served their country to healthcare graduates who will serve their communities, our intention is for this gift to provide pathways to their service and success. We are proud to be able to support the university's commitment to its mission and students."  
The couple has previously named the Sara and Michael Abraham Campus Center and the Sara and Michael Abraham Veteran Student Success Center. 
In a surprise announcement, community partner Inland Empire Health Plan (IEHP) revealed it would put $1.5 million toward scholarships and a new IEHP Health Career Academy under the Randall Lewis Center for Entrepreneurship, Innovation, and Social Impact.  
Lieberman thanked guests for their generosity and partnership on behalf of students and higher education in her final gala address before she retires June 30.
"I am humbled to say that I have had the privilege of serving the University of La Verne as president for 12 years and I am grateful for all that we have been able to accomplish together- This includes establishing new colleges, expanding our footprint into Ontario, increasing our endowment and national visibility, donor named deans and faculty members, exceeding our $125 million comprehensive campaign, and a laser focus on maintaining a culture where everyone feels like they belong." 
Civic leaders in attendance included: State Senator Susan Rubio; State Assemblymember Chris Holden; San Bernardino County Supervisor Curt Hagman; La Verne City Mayor Pro-Tem Rick Crosby and Councilmember Wendy Lau; Ontario City Councilmember Debra Dorst-Porada; Rancho Cucamonga City Councilmember Kristine Scott; Claremont City Mayor Ed Reece and Mayor Pro-Tem Sal Medina; Mt. San Antonio College Retiring President Bill Scroggins, Board President Gary Chow, and Trustees Robert Hidalgo and Peter Hidalgo 
The Scholarship Gala closed with a drawing for a 2023 Toyota RAV4 Hybrid XLE, which was generously donated by the OREMOR Automotive Group, and won by Alumnus Freddie Ochoa, '03 and '09.  
Gallery of Images
---