2023 Multicultural Graduation Celebration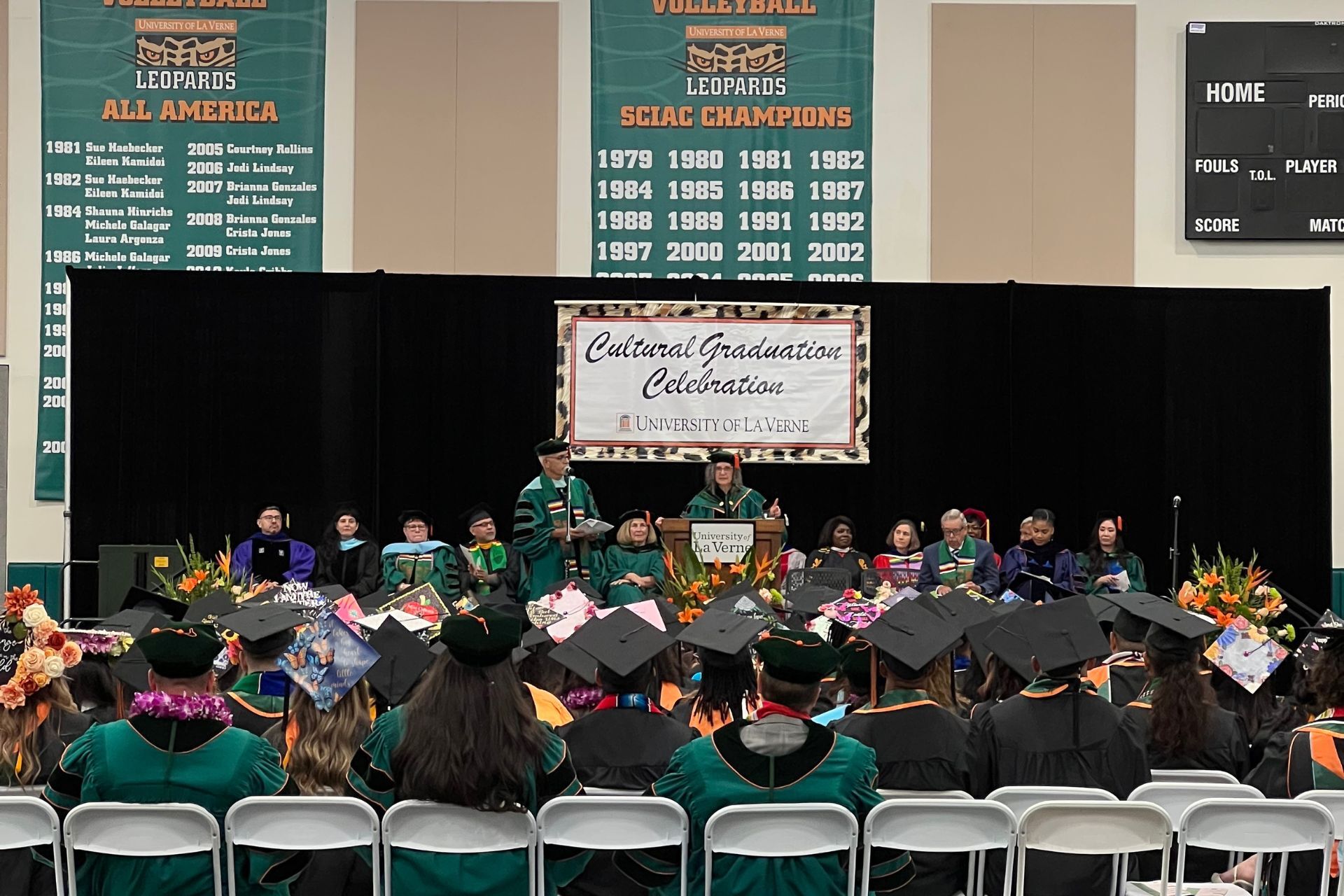 The University of La Verne community came together to celebrate the drive, perseverance, and diversity of more than 130 graduates during the Multicultural Graduation Celebration on Saturday, May 20 . The university's  "Super Tents" were booming with electric energy as the ceremony began and the graduates filled the space, while the cheers of their families, friends, and peers echoed throughout as they took their seats.
Daniel Loera, director of multicultural affairs, opened the ceremony with a greeting and acknowledgment of the land that the university sits on and its historical and original indigenous people. Then he introduced Chaplain Zandra Wagoner. She blessed the ceremony alongside important spiritual leaders in the local interfaith community. Together, they delivered a moving prayer, calling on the graduates to share their ongoing wisdom, moral courage, engagement, and inclusive acts of justice, love, and compassion.
University of La Verne President Devorah Lieberman then congratulated graduates and their families.
"You're leaving with the University of La Verne advantage – you have the skills, you have the knowledge, you have the heart, you have the passion, you have the perseverance, you have the grit – to be successful personally and professionally. That is the University of La Verne advantage," she said.
Lieberman also took a moment to thank notable guests in attendance, including Board of Trustee members Mike Brown, Sue Searing, and Wendy Lau, and Mayor Pro-Tem Rick Crosby.
Associate Vice President and Chief Diversity, Equity, and Inclusion Officer Alexandra Burrel later invited guest speaker Don Miguel Gonzáles, co-founder and partner of Northgate Markets, to the stage to share his story. He spoke of his family's humble beginnings in Mexico and how lifelong learning, drive, and education played a vital role in the growth of the family business.
"Share your gifts with the world. When you reach the top, remember to be humble and give back to the generations that gave to you and will come after you. Be a student of life because there is always something to learn… Sí se puede," said Gonzáles, who was presented with the first-ever Presidential Distinction Award by Lieberman.
Emotion in the room swelled as each graduate crossed the stage and shared their statements of appreciation, addressing the audience. One graduate shared her gratitude for the support of her children and husband, ending her statement with – "We finally got our master's."
The ceremony ended on a celebratory note with music performed by Mariachi Los Vaqueros and a recessional by African Soul International.
---