Hollywood Heartache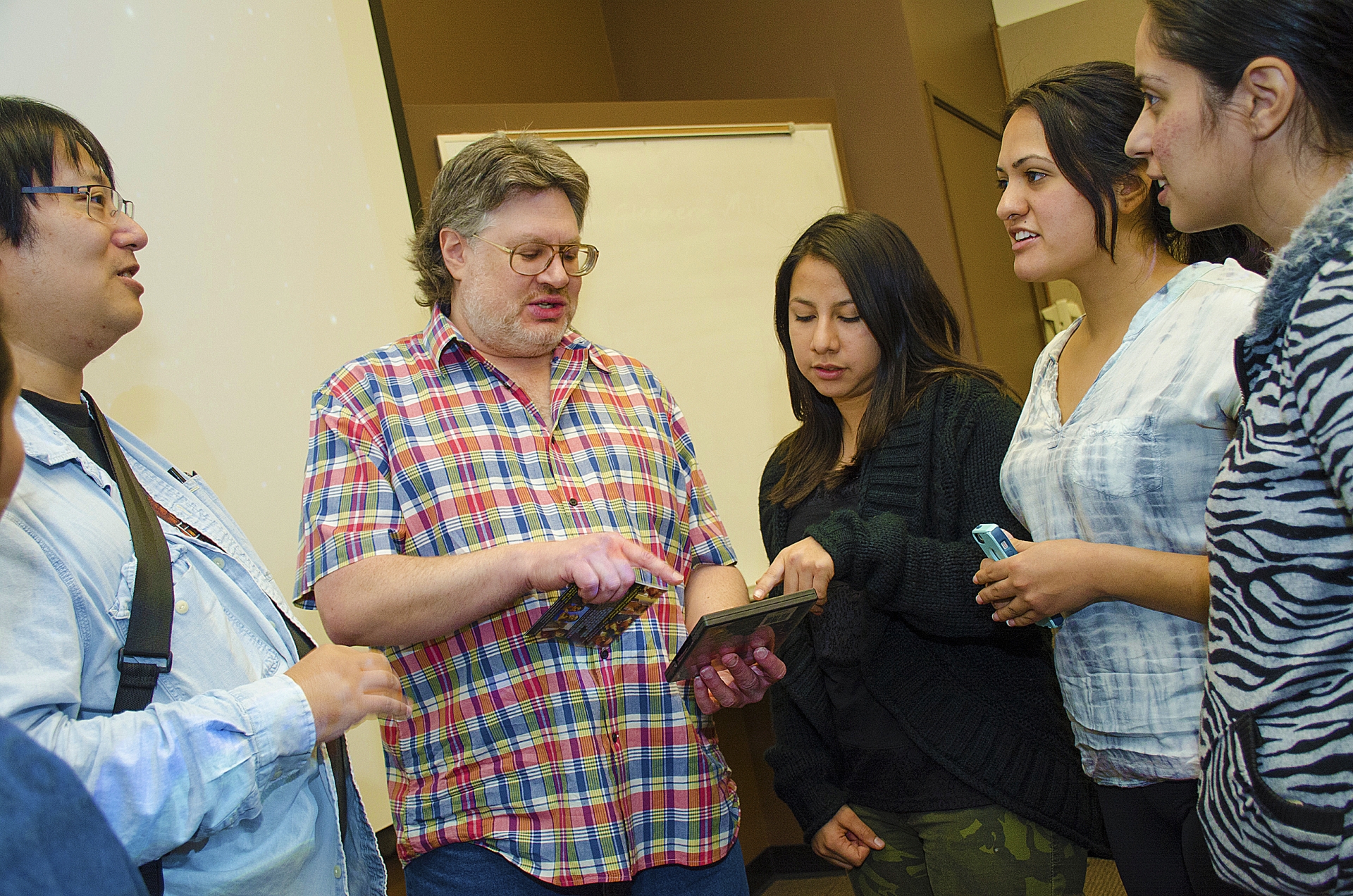 As a kid, adjunct communications professor, Scott Essman was fascinated by the eclectic and parallel world created by movies and the film industry. He had a peculiar interest, uncommon for kids his age. He would not get up and walk off when the words "The End" would appear on screen. The movie was not over for him.
The credits were yet to come and he would patiently wait in his seat, reading all the names of the cast and crew. Every so often he would jump at the fact that he recognized a director, writer or producer from another movie and that he'd made the connection.
Now, after 19 years of a career in film writing, editing and teaching, he has met and interviewed the "big shots" he once admired as a kid. James Cameron, Peter Jackson, Steven Spielberg and George Lucas are just some of the world-renowned directors who have crossed his path. It is safe to say that Scott Essman knows his way around Hollywood and, in his January term class, "Hollywood in La Verne," he lets the students walk into this world.
"The idea is to have writers, producers, directors and other people involved in the creations of films come in, show their movies, and then have a Q&A with the person and open it up to students," said Don Pollock, professor of Communications. The three-and-a-half-hour class that takes place in the Arts and Communications Building at La Verne is far from boring for the students who eagerly ask and listen to the guest speakers talk about their films.
"This is basically a meet- the-film-maker class," Pollock said.
For Essman, the class is handled and taught as a craft. Students learn some theoretical aspects of films such as editing, visual effects and writing, but the focus is mainly on the practical aspect. Every session, the students are shown a screening of a full-length movie, a documentary, or a short film, which is followed by meeting the creator behind it.
"We are talking about the reality of what these people have done professionally," Essman said. "How they've gone about what they do and what has been successful for them. It's a very practical type of class, rather than a theoretical class. Our students are really learning exactly what these people did that led to them having a career."
As soon as the movie ends, Essman introduces the guest speaker and continues to have a Q&A session in front of the class. His strong interviewing skills arise from the naturally social and inquisitive personality he got, he says, from his mother.
"I am so curious, whenever I get someone artistic — I don't care if they are musician, filmmaker or actor — I immediately ask a lot of questions," Essman said. "Even if people aren't in the arts necessarily, I always want to know more about them. I'm inquisitive as a personality type."
It took Essman 10 years after earning his undergraduate degree from USC to shape his career around the film industry.
"I was 29 and I decided I loved the field of entertainment, filmmaking and creativity. I love it too much to just be passive, just be an audience member my whole life. I decided to be active," Essman said. He says he took the initiative and started from scratch.
Not having the benefits of the internet or social media in 1995, Essman chose an old-fashioned way of communicating and networking: He began looking people up from the industry in phonebooks and calling them to schedule interviews. His interviews consequently led to writing articles about the people he met or movies he watched.
An avid writer since college, Essman has written articles and stories for international and national film magazines such as, "Creative Screenwriting," "Cinefex," "Cinemaeditor," "Below the Line News," and "L'Ecran Fantastique," a French movie magazine. Essman has produced more than 500 magazine articles in the past 20 years. Such depth of research and reporting is reflected in his questions toward the guest speakers in his class.
The students listen intently as Essman asks producer and visual effects editor, Van Ling, to recall how as a recently out-of-college student from USC he became the Research and Creative Assistant to James Cameron in the movie "The Abyss." As a result of a dare by a fellow film student, Ling built a seven-and-a-half-foot tall suit with mechanical arms. "On Halloween, 1986, I called [James Cameron's production company] and I said: 'Do you have jobs?' They said: 'No, we don't have anything right now.' I said: 'By the way, I built a powerloader.' They said, 'Come on down and show it to us tomorrow.'"
In 2004, Essman received a master's degree in Educational Multimedia from California State University and in 2009 he started teaching at La Verne. He has written books and feature-length and short-film scripts. He wrote and directed the animated short "Dox E. Dog," and the video short "Trane and Miles," for which he won the Audience Choice Award at the 909 Film Festival and an Award of Merit at the Best International Shorts Competition in San Diego.
Essman is a full-time teacher at the Art Institute in Orange County and also teaches an Introduction to Mass Media course at La Verne. However, it is the "Hollywood in La Verne" class that allows a wide range of students to partake and enjoy regardless of their major.
"I hope they are gaining what anyone would get from an elective class, which is knowledge about something in their field they didn't previously know," Essman said.
For senior and philosophy major, Alon Dina, the class has been a motivational tool.
"It taught me that if you really want to do something and be like these guys, you have to put your whole foot into it," Dina said.
Fifteen guest speakers were scheduled for the January term class, among them , "Dead Poets Society" screenwriter Tom Schulman, and "Stargate" visual effects supervisor Jeffrey A. Okun.
"The program is about developing critical thinking skills," Pollock said. "To be able to see a movie and then talk to somebody who is a creator, you begin to understand a little bit more about the process that goes into making films."
Sophomore communications major Bianca Zapata said the class has made her more critical toward what she watches.
"Now, when I watch TV, I am thinking: 'Oh they are not holding the camera right or they are not doing this, or look at how they are standing,'" she said. "I am more aware of what is actually happening on the scene, not just watching and listening to it."
Essman encourages his students to ask analytical and introspective questions to the guest speakers. He distinguishes the importance of the "why" questions, as opposed to the "how."
"In art, the 'how' is kind of simple, you know, you can teach anyone how to use a computer," Essman said. "But some of the students now in these classes are asking why, and when the students start asking that, they get much better answers, as the 'why' is getting inside the mind of the person."
Regardless of their major or interest, the "Hollywood in La Verne" class opens doors to students and allows them to view film and art as another of communication and expression.
"I think watching movies can give you the greatest lesson about life," Dina said, "because by observing, you are experiencing it."
— Story by Bernarda Carranza
---