A Day of Redemption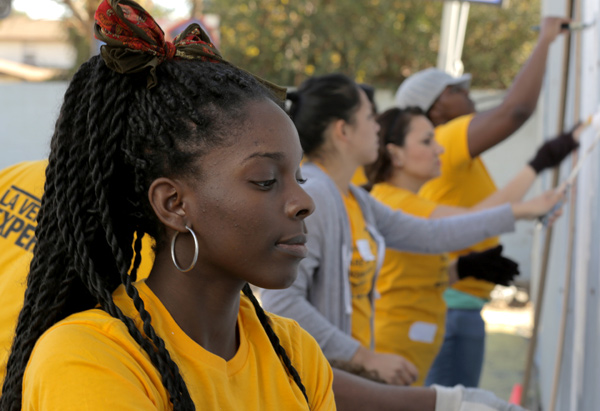 Instead of sleeping in and spending the day relaxing, nearly 300 students, faculty and staff of the University of La Verne spent their Martin Luther King, Jr. Day holiday working to support "Food Security and Poverty Reduction."
"What have you done for others? What are you doing for others? What will you be doing for others?" University President Devorah Lieberman asked. "It is something that we recognize today, but it is something that we should be recognizing every day."
Students, faculty and staff gathered in Sneaky Park at 8 a.m. to prepare for the day of service that was organized by Director of Civic and Community Engagement Marisol Morales and University Chaplain Dr. Zandra Wagoner.
After registration and an opening ceremony that included the ringing of the University bell, all volunteers left for the 11 service locations, which included local gardens, the City of Pomona Library, the Pomona Boys and Girls Club and several other worthy organizations.
"It's important to remember that we are so privileged and there are those who are less fortunate," sophomore biology major Genelle Watkins said. "I get a sense of satisfaction just knowing I was able to help."
Watkins, along with her group, gardened and cleaned solar panels at the La Verne Peace and Carrots Garden. The mission of the Garden is "to encourage community involvement, promote stewardship of the earth and provide food and education for ourselves and our neighbors in need."
City of Pomona Library manager Muriel Spill said it would be difficult to complete the library beautification project —which included preparing large planters for drought-tolerant gardens in the future — without help from the University volunteers.
"It's fabulous to have volunteers come support the library and the city," Spill said.
The goal is to install a completely drought-tolerant garden that will be used as a teaching tool for the community as well as a garden that is more practical for the Southern California climate. But for this day of service, volunteers cleaned up the planters, raked, prepared soil and planted new plants.
"[This is] part of building [our students'] character; the work that we do helps to make them global citizens and gives them an understanding of our history and our legacy, as well as the legacy of Martin Luther King, Jr.," Morales said. "Having access to institutions of higher education really came on the back of the Civil Rights Movement. Given that La Verne is a Hispanic-serving institution and the many students of color that we have, it's very important that they connect to that legacy as part of their future."
After the federal holiday marking Martin Luther King, Jr.'s birthday was signed into legislation in 1983, Congress designated the holiday as a national day of service in 1994.
La Verne began its own Martin Luther King, Jr. Day of Service four years ago and the turnout has increased each year.
"To me, the most important thing is seeing young people, some for the first time, volunteering, and I think it's very eye-opening for them," Interim Provost Dr. Jonathan Reed said. "It's fun to work with others and hopefully this can begin a life of service."
---