Ed.D. Alum Assumes Kern County Superintendent Position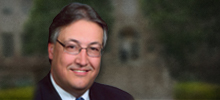 University of La Verne alumnus Dr. Bryon Schaefer will assume the position of superintendent of the Kern High School District on Aug. 2, 2014, leveraging a 29-year district career and techniques learned in the University's Doctor of Education in Organizational Leadership (Ed.D.) program to benefit those under his guidance.
Previously serving as a North High School's principal for 12 years from 1998 to 2010, Schaefer began the University doctorate program in 2005. He attributes the research conducted for his dissertation as a complement to his career as principal.
"Since I was a high school principal, and I studied schools that raised their academic performance index, it was hand in glove and really nice," said Schaefer. "The program is applicable to your everyday job."
Schaefer defended his dissertation in Jan. 2009, which was titled, "Key Strategies Used By High School Principals: A Case Study of Five Southern San Joaquin Valley Comprehensive High Schools that Raised their Academic Performance Index Score by at Least 100 Points Between 2003 and 2006."
Dr. DeVore, Professor, was my dissertation chair," said Schaefer. "He was also very instrumental in teaching leadership fundamentals, and we have similar styles of leadership, so he was also my mentor."
According to DeVore, "Bryon exemplifies the program values of authentic and collaborative leadership. The Kern High School District is fortunate to have him providing leadership and guiding them through complex change and implementation of the California Core Standards."
When asked about his experience in the program, Schaefer said, "the professors are La Verne were outstanding!"  Dr. Hyatt, Professor and Chair of the Program, praised him noting, "He was an excellent student and his promotion to Superintendent was well-deserved.  Dr. Schaefer is a good example of the success enjoyed by the graduates of the Doctor of Education in Organizational Leadership Program at the University of La Verne."
Outgoing Superintendent Don Carter is also alum of the Ed.D. Program at the University of La Verne.  He will retire August 1, making Schaefer Kern High School District's 21st superintendent, and Schaefer knows that he will continue to apply theory to practice from the Doctoral Program to his new position.
"Of the theories and practical information that is taught, I literally use something from the Ed.D. Program every day in my job," said Schaefer. "Be it techniques with how to deal with people, or the importance of self-reflection, I learned at the University of La Verne how to go back and reflect upon ways I could have done things better or differently."
According to an article on BakersfieldNow.com, Schaefer will lead the largest ninth through 12th-grade high school district in the state, where Kern High School District officials said they have more than 35,000 students and 3,500 employees.
Schaefer says he learned techniques to successfully manage large organizations in the third year of obtaining his Ed. D.  "Obviously we are a very large organization with thousands of employees and thousands of students, and the Ed.D. Program helped me learn methods to deal with large organizations and set a vision to move the organization toward that vision."
Schaefer will lead many stakeholder groups in Bakersfield including the district's Board of Trustees, teachers, administrators, parents, students, and community partners.
"I think the main focus is to bring everyone together toward a common vision," said Schaefer. "The job is huge because it involves so many people, and I think in any organization, what you need to do first is listen to everyone. The Ed.D. Program taught many techniques on how to listen to everyone and bring people with diverse opinions together, and hopefully, that's where I will focus."
Ever so fond of his time at the University of La Verne, Schaefer said, "When people ask me about the University of La Verne, I tell them completing the Ed.D. Program made me a better person and a better professional."
---