Enactus Team Brings Home Awards From National Exposition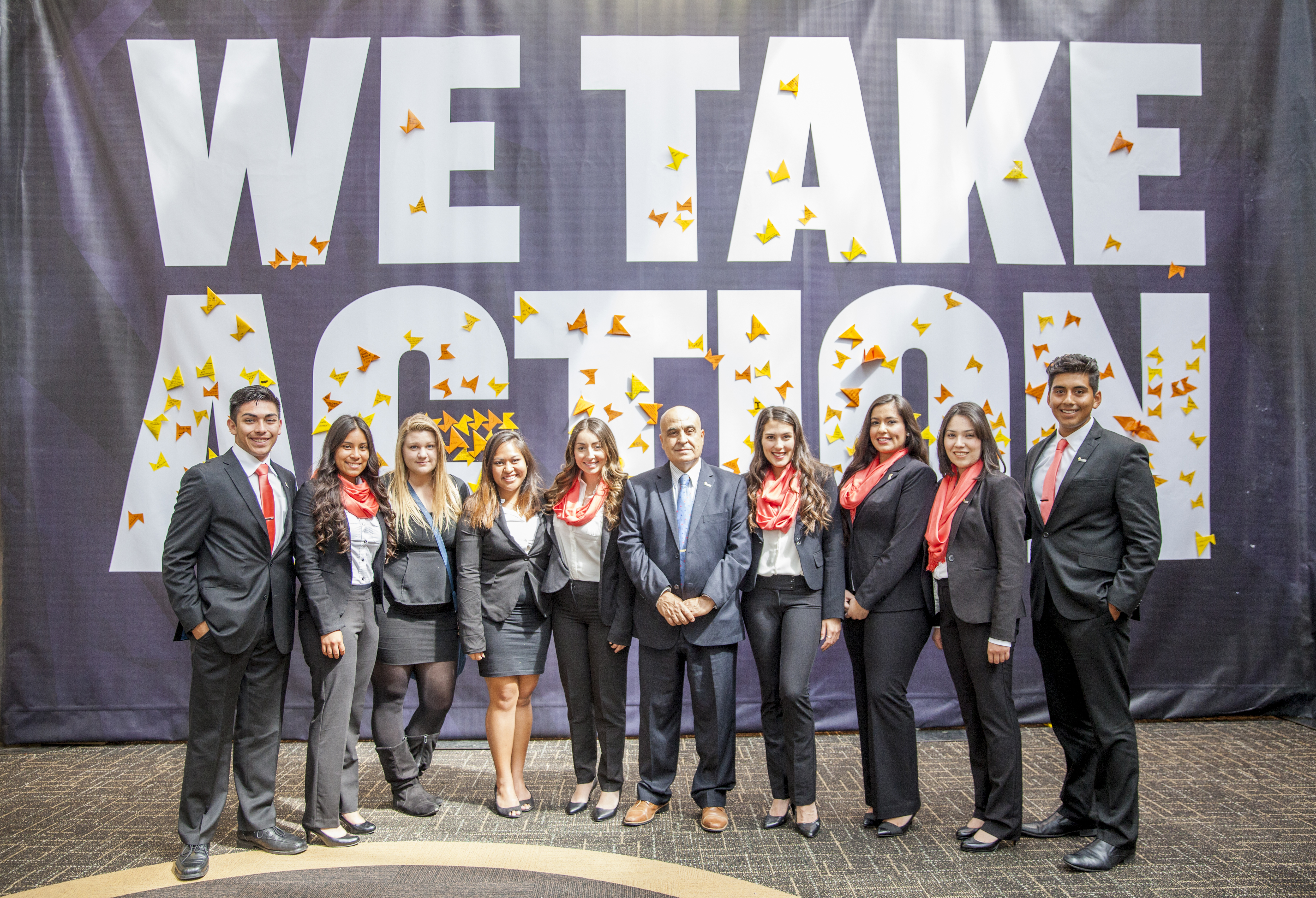 They are nine La Verne students who planted fruit trees at a Mexico orphanage, taught senior citizens how to protect themselves against cybercrime and showed children the benefits of fitness and healthy eating.
All their efforts culminated April 13-16 in St. Louis, Mo. where Enactus teams representing nearly 200 universities presented their projects to compete for awards at the 2015 Enactus United States National Exposition.
La Verne's team advanced past the first round, earning the Opening Round Finalist Award, said Professor of Management Dr. Issam Ghazzawi. The team also earned the Hershey Company Award and placed third in the Quarter Final Round.
"I'm very happy and I'm very proud of our achievements," Ghazzawi said.
Not only did the team fare well in competition, but many members received job or internship offers at the expo from large companies such as Schwan Food Company, Sam's Club, Kraft Foods and ConAgra Foods. Additional members are waiting for calls back from The Hershey Company, Nestlé and others, Ghazzawi said.
Students visited City of Children orphanage in February to clean up the garden the team planted the previous year, build a greenhouse, prepare more than 550 plants to be placed in the greenhouse and plant 21 fruit trees. The plants will help feed 90 orphans and 15 employees at the site and reduce costs for the organization.
More than 1,000 Pomona Unified School District students in kindergarten through eighth grade, along with their parents, learned about healthy living during workshops presented by La Verne students in November. Nearly all Pomona students and all parents committed to living healthier lives following the workshops.
In the spring and fall of 2014, students taught senior citizens at Hillcrest Homes how to use technological devices such as computers, smartphones and tablets. Students also presented information on cybercrimes and how to avoid becoming a victim.
During the year, students also held a series of job preparation workshops at David and Margaret Youth and Family Services in La Verne. Participants learned resume and cover letter writing, along with interview skills and career options.
In June, 52 students in the 11th grade delved into the business world during La Verne's 9th annual REACH camp, in which Enactus members served as counselors, mentors and advisors. Students learned during the three-week camp how to develop an idea for a business and how to effectively run it.
The students are scheduled to give their 17-minute presentation at the Campus Center at 3:30 p.m. on May 21.
---