Dr. Martin Luther King Jr. Day of Service Coming Jan. 16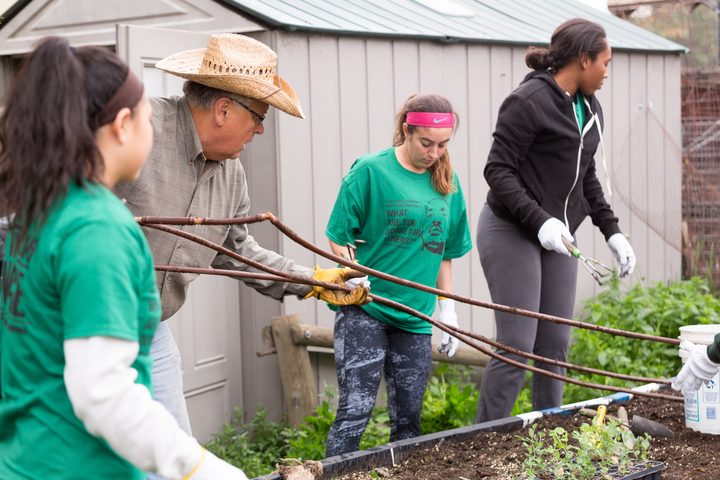 The University of La Verne community will honor the legacy of Dr. Martin Luther King Jr. in January by helping the homeless, spending time with the elderly, and mentoring children.
The Dr. Martin Luther King, Jr. Day of Service, held annually on King's birthday, puts into action the university's core value of community and civic engagement.
Previous days have focused on the theme of sustainability related to the environment, economy, and other areas. Organizers set unity and pluralism as this year's theme.
Marisol Morales, director of civic and community engagement, said the theme is important in the wake of a divisive election.
"We live in a diverse and dynamic region and pluralism highlights our partnership with people of different religious traditions and diverse backgrounds," Morales said. "We stand committed to the values and ideals that Dr. King and the civil rights movement brought to light and how these impel us to action by serving our communities."
Students, faculty, staff, alumni, and community members will do volunteer work with organizations throughout the region.
At Pomona's dA Center for the Arts, volunteers will create a work of art revolving around unity and pluralism. The community art piece will then be displayed at various locations. At Inland Valley Hope Partners in Pomona, volunteers will assemble reusable tote bags for the homeless to carry food from the organization's pantry.
Volunteers will also gather at the Church of the Brethren in La Verne to work at the La Verne Peace and Carrots Community Garden. Fruit and vegetables harvested from the garden are donated to Inland Valley Hope Partners' Beta Cancer Food Bank.
The event begins at 8 a.m. at University of La Verne's Sneaky Park at the corner of C and Third Streets and continues until 3 p.m.
---