University of La Verne Breaks Ground on New Residence and Dining Hall on Founders Day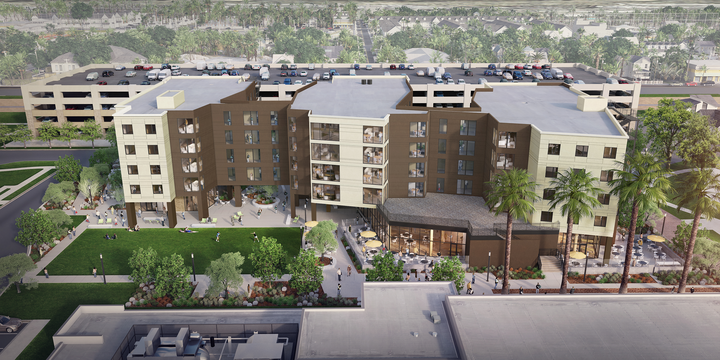 Gallery of Images
The University of La Verne broke ground on its new five-story, 116,000-square-foot residence and dining hall, the first project in the university's recently-approved Facilities & Technology Master Plan.
The project includes 398 beds, a dining hall, lounge and study spaces, and outdoor patios. It is scheduled for completion in August 2018.
The dining hall will be a one-story 16,600-square-foot structure connected to the residence hall. The ground floor will be dedicated to housing offices, dining, cafeteria, and lounge areas.
"This project is part of a larger student village concept in the southeast quadrant of the institution, which will become a hub of activity for students and the rest of the campus community," said Clive Houston-Brown, vice president of facilities and technology.
University, city, and construction officials gathered on April 27 on the south side of campus between Campus Center and the new parking structure, digging shovels in the dirt where the building will sit.
The first phase of the university's Master Plan will take about seven years to complete. The centerpiece and top priority of this phase is a three-story, 55,000-square-foot health and science academic building, which will be located south of Bonita Avenue between B and C Streets where the Chapel now stands. It will include new classrooms, offices, and state-of-the-art laboratories.
To clear space for the health and science building, and to allow time to secure full funding for its design and construction, the university is moving forward with construction of the new residence and dining hall, and then on a new multicultural, interfaith, and spirituality center, which will replace the chapel.
"This is a defining moment for the University of La Verne," President Devorah Lieberman said. "We are celebrating our 125th anniversary, and this growth will help shape the next era of the university, the city, and the entire region."
The groundbreaking was part of the University of La Verne's Founders Day, which honored the university's 125th anniversary. Following the groundbreaking, more than 350 alumni, faculty, staff and students gathered outside the interfaith chapel for music, games, and food.
Founders Day, last celebrated at the university during its 100th anniversary, honors the university's roots and looks toward the future.
---