University of La Verne Debate Team Wins Fall National Championship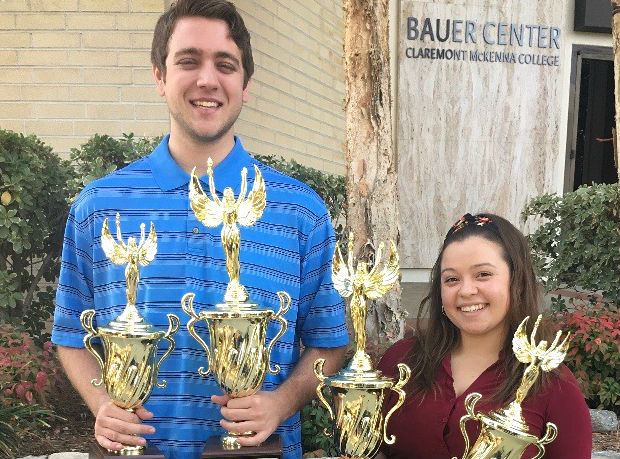 Members of the University of La Verne debate team won the inaugural Fall U.S. National Debate Championship at Claremont McKenna College on Nov. 17-19.
Senior political science and speech communication major Joanna Mrsich and junior sociology major Michael Eberle were crowned the champions. Freshman Tania Ruedas, a political science major, and junior criminology major Hannah Reyes took first place in the novice division.
Debate team adviser Rob Ruiz called the wins an incredible feat, considering that the tournament stretched across 10 rounds. Standard U.S. debates are usually six to eight rounds, making this event a marathon.
"I have to hand it to Michael and Joanna," Ruiz said. "To find a way to continuously beat very difficult teams from USC, Berkeley, and UCLA – that's tough to do. I'm extremely proud of them."
The competition was exhausting, but the debate team often performs its best under such conditions, Eberle said.
"I feel a great sense of relief that the tournament is now over and that we came out on top," Eberle said. "I am honored to have represented La Verne in a way that really demonstrated our ability to battle and overcome not only the physical exhaustion, but also bigger teams with bigger names over the course of ten rounds and not just five or six."
The University of La Verne debate team is known for taking high rankings at competitions around the world. The team won the U.S. Universities National Championship in 2007, America's Cup in 2011, and was the top-ranked team at the World Universities Debating Championships from this hemisphere in 2000 and 2001.
More than 100 college debaters gathered for the three-day event in Claremont, going head to head on topics ranging from the removal of war memorials to state secession. Other teams participating included Pepperdine University, Cal Poly San Luis Obispo, University of Hawaii, and Loyola Marymount University.
A topic that hit close to home for debaters was whether one year of military service should be required before students may enroll in college.
Eberle and Mrsich, who argued in support of the requirement, said it would provide better understanding between college graduates and military members, and it would ensure that politicians making decisions affecting the military would be better informed from having served.
"Essentially, my partner and I argued that we can level the playing field of who serves, diversifying military service, create a level of empathy between two divisive communities, and use the experience to either effectuate better policy or to build a military career that individuals may have been socialized to miss," Eberle said.
The team's next competition is the World Universities Debating Championship, taking place in late December in Mexico City.
Ruiz will also serve as a judge for the Bard Prison Initiative debates on Dec. 1. The event puts New York prison inmates up against debaters from prestigious schools such as Harvard and West Point. Inmates in the program have previously defeated both colleges.
---