University of La Verne's Cultural and Natural History Collections Receives Boost from American Alliance of Museums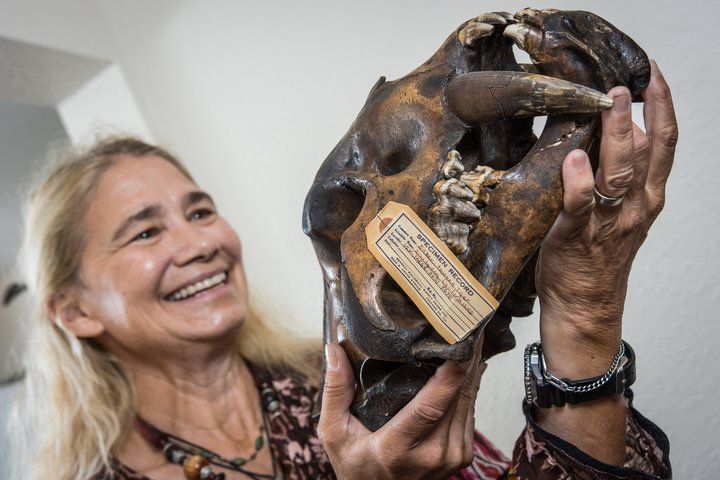 A national organization has selected the University of La Verne's Cultural and Natural History Collections for a program that will help increase the collections' exposure, funding, and educational opportunities.
The American Alliance of Museums will help the university's collections align with best practices used in the museum industry. The group's Museum Assessment Program has helped improve more than 5,000 small and mid-sized museums of all types since it began in 1981.
Dr. Felicia Beardsley, professor of anthropology and collections director, said the program will help boost the collections as a resource for community engagement.
"Just having a presence in the community has already brought calls from people asking about the identification of historical and paleontological resources in the La Verne area," Beardsley said. "We even had a retired homicide detective investigating a cold case asking about historical information as well as possible scientific methods useful in his investigation."
The collections, located in a building called the Jaeger House on Second Street, include more than 70,000 items that span the cultural and natural worlds across five continents.
Some of the items – acquired in the last year – include early American quilts and coverlets, Native American baskets, a set of Chinese lotus shoes, and a number of southeast Asian photographs and documents on refugees from the Vietnam War.
The Jaeger House is not currently open to the public, but Beardsley envisions artifact displays scattered around campus, rather than a single location.
A saber-toothed cat skeleton already resides in the Campus Center.
"These kinds of displays actually have far more visitors and observers than a single designated space," Beardsley said. "If you think about the displays in airports, for example, you have a number of distributed exhibits that catch the attention of virtually anyone walking through an airport–why not do much the same here on campus?"
She also hopes to one day have a designated space for visiting researchers interested in the collections.
Beardsley and collections curator Anne Collier '12 have been collaborating with organizations such as the Rancho Santa Ana Botanic Garden, Hillcrest, the Los Angeles County Fair, and the La Brea Tar Pits to increase the visibility of the collections in the community. They have been cultivating partnerships to develop research and internship opportunities for students and faculty.
The American Alliance of Museums will send a representative this summer to La Verne to provide guidance in best practices and to meet with various stakeholders.
---