La Verne Community Celebrates Opening of New Residence and Dining Halls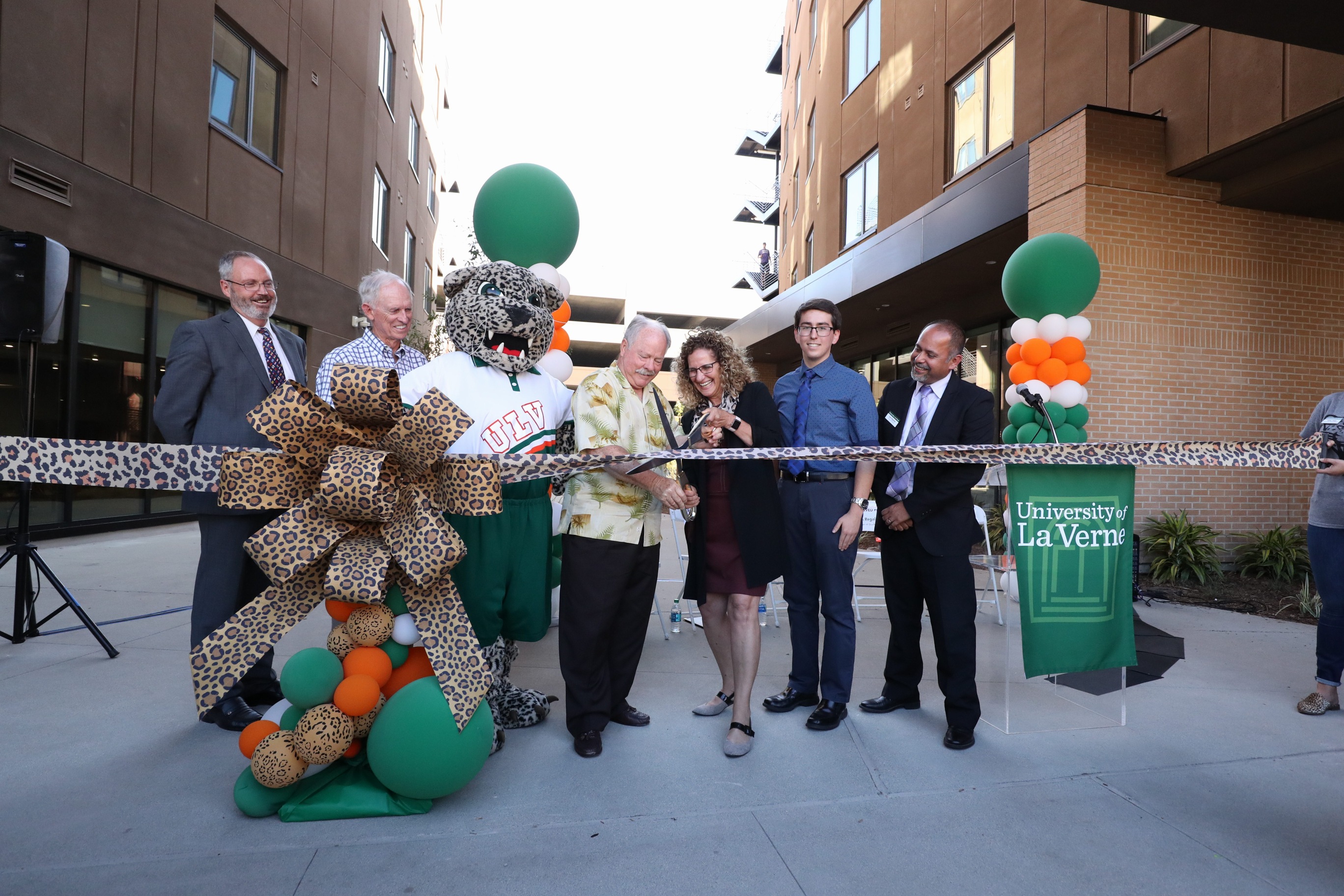 City officials joined members of the University of La Verne community to celebrate the opening of a new student residence and dining hall with a ribbon cutting ceremony on September 6.
The building of Citrus Hall and The Spot Hall brings welcome changes, President Devorah Lieberman told a crowd of onlookers, but even as the campus evolves, one thing will remain the same.
"I can guarantee you that our values and the La Verne experience, that will stay constant," she said.
Attendees of the ceremony, which was held in the courtyard of the new complex, included trustees, La Verne Mayor Don Kendrick and other city officials, students, faculty, staff, and others.
Students began moving into Citrus Hall Aug. 17. The five story, nearly 115,000 square foot facility consists of three wings interconnected by three elevators and spacious window lined corridors. The hall has space for 396 beds.
The Spot Dining Hall, adjacent to Citrus, is more than four times the size of the university's previous dining hall. Both facilities were designed to provide students places where they can easily interact.
Students not only contributed the ideas used to design the residence hall, they helped prepare the building for its opening, said Juan Regalado, dean of students.
"They continue to shape and contribute to what this building is about," he said. "This building in a lot of ways is for students, but it's also by students."
During the ceremony, Regalado called upon residents of the new hall to make it a home.
"You are creating a legacy," he said. "Take that as a call to action. Make it a place where you belong, not just a place where you live."
Other speakers included Mayor Kendrick; Trustee Bob Dyer; Vice President for Human Resources, Information Technology, and Facilities, Clive Houston-Brown; and Residence Hall Assocation President Race Dibble.
After the ceremony, several new freshmen residents said they are happy to be the first to live in the sleek new residence hall.
"We know we're the ones kind of breaking it in," communications major Pamela Hernandez said.
Business major Panayiota Pieratos said the new hall and the supportive environment made it easy to make the jump from living at home to college.
"It felt supportive, homey. It wasn't intimidating," she said.
---