University of La Verne Partners With Give Something Back to Support Students Who Have Faced Adversity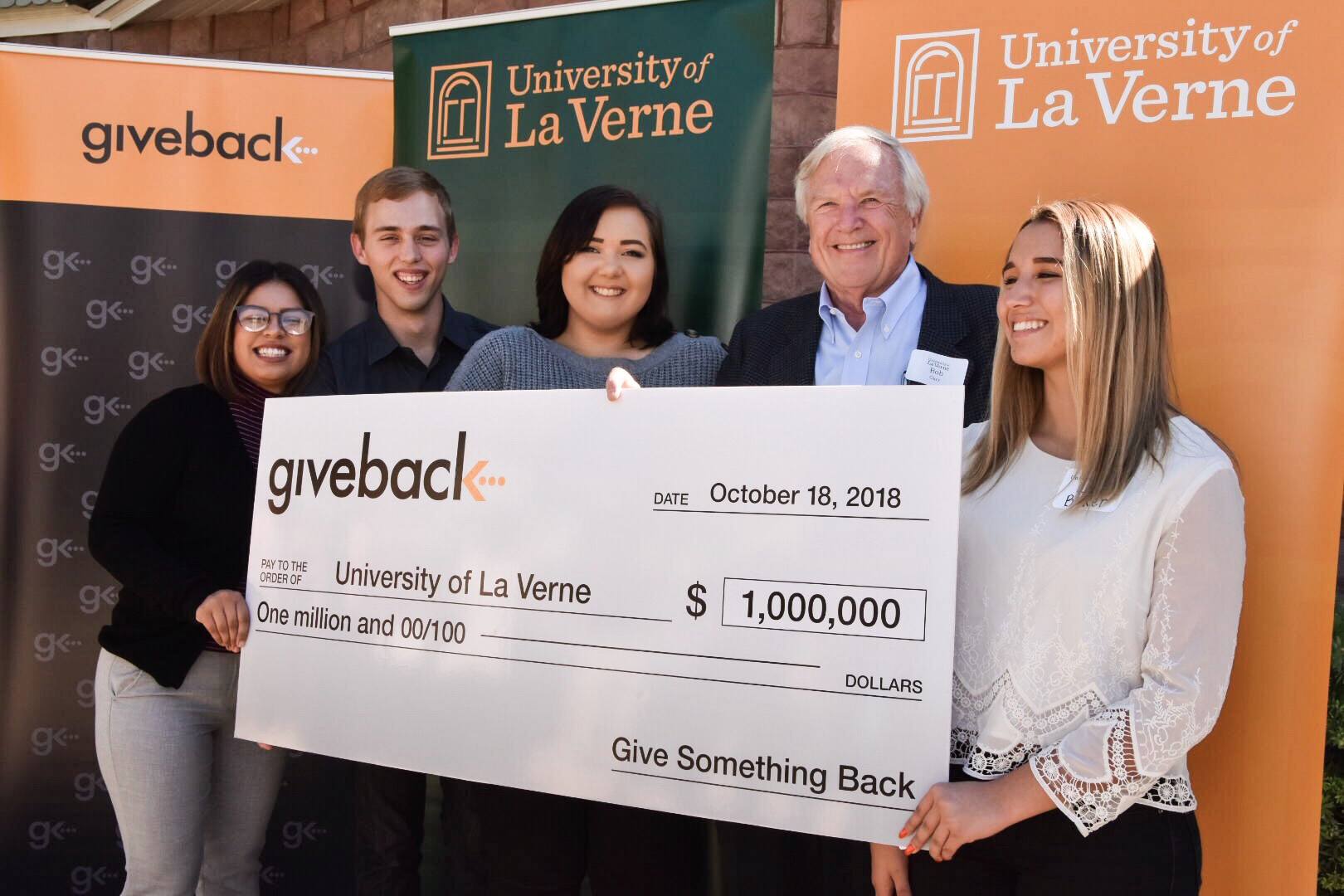 The Give Something Back charitable organization has dedicated $1 million to help students who have faced adversity obtain a college education from the University of La Verne.
The gift will cover tuition scholarships, housing, and other expenses that will help as many as many as 50 students graduate debt-free in four years.
Officials from the organization came to the University of La Verne on Oct. 18 to celebrate the launch of the partnership. University of La Verne President Devorah Lieberman thanked them for their support and welcomed the first class of four Give Something Back Scholars to the campus.
"The University of La Verne and Give Something Back are two organizations carved from the same stone," Lieberman said. "We are grateful to have found a partner so aligned with our mission and with such a strong commitment to helping students and improving the region."
Give Something Back Scholars come from disadvantaged backgrounds or have experienced homelessness, the incarceration of a parent, or foster care. Often, Give Back scholars have experienced more than one of these circumstances.
The organization works with youth starting as early as eighth grade who have a desire to attend college. It pairs the scholars with mentors, provides them with college preparation activities, and offers tutoring and other academic services.
When they are ready for college, they receive a scholarship that covers the costs of tuition and room and board for four years. State and federal grants and university financial assistance cover additional costs.
The organization was founded by Robert Carr, a philanthropist and entrepreneur from rural Illinois who came from a family of limited means.
During his visit to the University of La Verne, he said a $250 scholarship from a women's club transformed his life and inspired him to help others.
"It was the thought that counted for me. I couldn't believe someone I didn't know would give me money," he said.
The University of La Verne is providing an additional level of services to support the scholars. That includes a team of 15 faculty and staff that has committed to assist them, said Brent Baier, assistant director of undergraduate admission.
Baier said few programs and services exist for emancipated youth and youth who have aged out of the foster care system. Without resources or a network of support, navigating college can be overwhelming.
"Through this partnership, we are creating a space at the university where they can thrive and succeed," he said.
The first class of Give Something Back scholars came to the University of La Verne this semester.
Freshman Jacob Tobiasson spent part of his teen years in the foster care system. His mother died when he was 10 years old, but he always remembered what she told him about how education represents the key to success. For him, Give Something Back opened the door to opportunity.
"When I learned I was accepted, I was so excited," he said. "All of my dreams became a reality."
Sophomore Nishena Rains also spent part of her teen years in foster care.
She always aspired to go to college, but in the foster system, she consistently encountered low expectations.
Rains attended community college for two years before applying to the University of La Verne. She is now majoring in art and psychology, with plans to specialize in children's mental health.
"I was told in high school that (in college) teachers don't know your name and that they have students take role," Rains said.
At the University of La Verne, faculty members know her name, she said, adding she has found a welcoming environment.
"I'm not used to everybody being nice," Rains said.
Give Back currently works with 30 colleges and universities in seven states, including California, where it launched in July 2017.
"We pick schools were we can find people that have the same kind of passion we have to help marginalized kids get through school," said Dr. Amy Young, executive director of Give Something Back's California office.
Statistics show that about 3 percent of children in foster care go on to college, and only 1 percent of those graduate.
About 90 percent of Give Something Back Scholars graduate.
---