Debate Team Earns Top Honors During Whirlwind Weekend of Events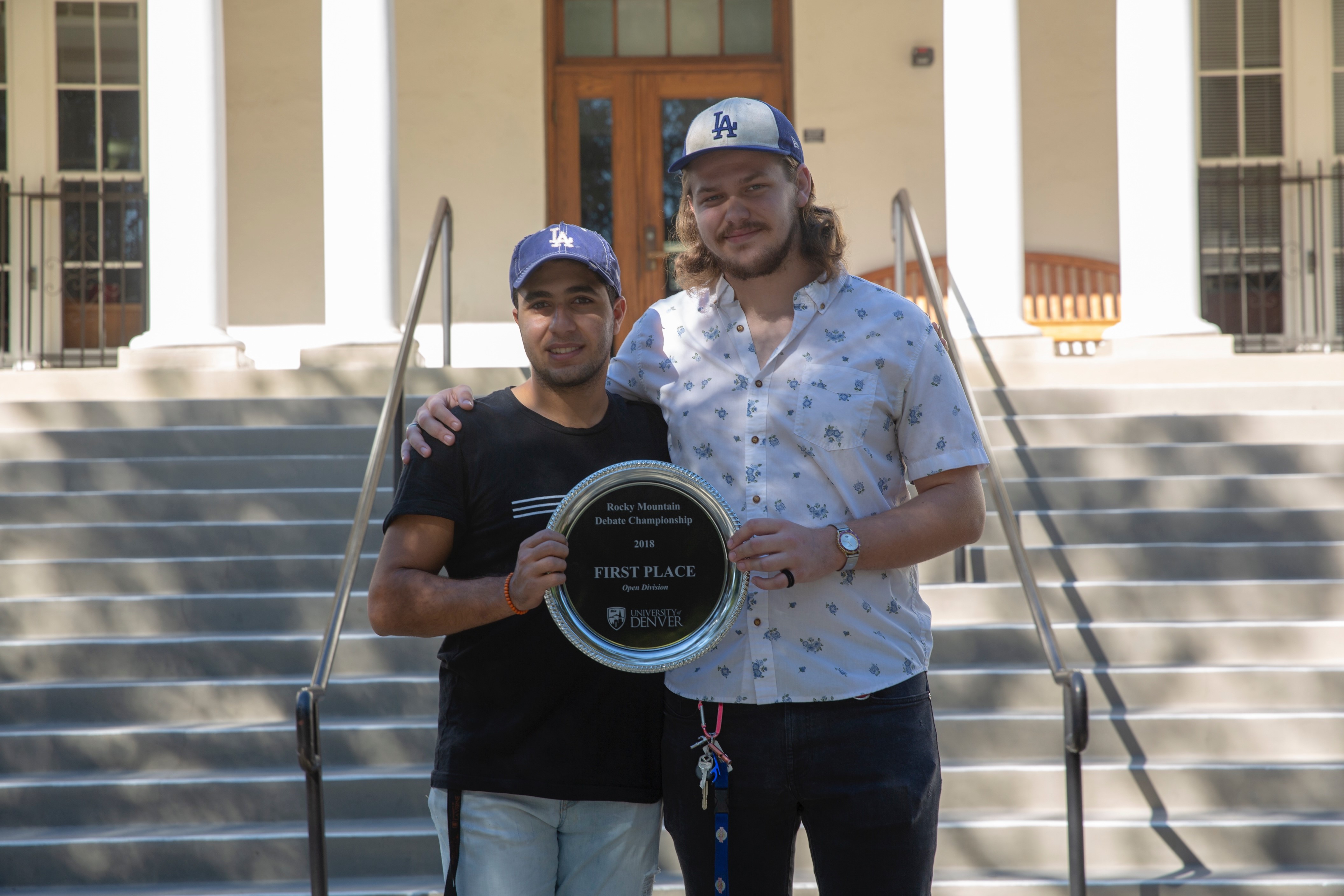 Members of the University of La Verne Debate Team earned top honors at recent events in Los Angeles and Denver.
Sophomore Jonas Poggi and freshman Noor Tabba defeated a team from rival University of California, Los Angeles (UCLA) at Politicon, which was held at the Los Angeles Convention Center on Oct. 20 and 21.
The same weekend, eleven other team members participated in the Rocky Mountain Debate Championship, a tournament held at the University of Denver that draws top teams from across the country.
Junior Fares Abdullah and sophomore Adam Pepper took first place in the open division. Freshman Esilanna McMenamin and sophomore Dallas Dorsey made it to the finals in the novice division. Freshman Mason Stackman was named the top novice speaker and senior Michael Eberle and junior Kacee Jones made it as far as the quarter finals.
"We're very fortunate," said Rob Ruiz, director of forensics and interim chairman of the university's Speech Communication Department. "Our talent pool is so spread out it was easy to say 'yes' and send students to multiple events."
The Politicon event attracted political and media heavyweights from across the country. The debate between University of La Verne and UCLA was judged by celebrities Clay Aiken and Mo Kelly, who unanimously gave the victory to Poggi and Tabba.
Meanwhile, in Colorado, more than 70 teams competed in the Rocky Mountain tournament.
The first day of competition was 16-hours long, and Abdullah and Pepper participated in five preliminary rounds.
The two advanced to the quarter finals and semi-finals before facing the University of Alaska Anchorage in the finals.
"I knew from our very first round we were doing well," Pepper said.
The university's Debate Team is a perennial powerhouse. It often competes against teams from Harvard, Yale, and other internationally-known institutions.
For Abdullah, that's not intimidating.
"We can go head to head with them," he said. "I love playing for the underdog."
The champions were welcomed back to campus to a flood of congratulatory messages.
"It was nice to feel the support, not just by our team, but by the La Verne community," Pepper said.
Pictured above: Fares Abdullah and Adam Pepper of the University of La Verne Debate Team.
---