College of Law Takes First Place at International Law School Mediation Tournament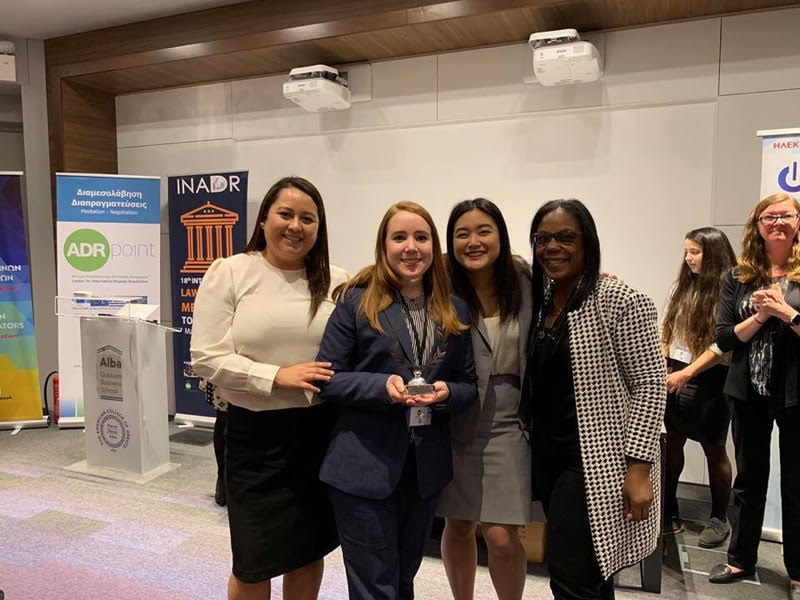 The University of La Verne's College of Law was awarded first place Mediation Team Award at the 2019 INADR International Law School Mediation Tournament – a first for the university.
Students Mayra Hernandez, Myla Sarmiento, and Andrea Schulewitch, were among 53 teams from over 35 countries that competed in the international tournament held in Athens, Greece.
Last year, the La Verne team brought home the Best New Team Award at the competition. The students were determined to compete again and go all the way.
"The difference this year was experience," said Dana King, adjunct professor at the College of Law and coach. "Myra, Myla, and Andrea worked hard both years to prepare for the competition and their preparation and dedication was rewarded."
Practice Makes Perfect
Training began last August with weekly five-hour sessions. The team was encouraged to practice an additional 2-4 hours per week for extra research.
"We spent hours reading the judges' feedback from the prior year to improve not only ourselves but as a team altogether. In these competitions, feedback is a gift," Sarmiento said.
Prior to the start of the competition, the team received general facts. It was not until 45-minutes prior to arriving on site did the students learn which side they would be on. One team member is designated as a mediator and co-mediates with a student from another school. "As a co-mediator you are given one hour to build rapport with a student from another country, create a shared opening statement, and devise a plan for mediation," Schulewitch said.
The other two team members portray an advocate and a client while participating in a separate session for the same round. Each team member's score is added to the overall team score.
The competition not only grew more competitive but gave a bird's eye view to diverse legal styles.
"The most challenging aspect of this competition was trying to predict the other teams' negotiation styles," Hernandez said. "It was an eye-opener to be in a competition where countries from around the world showcased their legal culture and negotiation styles."
According to Schulewitch, it was incredible to see the competition bring together so many diverse backgrounds to focus on alternative methods to peacefully resolve conflicts and promote healing.
Final Scores
After the first three preliminary rounds, Hernandez received 8th place Independent Mediator Award. The team also received the Spirit Award, which is voted on by all the participating students in the competition. Next, they advanced to the semi-final round where they took 10th place Advocate & Client Award. Schulewitch mediated the final round and earned enough points to push the team to first place.
"I am incredibly proud of these ladies for their hard work and perseverance over the past year," said Susan Nauss Exon, professor of law, advisor, and co-coach. "They represented the University of La Verne's College of Law with the utmost integrity and professionalism."
It was the first time the students traveled to Greece. They held lunch school fundraisers, created a formal letter addressed to major law firms and organizations for their support. The team was able to raise over $5,000 to help with travel expenses.
Next Chapter
All three students are set to graduate this May. They hope their passion for competition will inspire the next class of law students.
"It is an experience that I wish all ADR teammates can have," Hernandez said. "The spirit of this international competition leaves you excited for the future and the development of a more interconnected legal world."
For more information on the University of La Verne's College of Law, visit law.laverne.edu.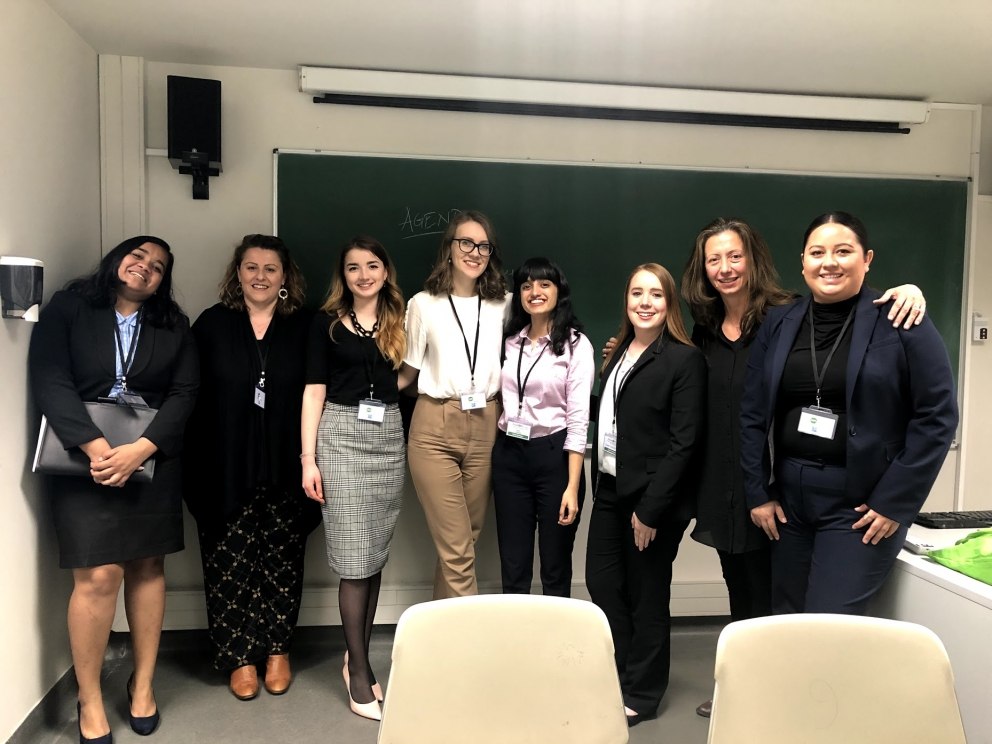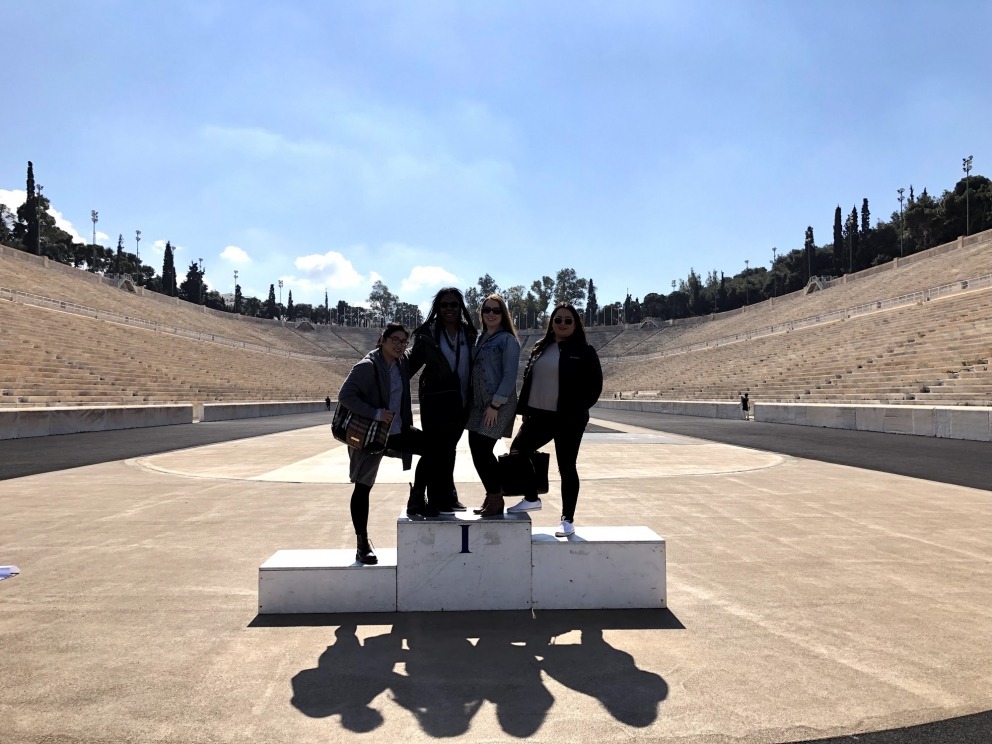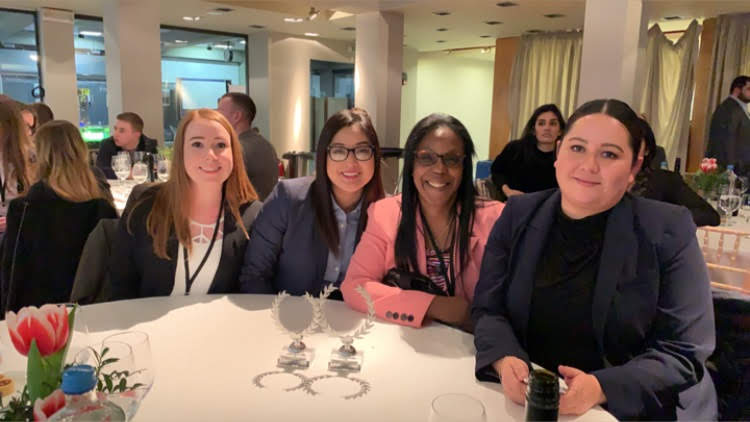 ---