Double Alumna Wins Toyota Prius in University of La Verne Scholarship Fundraiser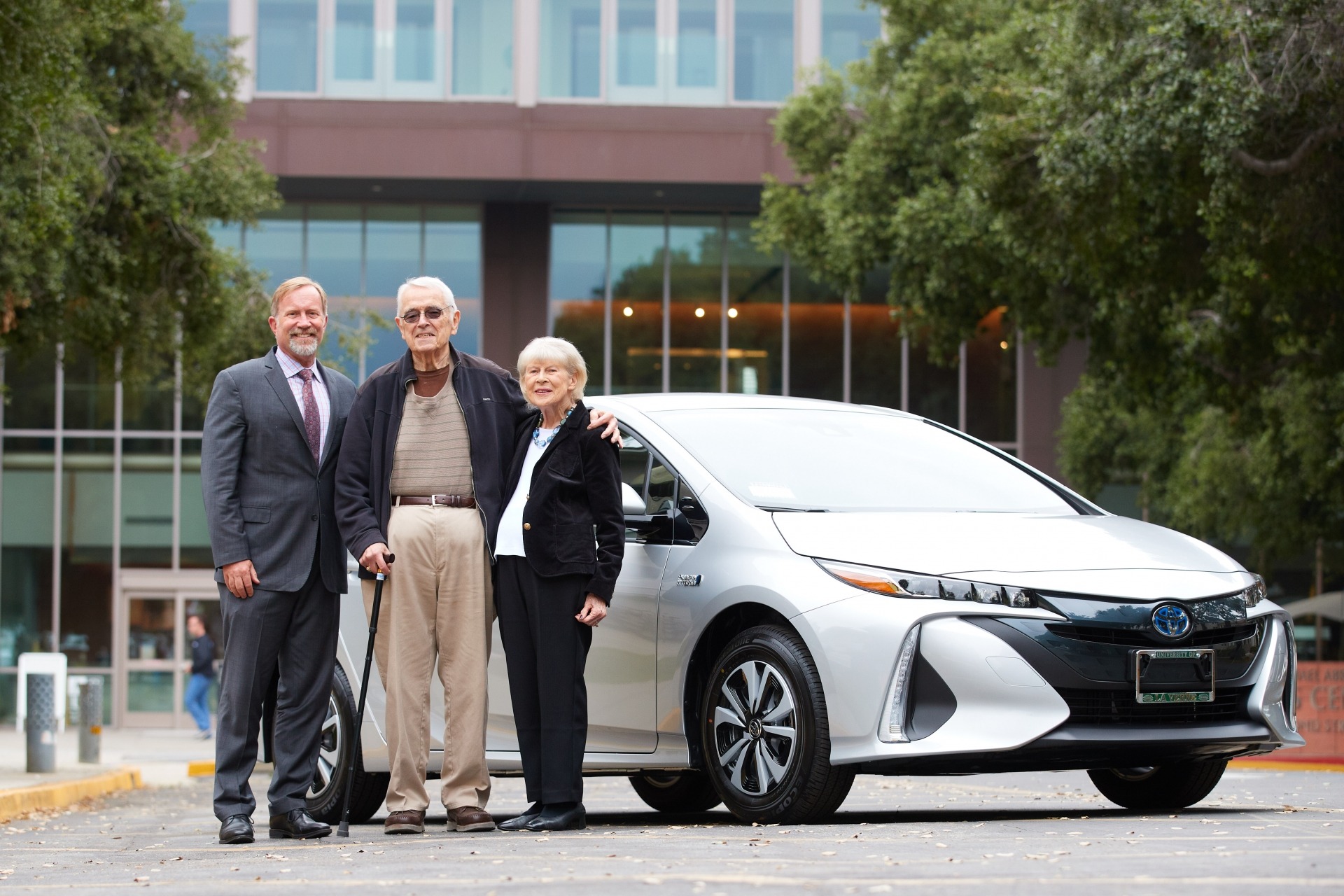 (L-R) Provost Jonathan Reed with Jack and Joy McElwee.
Lucky, yes! Surprised, most definitely!
Joy McElwee '69, '72, thought it was an April fool's joke when she received the call that she won a 2019 Toyota Prius Prime from the University of La Verne. "I couldn't believe it," McElwee said. "I think I'm still in shock."
Announced at the university's annual Scholarship Gala, McElwee's name was drawn toward the end of the night. Although McElwee did not attend the Gala, many of her friends were there and immediately contacted her.
"My friends were calling all night long to share the good news," she said. "I thought it was a joke."
The Gala, which raised more than $750,000 and drew more than 600 donors, alumni, and community members, is the university's largest fundraiser in support of student scholarships. The big prize of the night was the Toyota Prius, which was donated by OREMOR Automotive Group.
"I'm truly thankful for the education the University of La Verne provided to me and the career path it opened," McElwee said. "To be a part of such a wonderful cause to help students who may not have a chance otherwise to obtain an education is priceless."
McElwee earned her bachelor's degree in English and a master of arts in teaching. For more than 30 years, she taught at Allen Avenue Elementary School in San Dimas. Her husband, Jack McElwee, is a retired University of La Verne College of Business and Public Management professor who taught for more than 25 years.
This is the third year that the university has held a car giveaway.
Last year, Joseph Carmona '12, purchased three tickets during the university's 2017 Toyota Prius Prime Premium giveaway and won. In 2017, Navy Petty Officer 1st Class Nicole Clark bought a single ticket and won a 2017 Honda HR-V EX-L.
Last week, the McElwee's came to campus to pick up their 2019 Toyota Prius Prime, which features an 11.6 HD multimedia display, Smart Key Push Button Start, navigation, and more. They still seemed stunned by their stroke of luck.
"We are happy to have won and will now join our son and daughter-in-law in the Prius family," McElwee said.
This year's Gala played an important role in The Campaign for the University of La Verne, the largest initiative in the university's 126-year history. The $125 million comprehensive campaign will support student scholarships, new facilities, faculty teaching, and other key initiatives. To learn more about the University of La Verne and to support, visit createthefuture.laverne.edu.
---