Physician Assistant Students Rise to the Challenge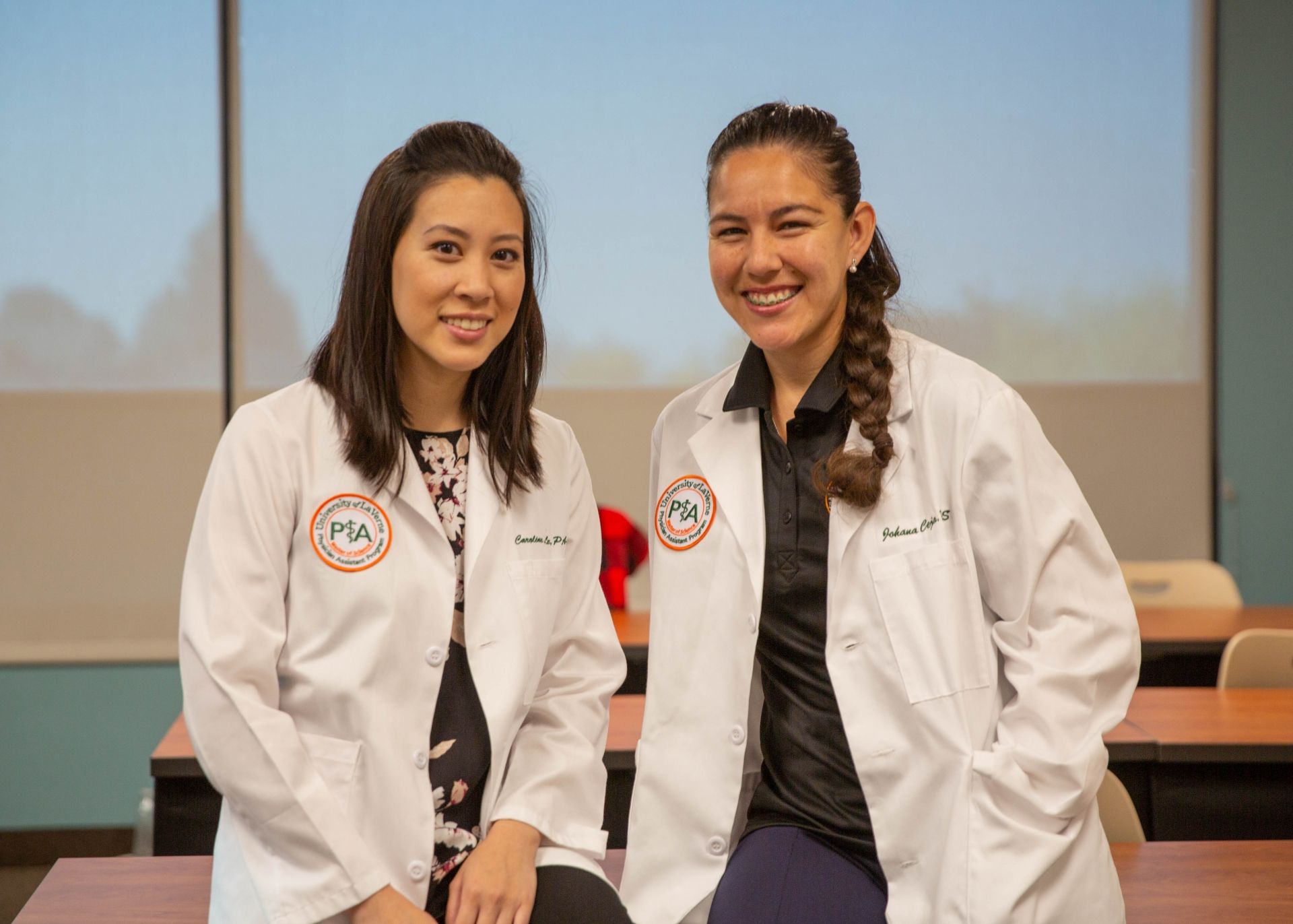 Photo caption: (l-r) Caroline Le and Johana Ceja celebrate National Physician Assistant Week. 
In honor of National Physician Assistant Week, the University of La Verne recognizes students Johana Ceja '21 and Caroline Le '20 for their ongoing leadership and continued success in the healthcare field.
National Physician Assistant Week is held annually on Oct. 6-12 to recognize the physician assistant profession and its contributions to the nation's health.
A physician assistant (PA) is a medical professional who works as part of a team with a physician. PAs handle important medical duties such as physical examinations, diagnosing and treating illnesses, ordering and interpreting lab tests, assisting in surgeries, and providing patient education and counseling.
The University of La Verne's Master's of Science in Physician Assistant Practice academic program prepares students for in-demand jobs in this growing field.
Ceja and Le, who are both first-generation college students pursuing degrees in the university's PA program, have overcome obstacles to succeed in the classroom and in their profession.
Finding Her Calling
Ceja recently received a scholarship from the National Health Service Corps (NHSC) in honor of her commitment to serve lower socio-economic communities as a future physician assistant. The NHSC scholarship recognizes students from across the country who are pursuing careers in healthcare fields and who are committed to working in areas of great need.
In 2016, more than 9,000 students applied for the scholarship. This year, only 155 scholarships were awarded, including the first to a University of La Verne student.
Ceja grew up homeless and was raised by her single mother. College seemed out of reach to her. She became the main provider for her family when she began selling snacks to her middle school peers.
"Since my mother's job was unstable and mine was booming thanks to sugar-craving kids, we were able to afford a place from an owner renting her converted garage," she said.
Though times were difficult, Ceja and her family remained committed to taking advantage of every opportunity that came their way. Even if it meant juggling work and school full-time.
"When you are constantly on the verge of losing everything, it makes one forget about pursuing something positive, such as finishing a college degree," Ceja said. "As a result, I was more determined than ever to finish school and work even harder to provide for my family."
Ceja has worked as a certified nursing assistant at Long Beach Memorial Hospital for four years. She cared for a variety of patients with language barriers and many who are homeless.
"I've been fortunate to care for patients with different needs," she said. "It has taught me to seek cultural awareness and catch nuances that will help me as a future PA to meet my patients' needs."
Ceja was selected to join the physician assistant program class of 2021 at the University of La Verne. The University of La Verne was the "one school to give me the opportunity that I needed," she said.
"I will give my all to this program and hope to make my community, my family, and my mentors proud," Ceja said.
Giving Up Was Not an Option
Le was on the verge of giving up on her dreams of being a physician assistant. She had applied during four different application cycles but to no avail.
"I was fortunate to get interviews for various programs, but I was always waitlisted," Le said. As she worked toward her admission, she continued to take courses at her local community college.
She participated in the Cope Health Scholars internship held at Riverside Community Hospital for three years. It was a hands-on experience that gave her more than 1,000 hours of patient care. During that time, Le obtained her certifications in phlebotomy, certified nursing assistant, and EMT.
When it came time to apply for a physician assistant program once more, Le looked to the University of La Verne.
"Everything fell into place for me," Le said. "Everything I had done over the past few years was all worth it."
Le joined in the inaugural class of physician assistant students last fall. She is currently a member of the Physician Assistant Student Society on campus and serves as a presidential ambassador. Earlier this year, the Physician Assistant Student Society raised more than $3,000 for the American Cancer Society during a Relay for Life campaign held in Claremont.
"It has been a roller coaster of a first year as a student physician assistant," Le said. "But, it has been a positive experience filled with generous support from faculty and staff as my peers and I begin to explore our areas of field practice."
Next month, the first cohort will be shadowing physician assistants at Casa Colina Hospital and Centers for Healthcare in Pomona.
"I can't wait to explore new areas of healthcare and apply the things I've learned in the classroom in the real setting," Le said.
Le is the first in her family to pursue a career in healthcare. Her parents, in particular, her father, became her motivation to work in primary care and learn more about preventative medicine.
"Throughout my years growing up, my father was plagued with a variety of illnesses," she said. "However, it was a physician assistant who diagnosed him with Crohn's disease." Her father is a retired post office worker who originally immigrated to the United States with his wife from Vietnam.
Le credits her parents' support for her success. She also recognizes her peers and faculty who bring unique experiences and cultural backgrounds to create a diverse learning environment.
"Who says there has to be one path to become a physician assistant?" she said. "Our class is home to working professionals, mothers, fathers, immigrants, and even a theater major."
To learn more about the Physician Assistant program, visit artsci.laverne.edu/physician-assistant.
---