Forensics Director Rob Ruiz Receives Prestigious Fulbright Grant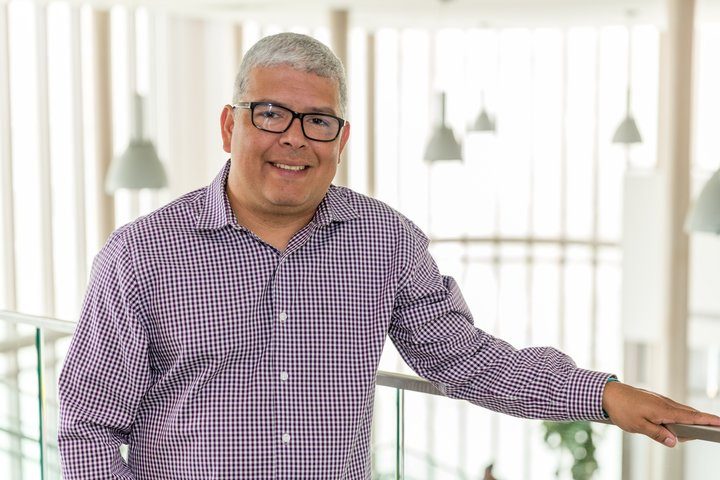 Rob Ruiz is building up the power of persuasion in young Palestinians.
On February 15, University of La Verne's star forensics coach traveled on a Fulbright grant to Nablus, where he is currently prepping the fledgling debate team of An-Najah National University to compete on the world stage.
Though the An-Najah Debate Society (NNUDS) has only been around since 2017, it has big ambitions. Over the past year, the team entered several international contests, including the 2019 World Championships, held in Bangkok, Thailand.
"They want to get to the next level of competition against the Europeans, and they want to help their national ranking," said Ruiz, who has led University of La Verne's internationally respected debate team since 2011.
He has informally coached the NNUDS team from a distance, but thanks to the Fulbright award, Ruiz is now drilling the team's 60 core members in person. The first of his scheduled nine intensive two-week residencies at the West Bank campus ends February 27. He'll return again in late March to coach the NNUDS team through an online tournament. A third visit is slated for August.
He is also preparing the Palestinian college debaters to become forensics coaches, guiding their interactions with a youth team at a neighboring high school.
"That should be interesting, because I will have to wait for translations on everything I teach them," said Ruiz. The NNUDS debaters are all fluent English speakers, but they use Arabic to instruct the high schoolers.
All abroad
The Fulbright grant paying Ruiz's expenses is University of La Verne's fifth, according to Al Clark. It was Clark, the Honors Scholarship and Study Abroad faculty advisor, who first planted the idea in Ruiz's head. At a workshop last fall, Clark urged University of La Verne honors instructors to push their brightest students to apply for the prestigious U.S. State Department grants.
Not only did Ruiz encourage his students to apply, but he tossed his own hat in the ring. His extensive international debate coaching experience, Ruiz realized, made him a strong candidate for the Fulbright Specialist Program, which pairs highly qualified U.S. academics and professionals with overseas host institutions to share their expertise.
The Fulbright grant covers all Ruiz's travel expenses, plus housing, meals and per diem.
He will be logging thousands of air miles over the next three years, as Ruiz plans to make nine trips to Nablus, bundled in two-week chunks to dovetail with his work schedule at University of La Verne.
In addition to his full-time job as director of forensics, Ruiz is interim chair of University of La Verne's Department of Rhetoric and Communication Studies. Connecting remotely from Nablus, he continues to teach his spring semester course load, logging in via Blackboard in the wee hours to meet with students in his four classes—intercultural communication, political communication, debate, and honors debate.
A life dedicated to debate
A triple University of La Verne alumnus, Ruiz '05, MEd '08, EdD '14, was grooming himself for a career in education before debate took over his life. Born in East Los Angeles, Ruiz's family moved to West Covina, where his mom taught at a Catholic school and his dad operated machinery for Anheuser Busch. Ruiz came to La Verne in his mid-20s, leaving a career in retail management at Nordstrom's.
Majoring in political science, he was recruited to the debate team by University of La Verne's pioneering forensics director Ian Lising. Despite no prior experience, Ruiz was a natural. As the La Verne Debate Team captain, he went on to capture the 2007 U.S. National Championship.
When Lising, now an associate dean, stepped down as director of forensics in 2011, he tapped Ruiz as his successor. Ruiz has led the team to 28 championship titles in the last seven years. He also directs the annual High School Summer Debate Camp at University of La Verne and oversees the university's debaters who volunteer-coach the Bonita High School Debate Team, which happens to include Ruiz's son, Andrew, a Bonita junior. Ruiz's wife, Jennifer, a chiropractor, teaches anatomy part-time at La Verne.
"How we do things here"
Ruiz first connected with the An-Najah team through coach Mariel Golden, a former University of Vermont star debater who is now a teacher in Baltimore. Golden introduced Ruiz to the An-Najah debate team's founder, Alia Gilbrecht, in 2018; he has worked remotely with the program ever since.
Being on the ground in Nablus allows Ruiz to deliver intensive, all-day instruction in persuasion, public speaking, and tournament strategy. He said he hopes to demonstrate to the An-Najah team "how we do things here at La Verne."
On a pedagogical level, Ruiz is intrigued by cross-cultural questions of holding debates in a non-Western setting. This is his first time in the Middle East.
"I'm very curious to see what kinds of topics I can run with the team," he said.
Under British Parliamentary style rules, teams must be prepared to argue either side of a proposition. "It's all generated by chance," he said. "And obviously, the topics can be very provocative. So in a non-Western arena, and especially in Palestine, how difficult or easy is it to debate, for example, women's rights or the Israel-Palestine question? Where's the line?"
About Fulbright and University of La Verne
The Fulbright U.S. Scholar Program offers approximately 470 teaching and research awards in  125 countries. Grants are available to college and university faculty and administrators as well as professionals, artists, journalists, scientists, lawyers, and independent scholars.
Past ULV faculty recipients of Fulbright awards are: Kenneth Marcus, professor of history  (Netherlands and Austria); Gail Tang, associate professor of mathematics (Myanmar); Reed Gratz, professor of music (Austria and Germany); and Herbert Hogan (d. 2005), professor of history (Germany).
---