Police Announce Arrest in Threats That Targeted University Community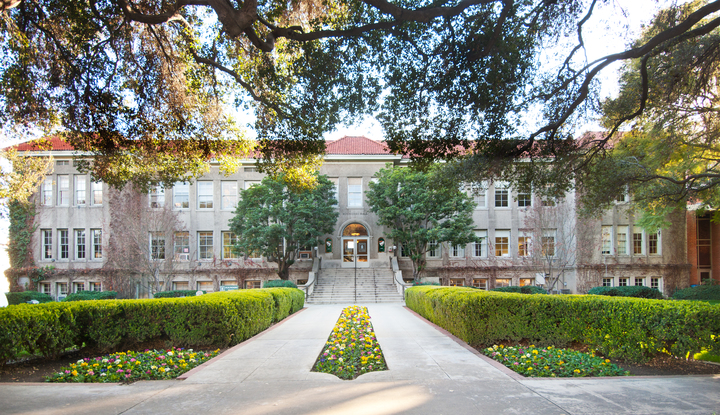 (Update 3/10/20: Press release from Los Angeles County District Attorney Jackie Lacey)
The La Verne Police Department announced that an inactive University of La Verne student has been arrested in connection with the sending of a series of racially-based threats made against members of the campus community last academic year via email, text, and social media.
Anayeli Dominguez-Pena was taken into custody on March 9 by La Verne Police after the Los Angeles County District Attorney's Office charged her with nine felony and misdemeanor counts, including filing false police reports, criminal threats, perjury, and false impersonation of another person or group, according to a La Verne Police Department press release.
Police say the suspect was a leader of a student group that received the threats, and that she falsely reported herself as a victim to the police. Other members of the student group did not appear to have any knowledge of the suspect's actions, according to the police.
The University of La Verne took these incidents extremely seriously, canceling classes, dedicating significant resources to supporting those who were impacted, and providing additional safety measures to the campus community.
The incidents were deeply hurtful to the University of La Verne and its community, President Devorah Lieberman said.
"The actions of the accused, if proven true, threatened to undermine the sincere and necessary work of addressing the very real issues of race and social justice that persist locally and nationally," Lieberman said. "We will not be deterred in that work. We are committed to moving forward together here at the University of La Verne to make positive changes on our campuses and in our community."
The University of La Verne's commitment to diversity and inclusion is critical to its success as a learning community, and for student and employee wellbeing. Differences of race, ethnicity, age, religion, neurodiversity, ability, gender, sexual orientation, and socio-economic status are and will continue to be a source of the university's strength, Lieberman said.
Over the past year, the university has implemented mandatory diversity training for all faculty and staff; required training addressing unconscious biases and equitable practices for all persons serving on search committees; offered workshops for faculty on how to create inclusive environments and implement diversity and inclusivity framework within curriculum; strengthened the office of Diversity and Inclusion through the hire of a new assistant director ; and opened the Ludwick Center for Spirituality, Cultural Understanding, and Community Engagement.
In the coming months, this work will continue to include:
Listening and discussion sessions for students, faculty, and staff on how to help create classroom inclusivity as well as assessing campus systems, policies, and procedures through an equity lens.
Communicating the results of the National Assessment of Collegiate Campus Climates (NACCC) survey and providing an opportunity for dialogue with the campus community around the results.
Implementing a new classroom evaluation focusing on educational effectiveness that includes measures on cultural awareness/competency within the classroom.
Senior leader participation in the USC Equity Institute.
The university has zero tolerance for hateful acts or related misconduct, and any member of the campus community found to have engaged in such behavior will be dealt with in accordance with university policy. The university will also continue to cooperate with the La Verne Police Department and other law enforcement partners in this investigation and any related criminal prosecution.
In doing so, the university will respect the due process rights of the accused. It will also continue to provide support and accommodations to students who have been affected.
That support includes access to The Counseling and Psychological Services office, which is available to provide individual counseling and crisis support for all students. It can be reached at 909-448-4105.
Anyone with additional information about the incidents is encouraged to contact the City of La Verne Police Department at 909-593-2531 or University of La Verne Safety Operations at 909-448-4950.
---