University of La Verne Completes Historic $125 Million Fundraising Campaign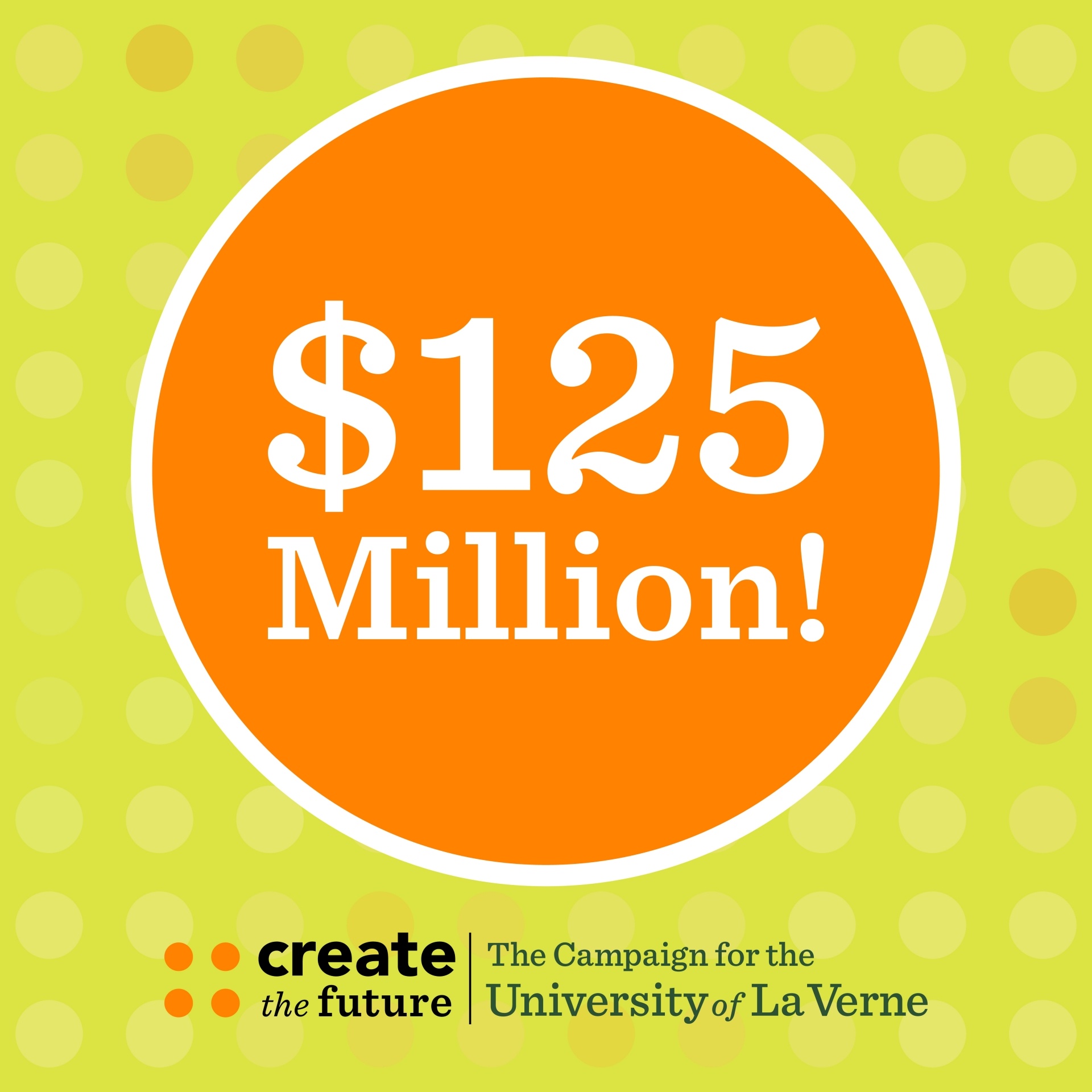 The University of La Verne has completed the largest comprehensive fundraising campaign in its history, exceeding more than $125 million to support key university initiatives.
Create the Future: The Campaign for the University of La Verne surpassed its goal a full year ahead of schedule and amid the unprecedented challenges of the coronavirus pandemic.
"I am truly humbled by the deep commitment and generosity of our thousands of campaign donors who made this extraordinary achievement possible," University of La Verne President Devorah Lieberman said. "Thanks to their unwavering belief in the university's mission and core values, we not only crossed our finish line a year early, we did so in the midst of unprecedented global challenges. I cannot thank our dedicated supporters enough."
The funds will be allocated to support student scholarships, programming, faculty development, and innovative initiatives such as the Center for Neurodiversity, Learning, and Wellness; the Randall Lewis Center for Well-Being and Research; the Ludwick Center for Spirituality, Cultural Understanding, and Community Engagement; and the Terrence E. Deal Leadership Institute.
Lieberman announced the completion of the campaign during the university's first ever Virtual Scholarship Gala on September 12. This year's virtual gala celebrated community and resiliency and was attended by approximately 500 guests. Supporters further contributed to the event by joining the virtual paddle raise.
The university launched the Create the Future campaign in 2018, with the hope of reaching the $125 million goal in 2021. As of June 30, the campaign fundraising total stands at $128 million.
With the campaign now complete, the university will establish new fundraising priorities in support of its 2025 Strategic Plan initiatives. Those include supporting high-value education, an inclusive environment, and student financial scholarships. The university will also make new inroads into health care curricula, in step with future workforce trends and to position the university for long-term success.
To learn more, please visit laverne.edu/advancement.
---