University of La Verne Wins Two Awards During First Appearance in Southern Regional Model United Nations Conference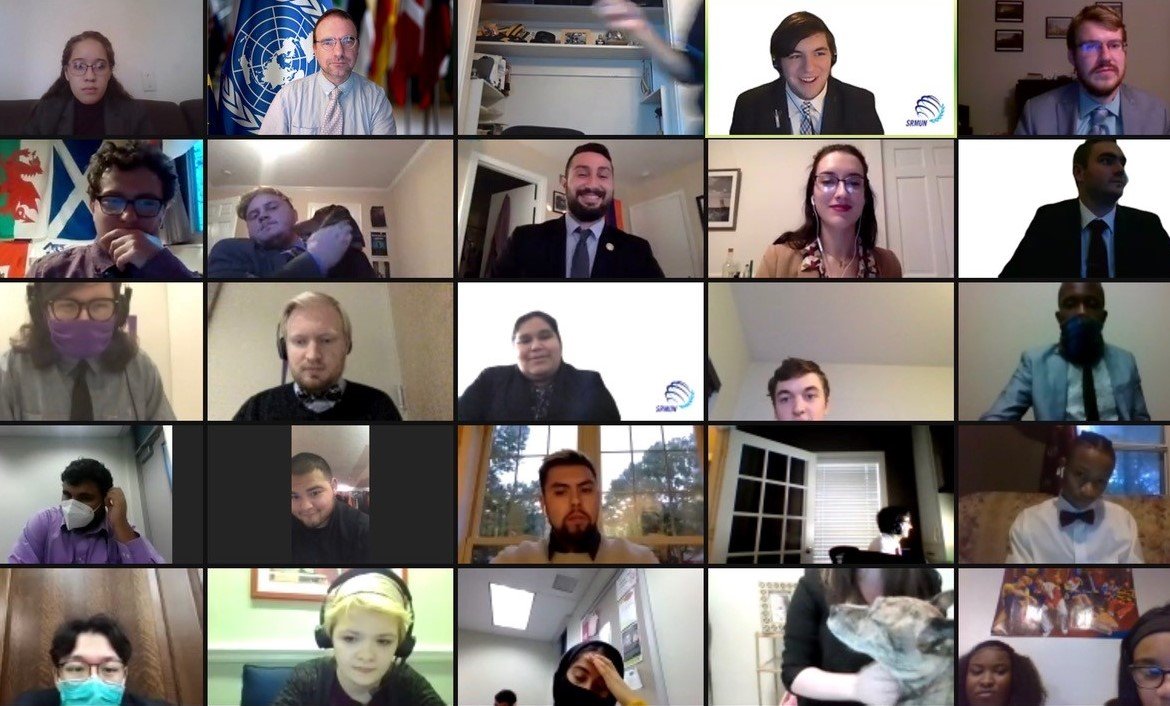 On October 24 and 25, the University of La Verne Model United Nations team went head-to-head against multiple delegations at the Southern Regional Model United Nations conference. A multitude of delegates attended the three-day conference, which was held online this year due to the COVID-19 pandemic. The University of La Verne came out on top with the Distinguished Delegation and Best Delegate Awards. This was the team's first time attending the prestigious conference.
The Southern Regional Model United Nations holds two conferences annually: in Atlanta for fall and in Charlotte for spring. Each conference welcomes nearly 1,200 delegates. The conference provides undergraduate college students the opportunity to research, debate, negotiate, and build their team's skills while addressing issues of international concern.
The University of La Verne Model United Nations team is composed of 14 members and is uniquely built, as it is offered as a two-unit class as well as a student-run club.
Juli Minoves-Triquell, associate professor of political science and team advisor, has served his native country of Andorra as ambassador and cabinet minister. He was also the first ambassador and permanent representative to the United Nations and served as ambassador to the United States, Canada, Spain, the United Kingdom, and Finland, and as observer to the World Trade Organization, among many other titles.
Minoves-Triquell saw resiliency and dedication in his team members, even as they worked remotely amid the COVID-19 pandemic.
"We came into the conference ready to work hard together," Minoves-Triquell said. "Even with the early morning sessions and days in front of the screen, I was proud of the students as well as the organization of the day."
A few months before attending the conference, the team was assigned to represent two countries: Cuba and Myanmar. From there, they split into their respective committees and researched their countries' policies, debated issues, anticipated arguments, discussed resolutions, and determined their needs and desires as a delegation. Once at the conference, they lobbied their cases, supported their teammates, and joined other sessions and breakout rooms. Their teamwork is what set them apart.
When asked what propelled their freshman delegation to the top ranks of this conference, Minoves-Triquell was confident it was their ability to collaborate and stay calm.
"We try to be strong and affirmative, but with grace," Minoves-Triquell said. "We never lose respect; form is as important as content."
Once the debating stopped and the awards were announced, the University of La Verne team was declared the winner of the Distinguished Delegation Award for representing Cuba. This award is given to a delegation that excels at debating and defending their country as well as for their collective teamwork. Subsequently, two University of La Verne students, Edward Barsoumian and Ana Flores, won the Best Delegate Award.
Barsoumian, a senior double major in criminology and international studies and vice president of the Model UN team, worked hard to ensure success for the entire group.
"There were challenges to debating online, but there were other new advantages we had like utilizing the chat feature," Barsoumian said. "It was my goal to make sure my team's voices were heard."
After graduation, Barsoumian looks to gain valuable work experience at a non-governmental organization, then pursue his graduate degree in international law with a focus on interstate conflict mediation.
"I am thankful for Dr. Minoves-Triquell and his mentorship," Barsoumian said.
Barsoumian also commended the past and present executive board members as well as the entire team for its dedication and support.
To learn more about Model United Nations, please visit laverne.edu/isi/mun.
---