The University of La Verne Celebrates Renovation of New Sara and Michael Abraham Center for Veteran Student Success with Groundbreaking Ceremony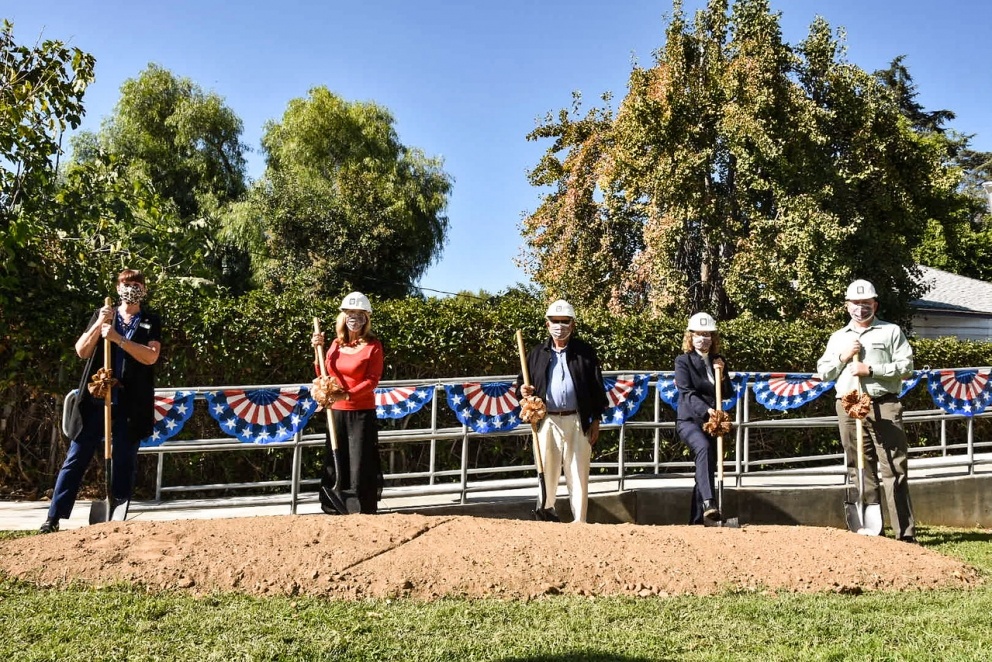 On November 11, the University of La Verne celebrated Veterans Day with a groundbreaking ceremony to kick off the renovation of the newly renamed Sara and Michael Abraham Center for Veteran Student Success.
To celebrate the start of construction safely amid the COVID-19 pandemic, the university hosted a groundbreaking ceremony on the central campus in La Verne and streamed it online for public viewing. Speakers included University of La Verne President Devorah Lieberman, Trustee Michael Abraham, senior history student and United States Air Force veteran Michael Bishop, and center coordinator Diana Towles.
Last year, the university announced a generous $2 million donation from Sara and Michael Abraham, along with gifts from Trustee Paul Moseley '88 and two other anonymous donors, to renovate and rename the Center for Veteran Student Success.
"This center will enhance our services and improve the experience of veteran students as they achieve their goals," Towles said. "They will now be able to have a sheltered, outdoor event-friendly space that provides an environment in which they can relax, connect to, and support fellow veterans."
Center renovations include, but are not limited to, a covered patio with privacy fencing; open barbeque event area; second restroom; back entrance connected to ADA-compliant ramp and stairs; outdoor lighting; and parking improvements.
"The center reminds me of the Air Force itself, where everyone looks after one another," Bishop said. "These renovations will provide a safe place where veterans can go to have fun, while also providing quiet spaces important to their growth."
Bishop thanked each donor for their support in the remaking of the center and invited them to spend time there once completed.
During the ceremony, Lieberman said veterans play an integral role within the university community and praised them for serving the country with "courage, sacrifice, belief, and purpose." The center represents the university's commitment to advance students' personal and professional success and to promote social mobility.
Last year, the University of La Verne served approximately 500 veteran students throughout the central campus in La Verne and at the regional and online campuses. There are approximately 350 veteran students who attend class on the central campus in La Verne.
Learn more about the university's veteran services at laverne.edu/veterans.
Photos by Jeanine Hill
Gallery of Images
---