University of La Verne Welcomes New Students as Campus Reopens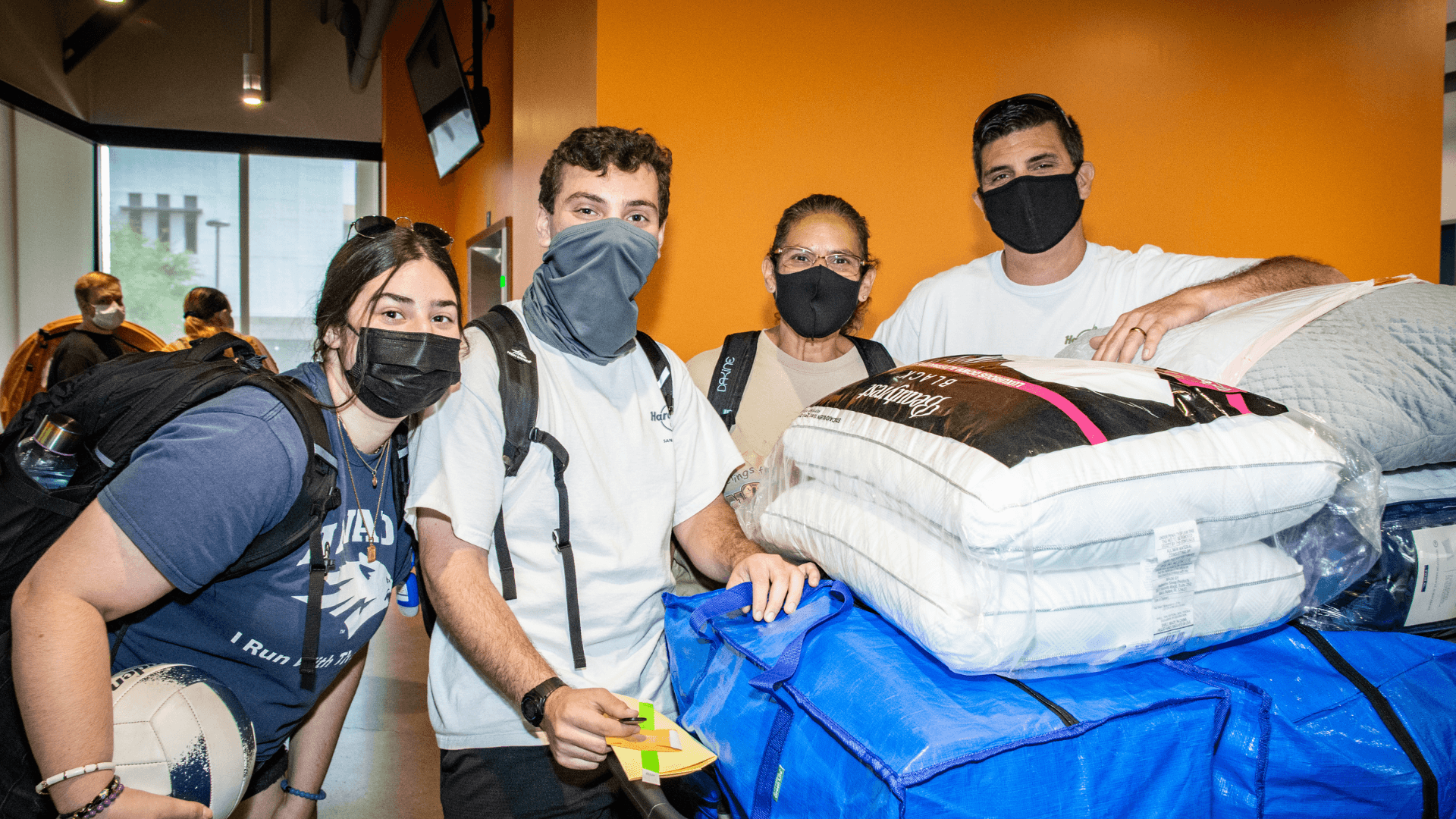 Hundreds of first-year students eagerly lined up on August 15 at the check-in booth outside of Citrus Hall, the newest housing facility on the University of La Verne central campus, to collect their dorm keys. New students were finally moving into campus facilities for the first time since the pandemic necessitated remote-only instruction in March 2020.
Groups of new students and their families arrived during their reserved move-in times. Parents and members of the football team helped shuffle students' belongings into their rooms and chatted about the first night's dinner: burgers and vegan tacos.
"We're going to have our first floor meeting tonight and I am so excited to have everyone here," said Elisa Novo, senior chemistry major and resident assistant (RA) for Citrus Hall.
Christian Cavanias, a freshman mathematics major, recently graduated from Los Altos High School in Hacienda Heights and is excited about getting involved at the university. Cavanias wants to meet new people, build relationships, get a good education, and live on his own for the first time. He's also considering getting involved in student government or other leadership opportunities. After graduation, he'd like to become a mathematics teacher.
"That's been my calling," Cavanias said about following in the footsteps of his parents who are educators. "My family is in education…it's a passion of mine."
Freshman business major Vivecca Baray drove three hours from Santa Maria, California with her mother Melissa, a stack of suitcases, and boxes full of room décor ready to wheel into Citrus Hall. Baray is a new golf athlete for the university. "It's definitely something you cannot prepare for, but it's exciting to know that she's going to do something for herself," Baray's mother said about her daughter leaving for college. Melissa believes the university will provide her daughter with a safe place to learn and grow as the pandemic subsides. "I'm glad that she actually gets to go to school this year as opposed to being at home distance-learning," Melissa Baray said.
At Vista La Verne Residence Hall, housing and residential life staff also welcomed new students. Jenna de Leon, a senior legal studies major, is an RA for sophomores and juniors in Vista Hall. Her advice for students is to jump into events, join in networking opportunities, and make friends. "The college experience is what you make of it," she said.
University of La Verne students are ready to do all they can in order to stay safe and make this year the best one yet. "I don't want to get too comfortable and have to go leave again, but we'll just be really on top of masks, because that's what's going to keep us on campus–especially in the dorms," Novo said.
Gallery of Images
---