State of the Art Science Labs Ready for In-Person Return to University of La Verne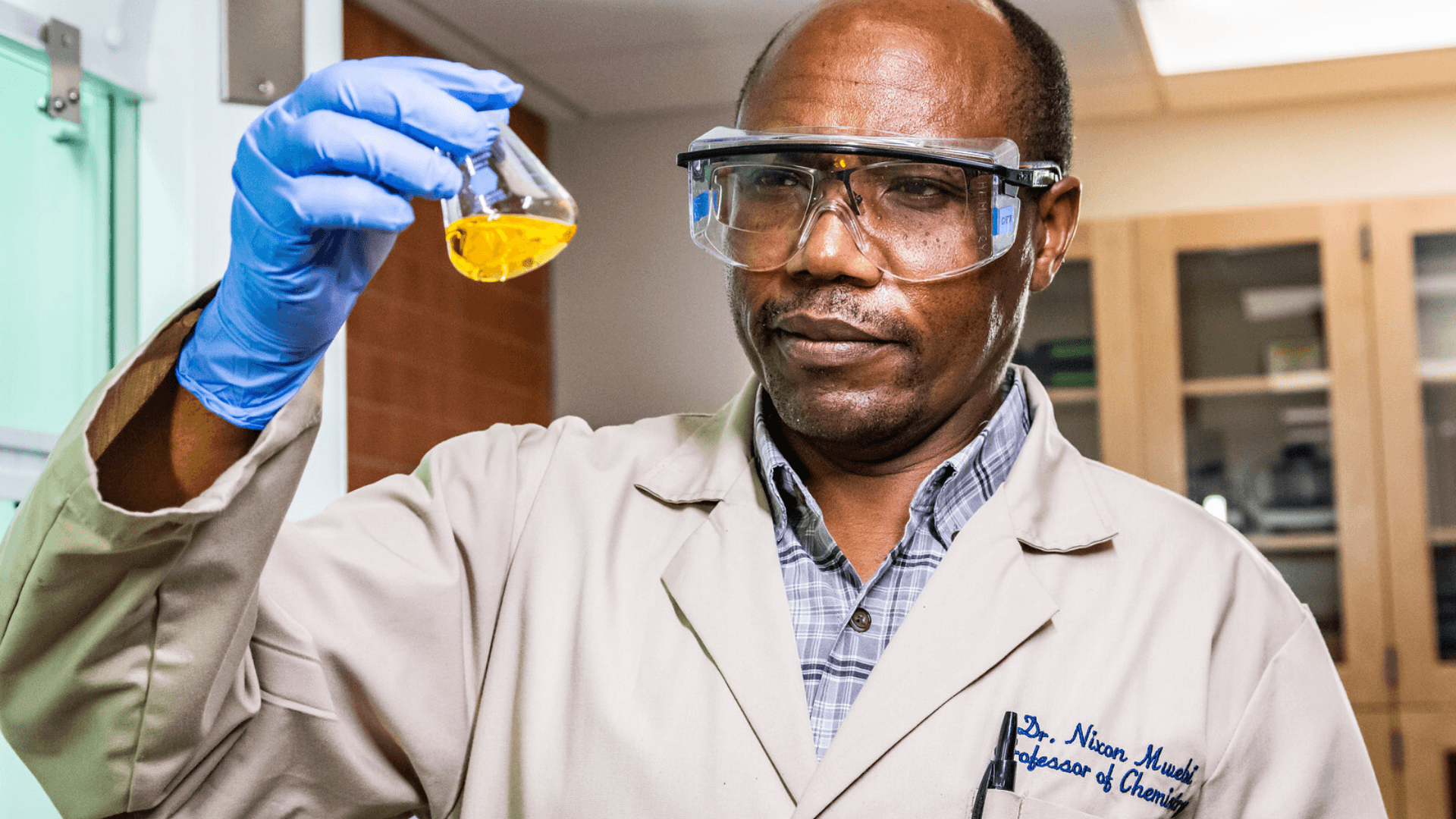 Students studying chemistry and physics at the University of La Verne's central campus this fall will benefit from state-of-the-art, newly renovated labs when in-person classes begin again on August 23. Underway since 2018, the labs were approved for move-in just three days before the COVID-19 pandemic forced all instruction online on March 13, 2020.
"It is hard to believe we will finally be able to use our new teaching and research spaces. We are all thrilled," said David Chappell, chair of the physics department.
"It's a major makeover," said Nixon Mwebi, chair of the chemistry department, who notes lab improvements for teaching organic chemistry include HVAC hoods for each student station and a layout that allows faculty and lab assistants to easily see each student at work. "They have all the bells and whistles we need," he said.
Instrumental chemistry now also has a custom-designed lab space—"a 'clean' room with minimal dust," Mwebi added. This is a vital condition for teaching a branch of chemistry that relies on precise measurement.
Vanessa Preisler, associate professor of physics, believes the new physics lab "will be wonderful for our students," who, she said, will be able to work in lab groups more efficiently. And, she said, the lighting in the new physics lab "is optimal for optics and electronics experiments."
After more than two years of having physics equipment in storage pods, Preisler is especially happy for dedicated space to house the department's 20 or more telescopes used in astronomy classes. They also get wider use during events for the community when Chappell, an astronomer, brings telescopes into the university quad so the public can observe unusual astronomical events.
Brienne Toyoshiba is entering her senior year as a physics major aiming for a teaching career. She is a teaching assistant for labs and president of Women in Physics Group, a campus club. "Construction on the labs started when I was a freshman," she recalled. She admitted "taking a peek through a window right before we left" in March 2020 for what no one could have predicted would be a 17-month period of remote learning. "They are super cool," she said of the new labs. What excites her most is "lobby space next to the [physics] lab that will be great for seminar meetings, a nice community space."
Josue C. Hernandez is a senior majoring in chemistry with a physics minor. "I am definitely looking forward to getting back into the laboratories and getting the hands-on experience that I was unable to do for a whole year," he said. And, he added, as a teaching assistant in organic chemistry, "I also look forward to helping out students in the laboratory."
Annalee Sendis, lab manager for chemistry, has spent the summer preparing the labs for fall classes. "I appreciate the fact that we have ramped up safety," she said, pointing out various features including lockers for each lab student to reduce the potential for tripping over backpacks. She believes the new labs "will motivate students to do more hands-on research," a sentiment echoed by Caleb Uitvlugt, NMR and instrument technician for chemistry. Throughout the pandemic closure, he has come to the labs weekly to maintain the equipment.
Both physics and chemistry faculty faced the challenge of teaching lab science courses remotely with little more than a week to prepare in the spring of 2020. And they had to teach students scattered across the globe, in Europe, Asia, and even Australia.
Lachlan Tatterson, an international student from Melbourne, Australia, had to manage a 17-hour time difference for remote classes and labs during the pandemic. "Professor Preisler was particularly incredible," he said, "scheduling separate windows in her own time for me to sit exams to fit my time zone."
Chemistry students used Labster software for simulated labs. Tatterson and other physics students did labs at home using a kit called IOLab that the department sent to them. As students carried out the lab instructions, the device relayed data to their computers so they could carry out labs on acceleration, force, and much more—all at their kitchen table or wherever they might be. "I found not having a professor there to help was beneficial at times, as you had to figure more out on your own, which often results in better learning," said Tatterson.
Still, Tatterson, a computer science major, says the prospect of returning to campus for fall semester "is super exciting." While the new labs were under construction, "there was always plenty of power tool noises," he remarked. "I am looking forward to heading back to the brand new physics lab to continue my studies."
---