University of La Verne President Devorah Lieberman Is Named CEO/President of the Year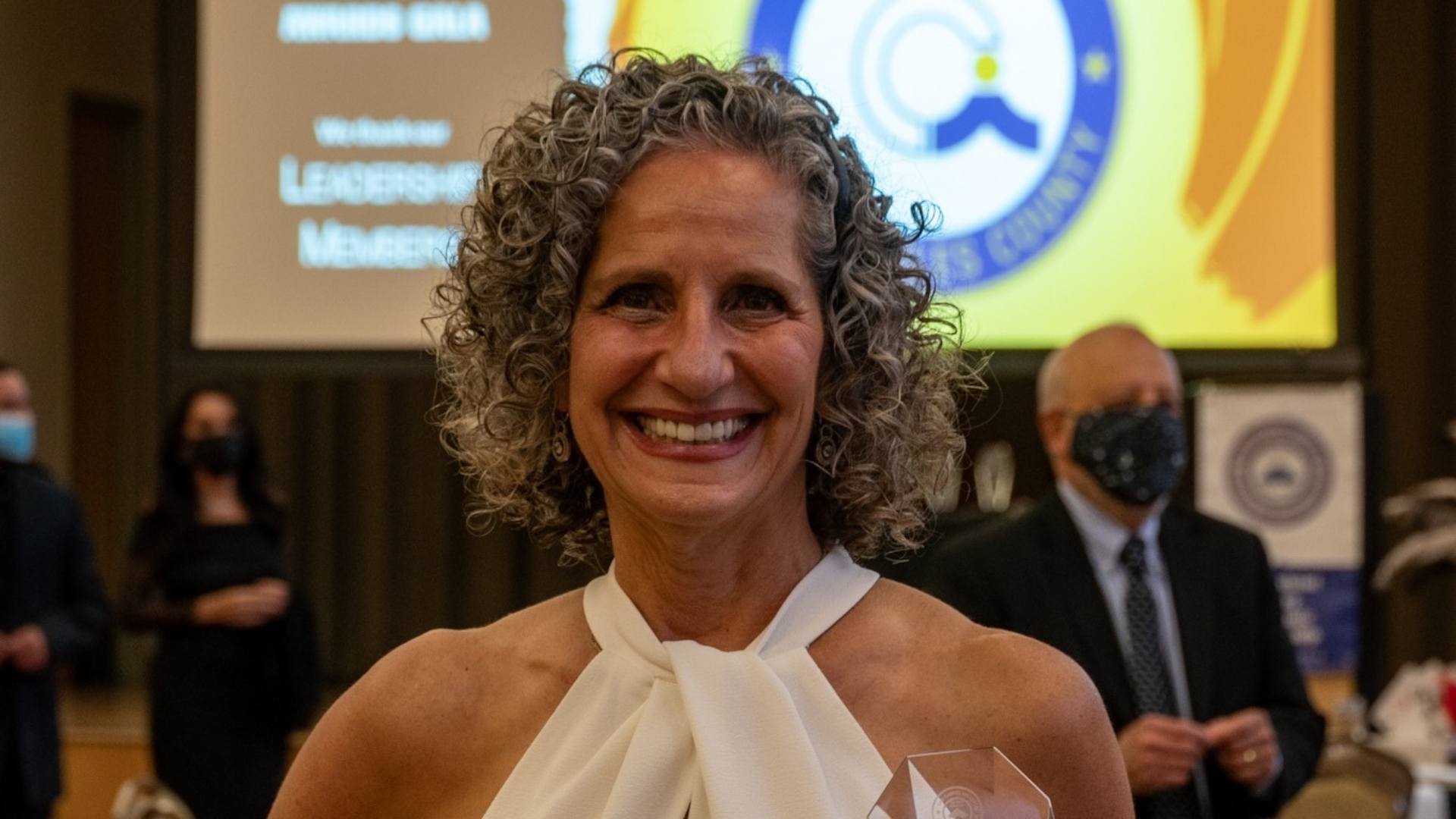 Devorah Lieberman, president of the University of La Verne since 2011, has been named CEO/President of the Year by the San Gabriel Valley Economic Partnership. The award was presented during the Economic Partnership's gala on October 9 in Diamond Bar. It has been given annually since 1991.
"The San Gabriel Valley Economic Partnership has always tried to recognize excellent leadership in our region, and this year it was undeniable that President Devorah Lieberman deserved the honor," said Bill R. Manis, the partnerships president and CEO. "Her track record of leading her university through the pandemic has been unparalleled.  On top of that, her fundraising efforts have been remarkable, and the university's alumni have responded both financially and with genuine spirit. You can't drive through the San Gabriel Valley without seeing 'University of La Verne' alumni license plates proclaiming how happy and proud the graduates are. We congratulate President Lieberman on her extraordinary success."
A video shown during the event included congratulations to Lieberman from prominent real estate executive and philanthropist Randall Lewis, Los Angeles County Supervisor Kathryn Barger, and Reggie Webb, a businessman and member of the University of La Verne Board of Trustees.
Under Lieberman's leadership, the university completed the Create the Future campaign in 2020—in the midst of the COVID-19 shutdown—a year ahead of schedule, achieving $128 million, which was $3 million over goal. In fall 2021, the University of La Verne welcomed one of the largest and strongest freshmen classes in its history and saw a major increase in the College of Law entering class. In its 2022 Best Colleges rankings, U.S. News & World Report ranked the university seventh among national universities for the social mobility of its students, first in California, and second among private institutions.  Forty-four percent of all of University of La Verne students are the first in their family to attend college, and nearly 70% of its students are from under-represented groups.
The University of La Verne campus has undergone significant transformation through construction and building renovation during Lieberman's administration. New buildings and centers have opened to support entrepreneurship, well-being and research, spirituality, veterans' success, student housing, parking structures, dining halls, and neurodiverse learning. In May 2021 the university announced it will launch the College of Health and Community Well-Being as its fifth college to help meet the region's need for a growing healthcare workforce.
"I am deeply honored to have been chosen for this award," said Lieberman. "The San Gabriel Valley Economic Partnership is a significant driver of the success of this region that has been home to our La Verne campus for 130 years. We are proud that so many of our alumni have gone on to dynamic careers in the San Gabriel Valley, and we look forward to continuing to be a supporter and active partner with businesses, workforce development, and community engagement."
The San Gabriel Valley Economic Partnership was formed in 1991 with a mission of "advancing the economic vitality and quality of life of the San Gabriel Valley." It does this by connecting cities, companies, and organizations; promoting workforce development; marketing the strengths of the area; doing political advocacy; and encouraging a business-friendly climate.
---