Military and Veterans Find Community and Support at the University of La Verne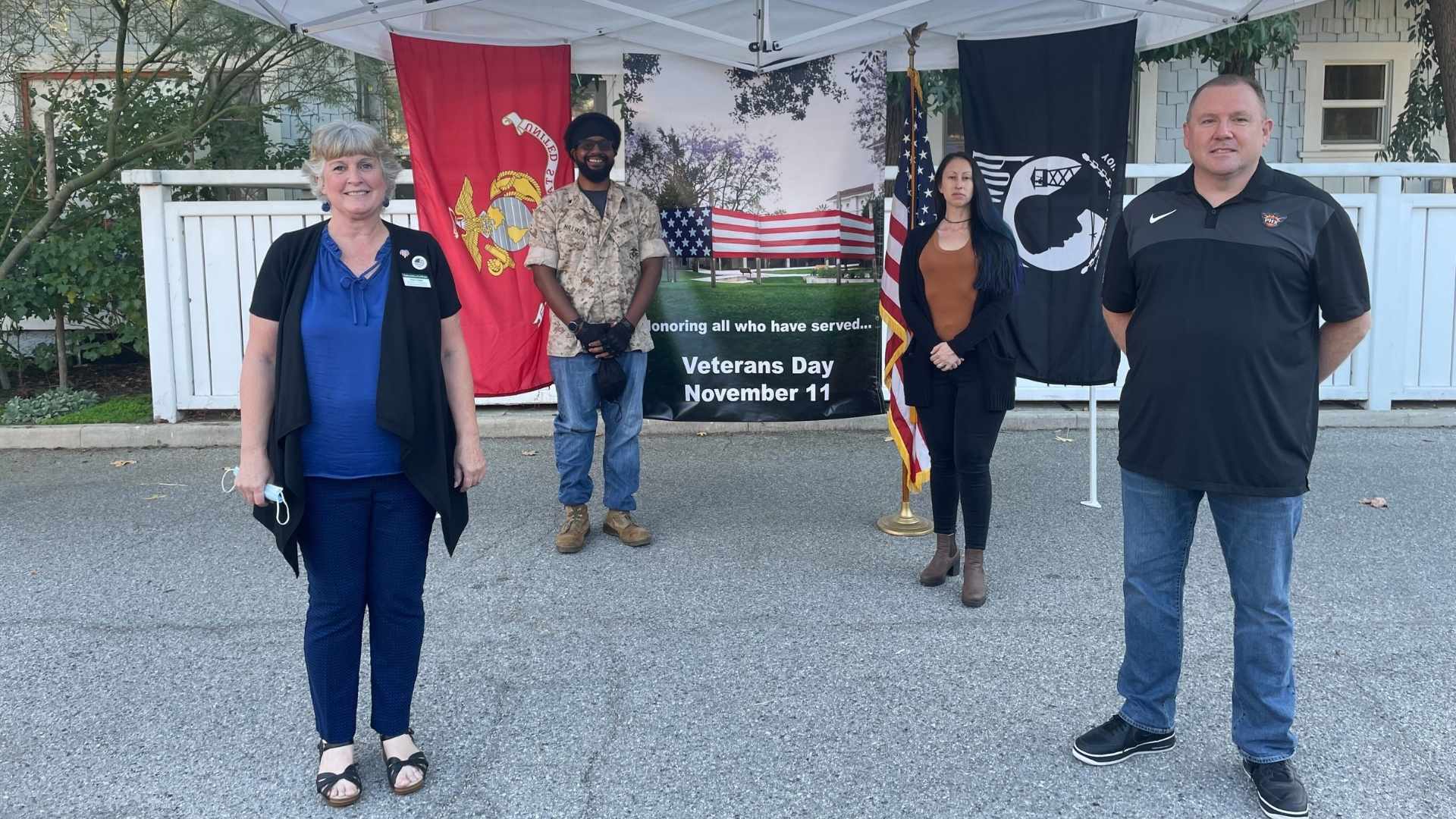 Michael Bishop had devoted 23 years to active duty in the U.S. Air Force, working in logistics and recruiting, before leaving the service in 2015. "I had a great career," he said.
Human resources work seemed to draw on a similar skill set as his military job, so he found a position in that field—and spent the next three years complaining to his wife about it.  "I just didn't have satisfaction in HR," he recalled.
Though Bishop had earned two associate degrees while in the service, he admits now that he feared returning to school as a non-traditional student. "College was never on my radar," he said, though education was always important to him and his wife, Yolanda, and they pushed their two sons and daughter to pursue it. As one of their sons was exploring the University of La Verne, Bishop got acquainted with it, too, and he liked what he saw. The small campus was appealing, offering "an opportunity to be part of the community and to interact with professors and students," he said. He enrolled in 2018 using veterans' benefits to pay for his education, and by January of this year had completed a bachelor's degree in history.
Having gotten that far, Bishop wasn't about to stop. He had always liked working with young people and coaching–"I really enjoy changing people's lives." He's now enrolled in a master's degree program that will prepare him also to earn a California secondary teaching credential so he can teach history at the high school level. His tuition is paid for using veterans' benefits, and he even receives a stipend for living expenses. He expects to complete the degree in January 2023.
Bishop is one of the students who work with Diana Towles, coordinator at the University of La Verne's Sara and Michael Abraham Center for Veteran Student Success. All of those on the center team are veterans, so they know firsthand the challenges of moving from military to civilian life and are prepared to help students successfully transition. "It's a completely different culture," said Towles. "They have a protective family unit in the military and are told what to do and how to do it. Coming out of the service, there are so many choices and things they may not know about."
At the center, veterans find community, help in accessing resources and veteran benefits, a quiet place to study, and a safe space to have candid conversations. The goal, said Bishop, is "to make sure their experience at La Verne is a positive experience."
The center's efforts are paying off. Military Friendly® Schools looked at factors such as student retention, graduation, job placement, loan repayment, persistence, and loan default rates for all students and specific policies for active duty and veteran students and gave the University of La Verne its gold ranking for 2021-22.
Towles noted that the University of La Verne has been serving the military and veteran communities for over 50 years. Last year more than 450 military personnel, veterans, and family members enrolled at the university, including some on Naval Base Ventura County and at Vandenburg Space Force Base. Policies and schedules are flexible to meet the needs of active duty military who may find themselves deployed. Among the majors they commonly choose are business management, computer science, criminology, and kinesiology, said Towles.
James Milliken, a former Marine, is one of the veterans who finds a welcoming community at the center. A senior majoring in sociology, he aims to be a case manager and to take graduate studies in counseling. He comes frequently to study and says "I get a lot more done here—there's nothing to distract me."
Milliken enjoys an environment with others who are of a similar age and experience. He says he feels "very comfortable," and that's just the atmosphere the center is designed to provide—a space, as Towles puts it, to find "a sense of community and belonging."
To learn more about how the University of La Verne serves the military and veteran community, go to laverne.edu/veterans.
---