Swingin' in the Rain: Annual Golf Tournament Embraces Inclement Weather by Raising Nearly $100,000 for Scholarships and Programs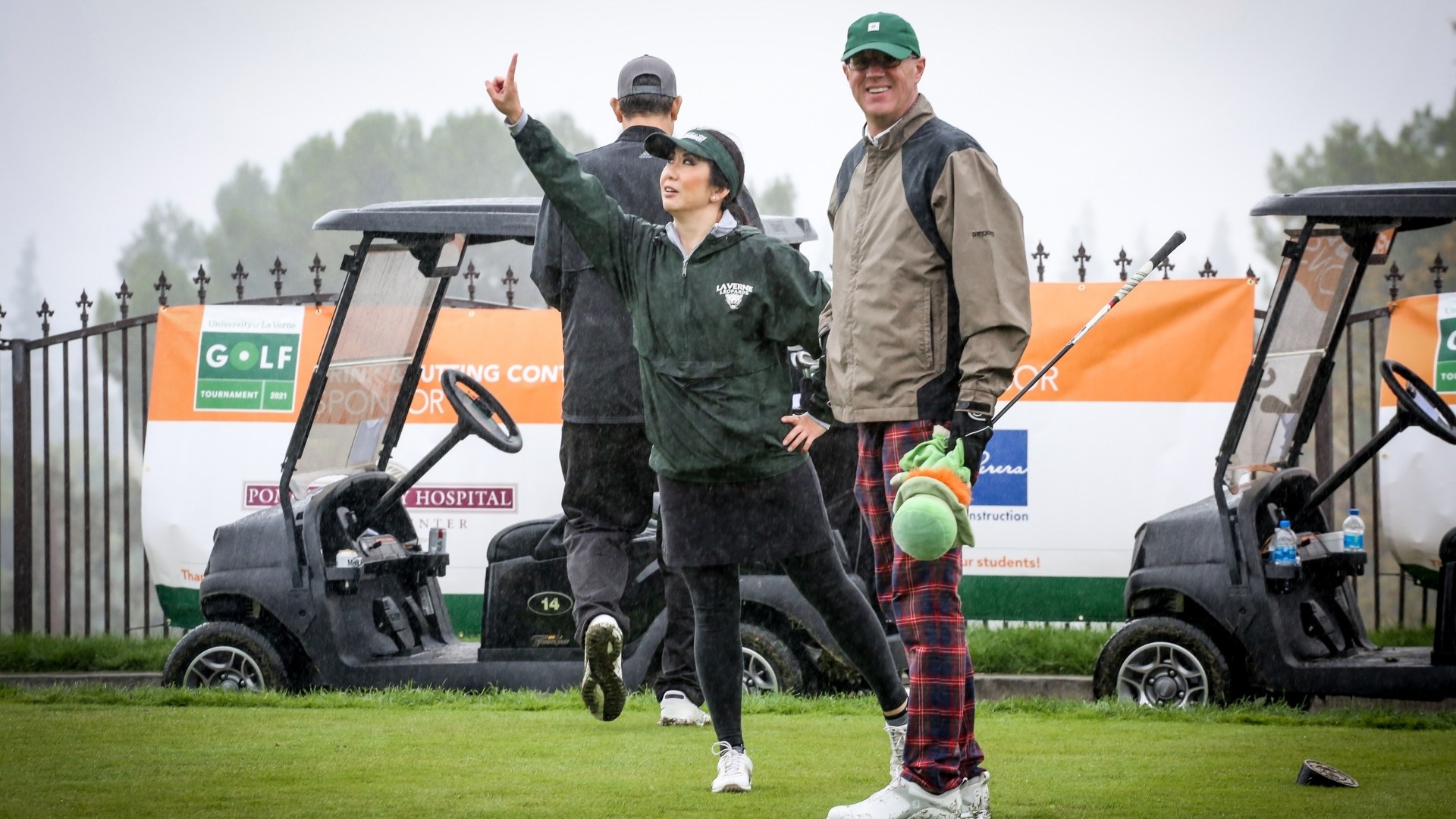 Not even a surprise rainstorm could stop the showering of good will during the University of La Verne's annual golf tournament on Monday at Red Hill Country Club in Rancho Cucamonga. The event raised nearly $100,000 for student scholarships and academic programming.
The fundraiser hosted 130 golfers who represented a diverse group of donors, trustees, alumni, faculty, staff, and friends of the university. Top sponsors included Gilead Sciences, Pomona Valley Hospital Medical Center, Cardenas Markets, Inc., BSN Sports, K.A.R. Construction, Perera Construction, and H&S Transport. Former university head football and golf coach and professor emeritus of kinesiology Rex Huigens showed his Leo pride by scoring well throughout the tournament and bringing home the first place prize.
"On a day that was about as bad as the weather can be in southern California, we had the first real opportunity to get alumni and friends together in two years and we could not have asked for a better day," Vice President of University Advancement Sherri Mylott said. "It was wet, but the competition was friendly and fun."
Nearly all the "loyal Leos" who registered showed up to golf, enjoy the breakfast bar, taco truck lunch, and steak dinner despite the unusual weather conditions. For attending the event, participants received fun branded golf items like markers, golf balls and Bluetooth speakers. They also scored popular golf brand Travis Mathew apparel items.
Football alumni Mike Simon '14 and Kyle Ellis '15 played in the Citrus Motors foursome game and both reflected on their time spent as students.
"La Verne was my home for four years – from the moment I woke up 'till I went to bed each night. My coaches were family. I'm happy to do what I can for my university, especially if it involves golf! I'm definitely getting more team mates to play next year," Simon said alongside Ellis.
Current student athletes from the golf, baseball, and football team also attended to thank the golfers while they volunteered. Attendees were seen golf-carting together in ponchos catching up alongside the chill of the crisp rainy breeze.
Assistant Vice President of Alumni Engagement Kim Grant attended the event and enjoyed the rainy experience alongside her colleagues. "I think everyone agrees that this was one for the record books – no one will forget getting that soggy and laughing that hard on the links," Grant said.
The next golf tournament will be held at Red Hill Country Club on September 12, 2022. To learn more and give today, please visit laverne.edu/advancement/golf.
Photo credit: Nancy Newman
Gallery of Images
---