Inland Empire Hispanic Leadership Council and University of La Verne Extend Partnership to Develop Community Leaders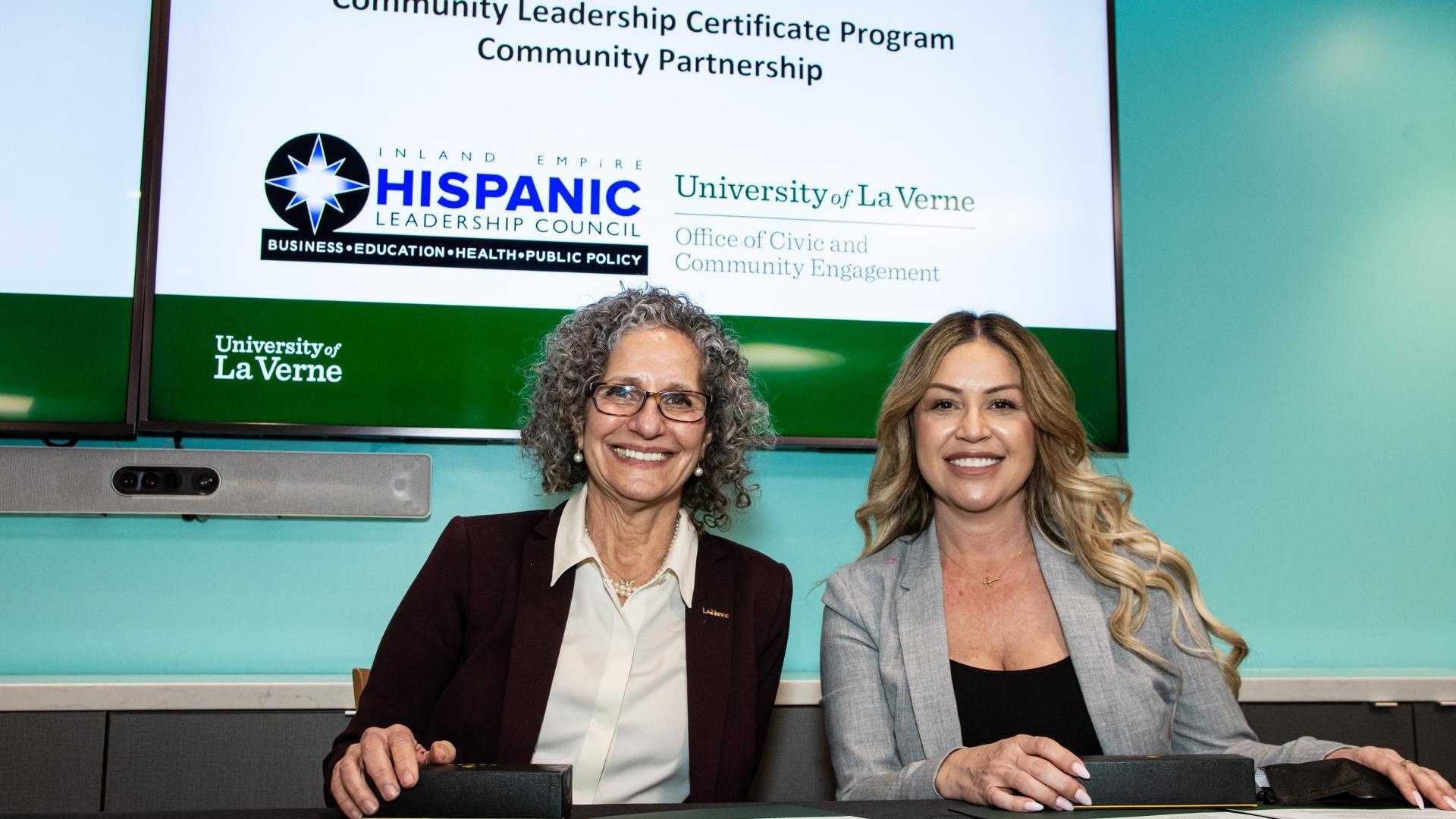 The University of La Verne welcomed Inland Empire Hispanic Leadership Council (IEHLC) President Laura Morales, Chairman and Chief Advisor Jaime Hurtado, and others from the organization to campus on Thursday to celebrate the continuation of a joint certificate program that helps Inland Empire community leaders develop their professional skills.
The Community Leadership Certificate Program was created in 2017 to help participants learn about research and assessment tools for personal and community development.
The eight-day program, a partnership between the IEHLC and University of La Verne, is taught by faculty from the university's LaFetra College of Education and College of Business and Public Management. Topics include strategic thinking, emotional intelligence, conflict and change management, and leadership and multiculturalism.
The IEHLC is a regional nonprofit organization that aims to create opportunities in order to sustain positive and responsible growth for the Hispanic community. Its services center around four pillars: business, education, public policy, and health. Board members include regional leaders from business, media, education, and nonprofit sectors.
Morales met on Thursday with University of La Verne President Devorah Lieberman and other university leaders. During a brief ceremony in the Quay Davis Executive Board Room, the IEHLC and university pledged to continue the Community Leadership Certificate Program partnership through 2023.
Director of Community Engagement Julissa Espinoza was a participant in the program during its first year and uses many aspects of the program in her current position at the university. She looks forward to seeing the program evolve and thanked IEHLC for its continued partnership.
"There's always something that I learn every year, and it's amazing to see all of the participants that have been a part of the program leading in their communities," Espinoza said. "The program provides the tools for our students to continue to go out there and be effective public servants."
To learn more about this program, please visit laverne.edu/engagement/community-leadership-certificate-program.
---