In Memoriam: Felicia Beardsley, 65, Kept History in our Hearts for Over Two Decades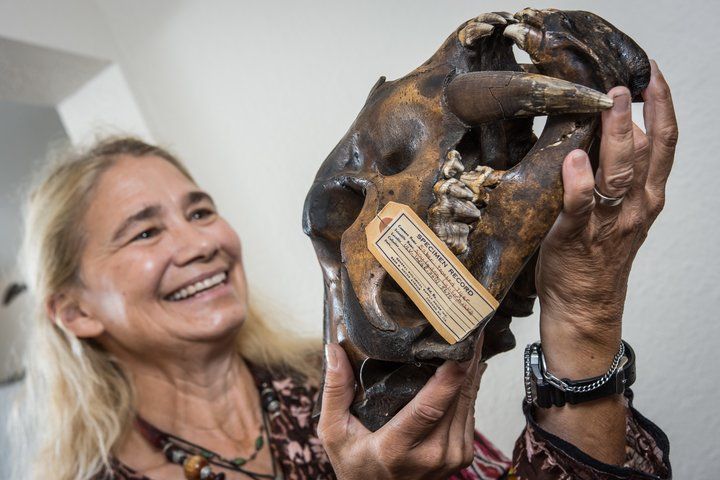 The University of La Verne community is mourning the loss of Felicia Beardsley, an acclaimed archeologist, anthropology professor, and director of the university's Cultural and Natural History Collections, who passed away unexpectedly February 28. She was 65 years old. Beardsley had been a beloved member of the faculty for more than 20 years, serving in numerous leadership roles, and her passing has left a profound impact on her colleagues, students, and the greater community.
Beardsley joined the university in 2001. She taught a wide range of courses in archaeology and anthropology and held expertise in topics such as heritage conservation, cultural preservation, heritage resources legislation, oral history documentation, forensic archaeology, and prehistoric Pacific climatology.
Anne Collier '12, former assistant director and curator for the Cultural and Natural History Collections, was a student of Beardsley's before she became her colleague in 2013. She said she will always remember her by her unique and exciting lectures, creative classes, and her dedication to helping her students achieve their academic goals. Collier described her as a mentor who truly cared about her pupils' success and was always available to offer guidance and support. She said Beardsley would advise students on her own time and advocated for them to follow their dreams.
"Felicia stood up for what she believed," Collier said. "And, from where I sat, she believed in the success of not just her students, but any student."
Beardsley was a well-published scholar and explorer who stayed curious about the world around her. She contributed to several publications and articles on the foundation of Pacific archaeology from Eastern Micronesia. She added Nan Madol, a series of more than 100 islets off the south-east coast of Pohnpei, to the UNESCO World Heritage List; documented ancient civilization history, including the formerly unknown statue-making industry on Kosrae; founded the first evidence of coral fishhooks in the Pacific; discovered the earliest pottery making site on Yap; timestamped temple stone architecture; crafted heritage preservation legislation for governments in the western Pacific; organized museums, and much more.
She held a position on the La Verne Academy, which is comprised of recognized university leaders in research, publications, and creative activity. She also gave several interviews for episodes of the History Channel documentary shows "Ancient Aliens" and "The UnXplained" since 2013.
When Beardsley served as the director of the Cultural and Natural History Collections, she showcased the ever-growing collection of more than 100,000 natural history artifacts at prominent locations like the LA County Fair, where she reconstructed and exhibited "Smiley," the saber-toothed cat in the Abraham Campus Center. She also held interactive workshops of artifacts at the Skirball Cultural Center and other locations.
As associate dean of the College of Arts and Sciences from 2009 to 2015, she oversaw the arts scholarship program and helped design and implement the First Year La Verne Experience (FLEX) program.
Beardsley was as a consultant with the KnowledgeWell, Inc. Foundation, University of Arizona Radiocarbon Laboratory Outreach Program, and was on the technical advisory committee for archaeology and cultural anthropology for the Federated States of Micronesia. She participated in several scholarly societies, including the Indo-Pacific Prehistory Association, and served as secretary and treasurer to the Society for Archaeological Sciences.
Beardsley's kindness and generosity will be greatly missed by all who knew her.
Sacred Sage will be sharing its Medicine of Health, Help, Good Journeys and Peace with all who are interested.  The sage ceremony will be led by Dan Kennan, colleague of Beardsley, on Monday, April 3 at 3:30 p.m. in the university quad (between Morgan Auditorium and Miller Hall).
A Celebration of Life gathering will then be held to honor Beardsley's legacy immediately after the sage ceremony at 4 p.m. in the Ann and Steve Morgan Auditorium. There will be a reception in the university quad immediately following the service. This is the new reception location, as it will not be held at Fasnacht Court anymore. All are welcome to join.
"She was powerful in her simplicity," Collier said. "She was as strong as a beast and as creative as a butterfly."
---