University of La Verne Graduates 1,600+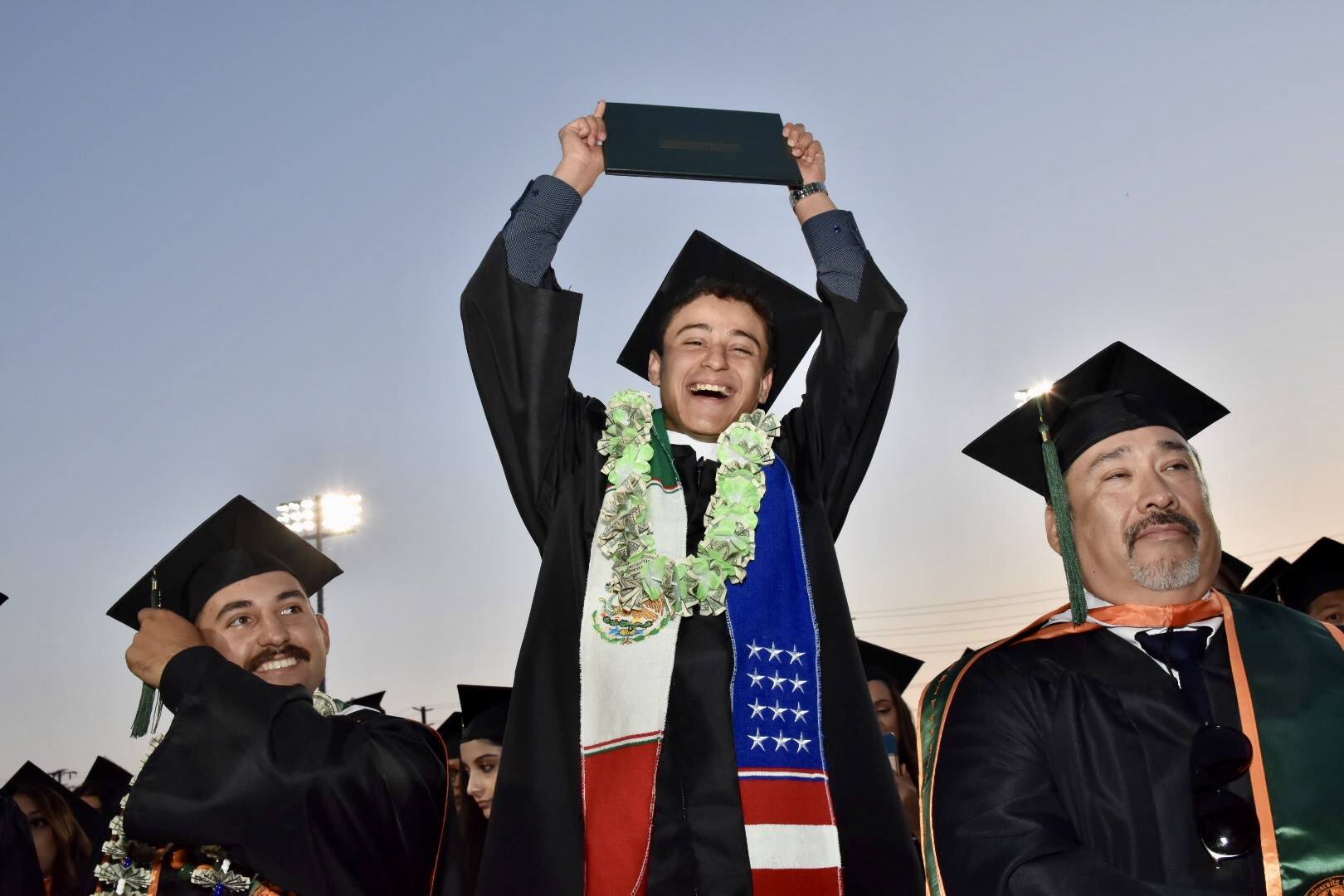 This is your time. Make every moment count. Think big. Accomplish much. And always give back.
These were just a few pieces of advice President Devorah Lieberman, distinguished guests and peer leaders shared with the more than 1,600 University of La Verne graduates over two days in five commencement ceremonies held May 26 and 27 at Ortmayer Stadium on the historic La Verne campus. 
Keynote speakers included United States Department of Education Under Secretary James Kvaal; California State Senator Susan Rubio; President of the American Council on Education Ted Mitchell; San Bernardino County Superior Court Judge Lisa Rogan; and President-elect of the Society of Neurological Surgeons and University of La Verne Board of Trustees Member Kim Burchiel. Kvaal, Rubio, Mitchell, and Burchiel received honorary doctorates from the university. 
 This year's commencement marked the inaugural one for the College of Health and Community Well-Being, but the final one for Lieberman, who will be retiring this summer, ending a remarkable 12-year tenure as the institution's leader.  College deans and guests thanked her. 
Lieberman told graduates that this was their time to celebrate and asked them to feel free to make some noise. She also reminded them that every academic year she asks incoming students to major in a mission. She asked them to think again about their mission in life. Ona Nwachie, who earned a master's degree in child life, screamed with excitement. Lieberman asked what her mission was. 
"To change the world," shouted Nwachie.  
Lieberman smiled and invited Nwachie's family to a VIP section to see their graduate walk.  
"Hold on to that mission and vision—stay focused on the legacy you want to create," Lieberman said, addressing all graduates. 
Encouragement to impact and transform lives was weaved throughout speeches.  
Under Secretary Kvaal asked LaFetra College of Education graduates to remember three lessons of leadership. 
"Treat others with humility and you will learn from them, maintain clarity and you will motivate them, remind others who they're serving, and you will inspire them," he said. "You will mold future generations and shape communities in ways that you can't fully imagine. In your classrooms, you'll maybe have a future secretary of education, a famous inventor, an award-winning author, a future teacher. You won't fully know it at the time, but you are going to change lives and you are going to change the world." 
Meanwhile, the Honorable Rogan, JD '01, shared three mile markers that would help College of Law graduates succeed in life – happiness, hard work, failure and character. She recommended that graduates make character a priority or first success as it would define their reputation. 
"Character is so strong an indicator that it is often inadmissible at trial. It is unduly prejudicial, it simply says too much," she said. "When you are in any situation, civility must be at the forefront. This will be your signature, the most important aspect that you will carry forward throughout your career. The way you do anything is the way you do everything." 
Senator Rubio shared how a series of challenging experiences shaped her future in becoming a strong, resilient leader.   
"Anything you set your eyes on, you can achieve no matter where you come from, your current circumstance, your financial status and the list goes on and on," she said. "The possibilities are endless." 
At the end of each ceremony, it is a University of La Verne tradition to move the graduation tassel from your head to your heart and officially become Leos for Life, joining the more than 89,000 alumni worldwide.
"Keep the light of your intellectual curiosity burning brightly. I have confidence that each of you has a limitless capacity for positive contributions to the world," said Lieberman. "We, at the University, along with your family and friends, are tremendously proud of each of you."  
Congratulations to the class of 2023! Watch the recording of all ceremonies at laverne.edu/commencement/livestream/.  
Photo gallery coming soon!
---