Enactus Students Promote Healthy Living in Pomona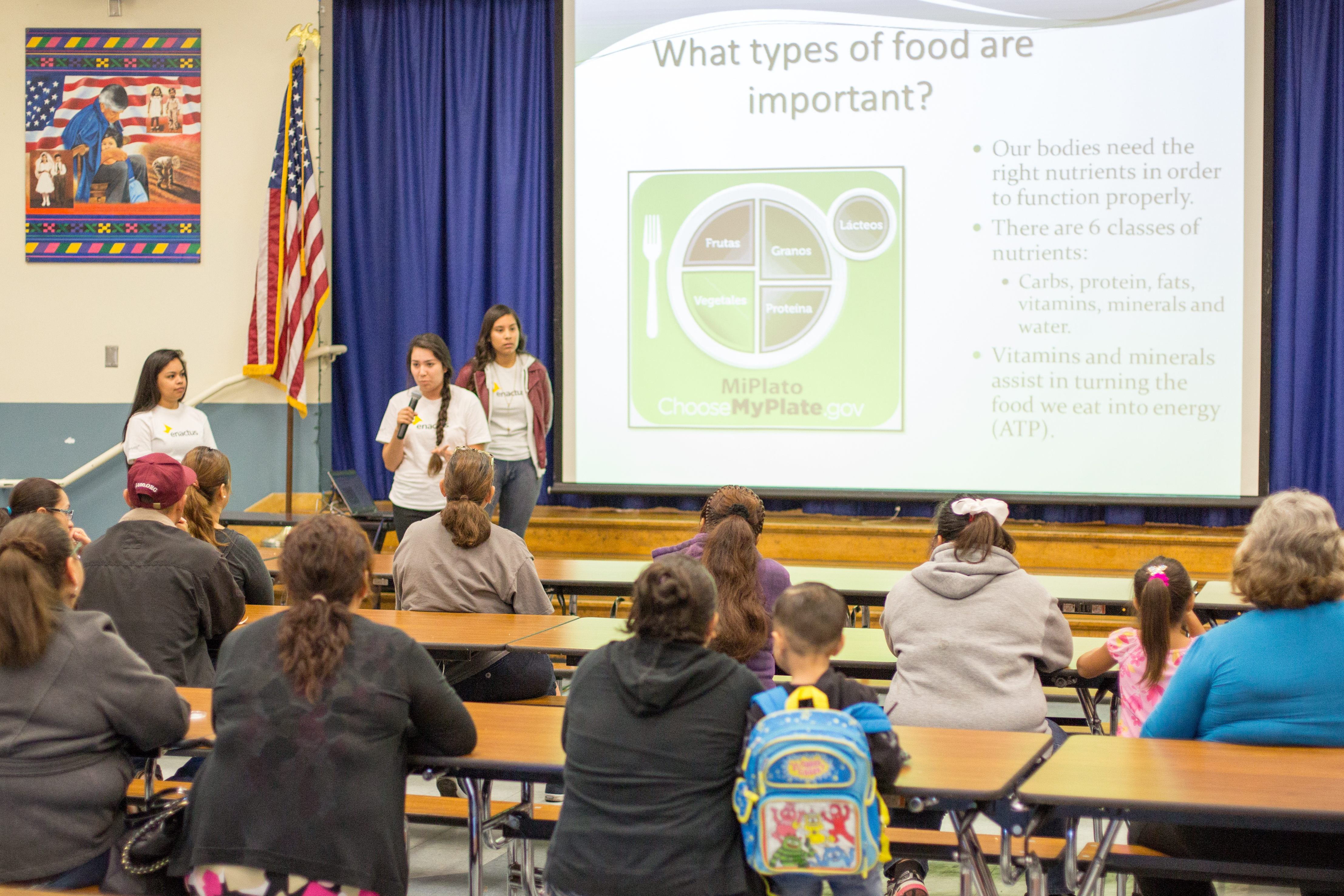 Is nonfat milk healthier than regular milk? Is diet soda better for you than regular soda? Is exercising every day necessary? These were some of the questions posed by parents who attended one of several health and nutrition assemblies held at elementary schools throughout Pomona Unified School District this month.
For the second consecutive year, the University of La Verne's Enactus team of entrepreneurial students have partnered with Pharmavite and Nature Made to provide health-driven workshops for students and parents from Pomona and local communities.
At La Verne Science and Technology Charter School in Pomona, children quickly raised their hands when asked if they ate fruits and vegetables. Students also admitted to liking donuts, chips and cupcakes.
"You have to know what kind of foods you need to eat so you can be healthy and strong," said senior Esmeralda Sanchez, a business major and Enactus project manager.
Sanchez also emphasized the importance of water as a vital source of hydration and replenishment after exercise.
"I like to drink water and orange juice because orange juice has vitamin C," said first-grader Maleiah Reeves.
La Verne business major Mariano Padilla said daily exercise is necessary, but some people claim they don't have time to do it. He told children they have an ideal time for fitness.
"A perfect time to get exercise is during recess," Padilla said.
Enactus students hosted several assemblies during November, making their presentations in both English and Spanish for students and parents of Philadelphia Elementary, La Verne Charter and San Jose Elementary schools.
"It is a step in the right direction where our students feel, learn, and apply their social responsibility to the community that needs them the most," said Issam Ghazzawi, associate professor of management and Enactus advisor.
Approximately 1,000 K through 8 students and their parents throughout the Pomona Unified School District were served during this project.
---