Lessons On and Off the Gridiron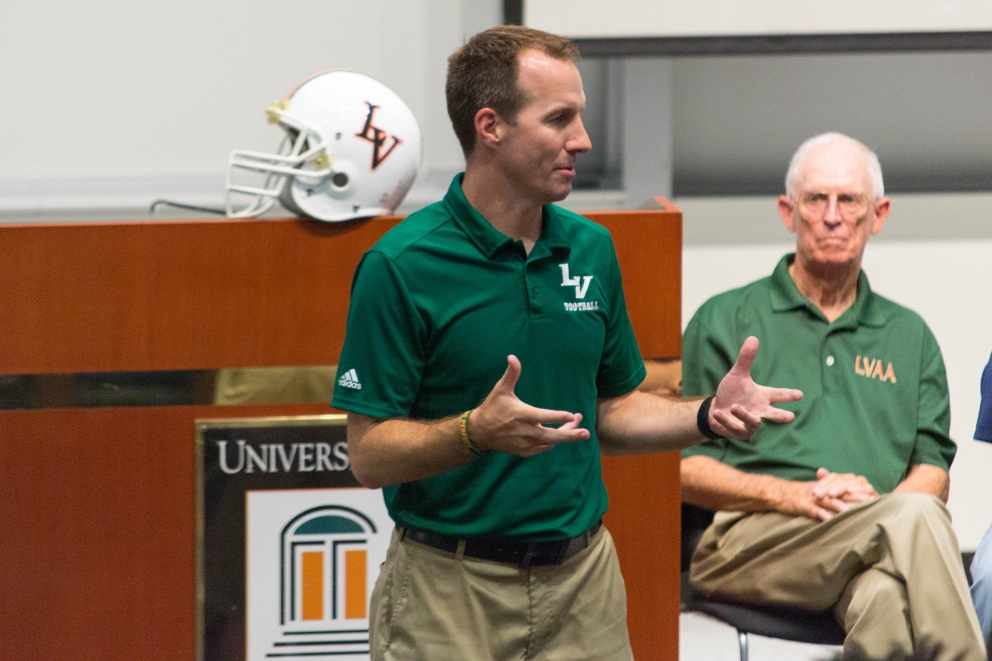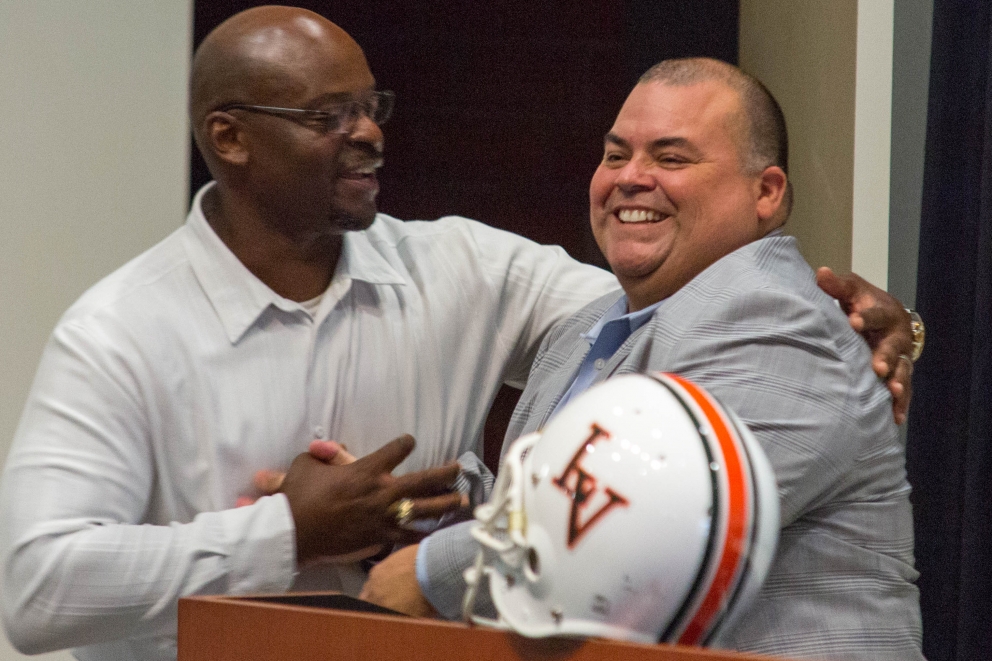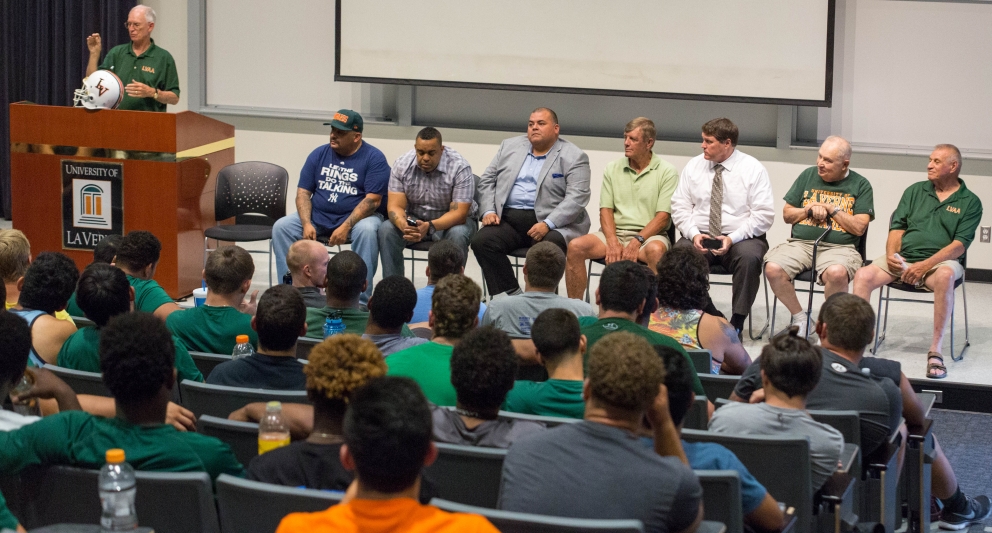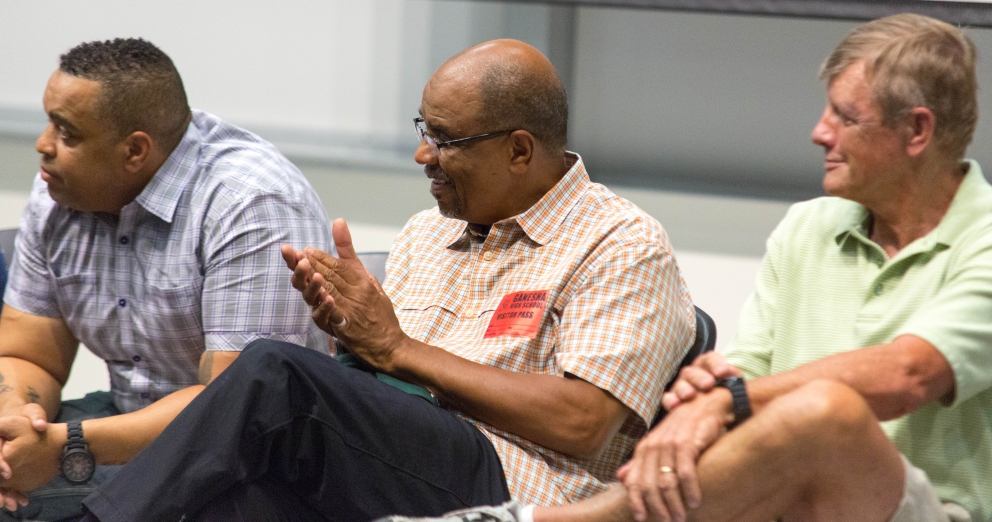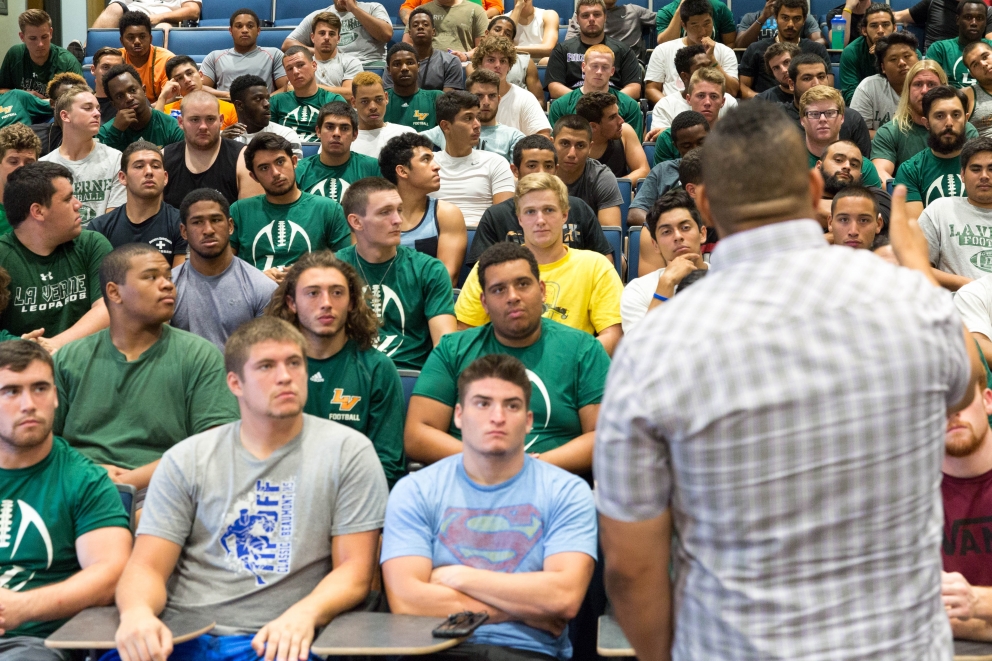 When Mario Perez came to the University of La Verne as an offensive lineman for the football team in the late 1980s, he had gone against his high school counselor's advice to go to a trade school due to his grades. Despite making that bold first step toward a University education, the first-generation student still felt apprehension.
"I came to La Verne scared," he said.
Perez not only graduated, but he went on to work in public relations for the Oakland Raiders and currently serves as Associate Vice President of University Advancement for Cal State Los Angeles.
It was one of many stories of wisdom and overcoming adversity current athletes heard while kicking off the 2015-16 season of Leopards football. Former coaches and players spoke to 108 current players who packed into La Fetra Hall on Aug. 25. And at the team's first practice three days earlier, players gave a fully-uniformed University of La Verne President Devorah Lieberman a lesson in the art of punting.
"People who win never, never phone it in," she told players during practice. "They never say 'I'm going to show up and be mediocre.'"
Lieberman also attended the Football Legends lecture, and praised the speakers for sharing their stories.
Nine former coaches, players and longtime La Verne football announcer, Bob Dyer, spoke of the legacy left by the late Coach Roland Ortmayer, whose name graces the La Verne football stadium. They spoke of lessons transcending the game itself, the value of brotherhood and networking.
Networking with the La Verne community – past and present – opens doors to jobs, said former Coach Emmett Terrell, who along with Bob Dyer, serves on the University of La Verne Board of Trustees. Terrell is a retired Deputy Superintendent for the Pomona Unified School District.
"I hired a lot of La Verne people," he said.
<a href="https://www.youtube.com/watch?v=oxlBMODYqRA&feature=youtu.be">http://www.youtube.com/watch?v=ABCDEFGH</a>
Former player Tim Lopez, who now works in law enforcement, described himself as a student with a bad temper when he first came to La Verne. But the guidance and mentorship of his coaches and the connections he made with teammates shaped him into better person.
"I owe a lot of my friendships in life to a simple piece of pigskin," Lopez said.
Former Coach Rex Huigens told players that the football program, and being at La Verne in general, shapes students to become successful in their lives and careers. He urged athletes to take ownership of the program.
"My challenge to you is bring Leo Pride back," he said. "You guys can do it."
---