University of La Verne to Partner with Hague Institute for Global Justice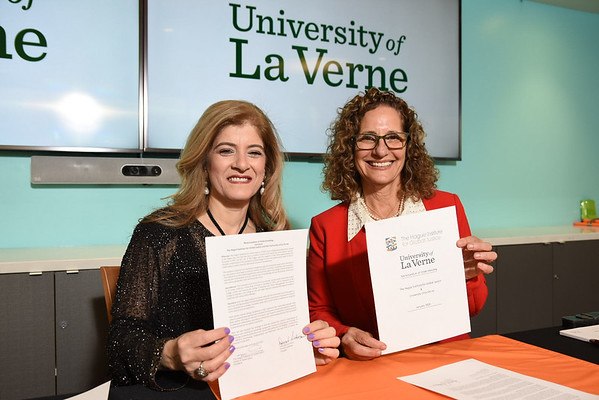 The University of La Verne and the Hague Institute for Global Justice have entered into an agreement to explore partnerships around areas of common interest.
Devorah Lieberman, president of the University of La Verne, and Lady Sohair A. Salam Saber, president of the Hague Institute, signed documents to formalize the relationship during a ceremony on the university's La Verne campus on Jan. 31, 2020.
The two organizations will explore partnerships around student internships, shared facilities, and other areas.
"The University of La Verne and the Hague Institute share a commitment to improving our communities and the world," Lieberman said. "The opportunities for collaboration between our two organizations are limitless. I am beyond excited about what we will accomplish together."
The Hague Institute for Global Justice is an independent, non-profit organization based in the Netherlands that aims to shape discourse and bridge gaps between research, policy and practice on global issues at the critical intersection of peace, security, and justice. Through its partnerships, the institute aims to contribute to, and further strengthen, the global framework for preventing and resolving conflict and promoting international peace.
The Jan. 31 ceremony marked a return visit to the University of La Verne for Saber.
In November, she was the inaugural speaker for the launch of the university's new Ludwick Center for Spirituality, Cultural Understanding, and Community Engagement.
The center promotes religious and cultural tolerance and serves as a gathering place for students, faculty, and friends to reflect, meditate, and engage in dialogue.
---