University Ready to Welcome Students for a Remote Fall Start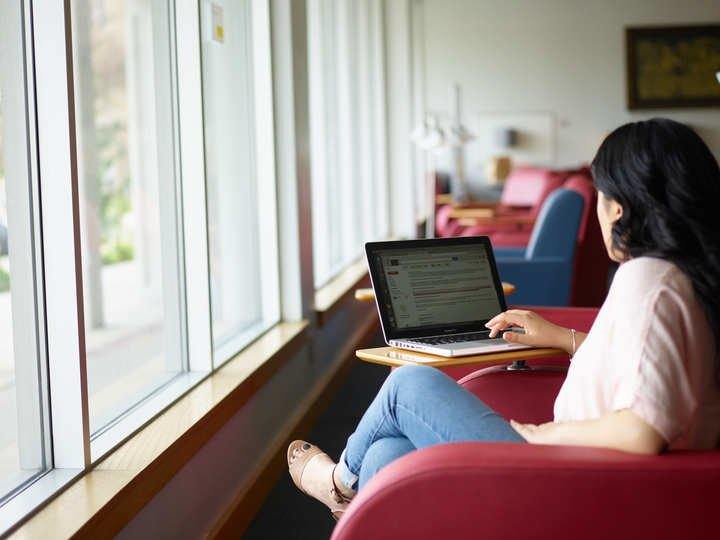 As the University of La Verne prepares to start a new academic year with remote teaching and learning, faculty and staff are creating innovative courses and out-of-class activities to ensure a robust and supportive experience for students.
From video chats with professors to virtual painting nights, students this fall will stay on track toward graduation while also remaining immersed in the tight-knit community that has come to define the university for nearly 130 years.
"It's been amazing to see how truly invested our faculty and staff are in our students," said Jeremy Schnieder, director of the Center for Teaching and Learning (CTL). "They are willing to provide support by any means possible."
Over the summer, educators engaged in a series of online technology trainings and content workshops to help adapt their online classroom instruction. Professors came together with university leaders and trainers in an interdisciplinary effort to redesign their class structures in a matter of months. By focusing on intentionality, resiliency, and determination, courses were upgraded with a better understanding of online advancements in order to provide a quality, accessible learning experience for the variety of learners they serve.
Schnieder and the CTL have been central to helping faculty make the transition to effective remote teaching. The center has provided training not just on technology, but also holistic support for students, such as through workshops on teaching through trauma and healing.
Effective remote teaching is not about using all the technology that's available, it's about integrating the right amount of technology into the classes, and making sure professors know how to best use it, said Elizabeth Wellins, an instructional designer with the CTL.
"Professors' comfort and confidence is what will project onto students for better learning outcomes," she said.
That confidence is already shining through. By shifting from the traditional classroom setting, professors are creatively fitting the modern classroom into the home-learning environment. Artists are finding ways to create with resources from home, dancers are learning movement through recordings, scientists are studying molecular structures through apps, all in ways that advance knowledge through collectively humanized experiences.
Staci Baird, assistant professor of rhetoric and communication studies, reshaped her social media communications class to focus on digital advocacy for local nonprofits. She has adapted her class Making Social Media Matter around the idea that learning does not only happen for an hour in a physical classroom; it is a result of a varied, habitual learning lifestyle.
"Real-time interactions, one-on-one dialogue, this is what personalizes a student's learning, not just lectures and tests," Baird said. "I've even had increased communication with my students through remote learning, because I am meeting their needs when they are most engaged and available."
Baird has tailored her class to support learners by providing "smaller, more digestible content through different modalities" with the goal of helping students understand large concepts together in different ways. She is also using the messaging platform Slack in her remote classes to support her "open-door" policy toward students.
Teresa Martinelli, professor of business management and leadership, is preparing her graduate students for career readiness in her four business courses. She transitioned to remote instruction with ease, thanks to her years of former online teaching experience, open office hours, technology integration, and her graduate students' willingness to learn.
"The quality of deliverables from my students went up 70 to 80 percent once we went fully remote this spring," Martinelli said. "I was enthralled to see the engagement."
Martinelli used online tools to provide real-time and pre-recorded coursework to suit her students' needs. By using the free Microsoft software Flipgrid, she has recorded and shared questions for her students, who respond on their own time through video.
"There is a digital conversation that takes place with audio-visual cues," Martinelli said. "They are not just typing a response, which makes students feel more connected."
Martinelli also uses Webex and Zoom online conference software for group projects and discussions.
Outside of coursework, staff are launching entertaining and community-building student experiences.
Virtual events, beginning on August 26, will provide students the opportunity to meet classmates and do activities such as a virtual 5k or virtual paint night.
Leadership pop-in events will also take place for new students to learn how to get involved with clubs and organizations such as student government, campus activities, and Greek life. Details on fall events, including information on a virtual club fair and welcome week, will be shared on Instagram and elsewhere.
"We are in this together, and I am proud to see what our students, faculty and staff continue to accomplish," University of La Verne President Devorah Lieberman said. "This is what makes us one community."
Students and faculty who need academic technology support can access it through a new online portal on the Wilson Library website.
Additional information about the novel coronavirus and resources available to the university community can be found at laverne.edu/coronavirus.
---