University of La Verne Celebrates Graduates with Drive-Through Parades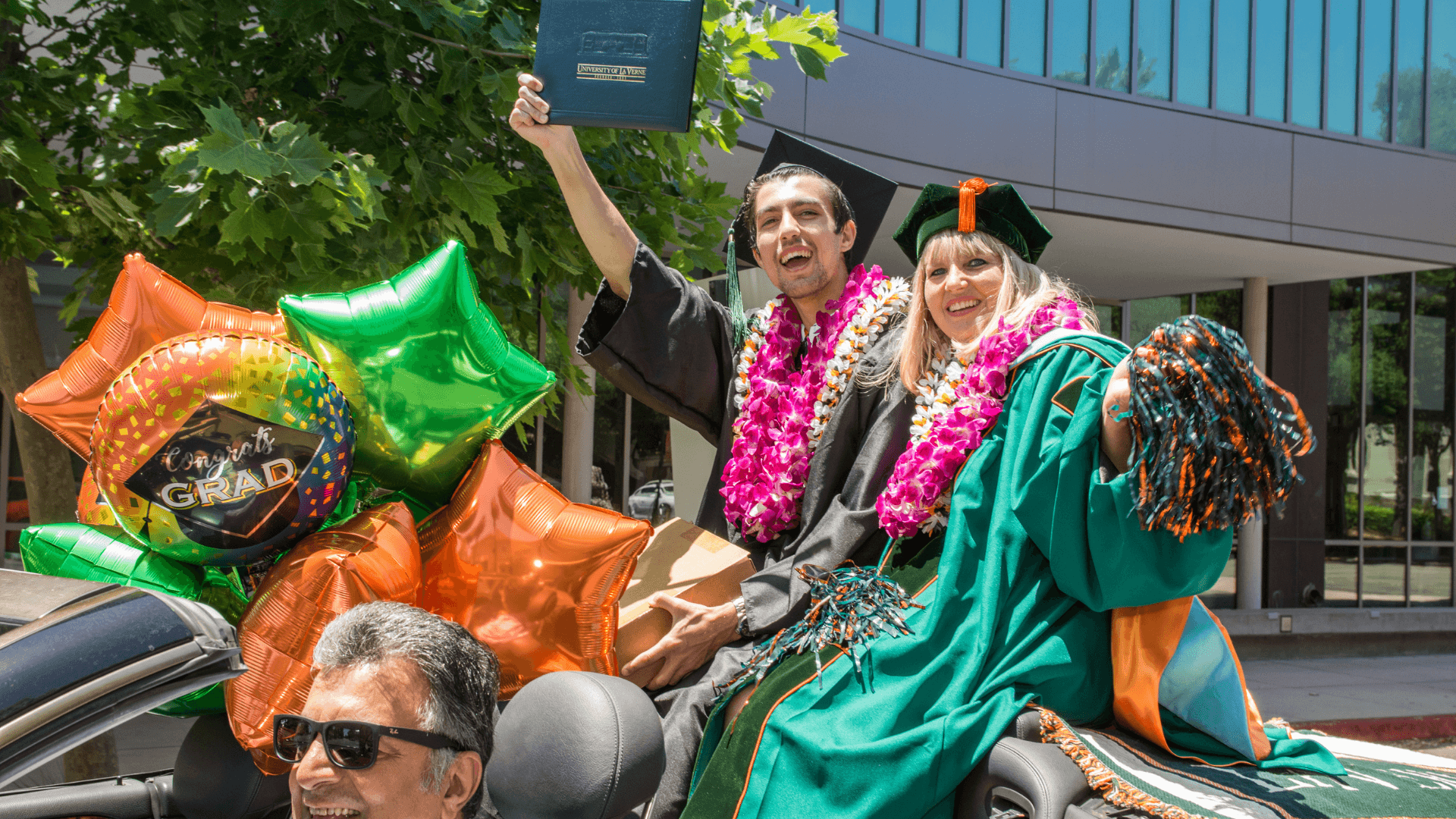 A total of 368 cars—more than one per minute–filled with spring 2021 graduates and their entourage paraded through the University of La Verne campus on May 23 to celebrate their academic achievement. Another 271 carloads joined a similar drive-thru on May 15—the first in-person graduation events held on campus since the pandemic began in early 2020. Adding in drive-through events held on the College of Law and Bakersfield campuses, more than half of the university's spring 2021 graduates took part in the celebrations.
Creativity was on display in their decorated vehicles, including many with balloons and one with a giant mortarboard on the roof. Each graduate heard their name and the degree they were receiving read by the emcee as they stopped in front of the Abraham Campus Center to receive a gift box from the university. Faculty, staff, and mascots cheered along the route—staying socially distant, of course. Afterward, the graduates and their families and friends could have a professional photo taken on a decorated stage.
"What a joyous way to end this crazy year, welcoming our new grads into the Leo alumni family!" said Kim Grant, assistant vice president for alumni engagement. "To see our students' faces light up, their families cheering in cars, faculty and staff literally dancing in the street—wearing masks, of course—was a memory that none of us will ever forget."
The "Grad Gift Box" debuted at the university in advance of the first virtual commencement in January 2021 as a way to help graduates create a DIY celebration at a time when COVID-19-related restrictions on public gatherings made it impossible to hold traditional graduation ceremonies. The boxes contain a commemorative glass, Class of 2021 tassel, an alumni license plate frame, a diploma holder, and more. Those unable to come to campus for the drive-thru parades receive their gift box by mail.
"I was initially disappointed, like many others, to be graduating during a fully online semester," said Taylor Austin, who is receiving a bachelor's degree in educational studies. "But the University of La Verne has gone above and beyond to celebrate their graduating students. The drive-through celebration really did feel like a celebration." The event, she says, "gave me the opportunity to celebrate with my parents and siblings on campus. The pictures I took will be ones I cherish forever."
This was the first of three events planned for University of La Verne graduates this spring. Virtual commencement ceremonies for the university's four colleges will be held on May 29. Then, on June 12 at San Manuel Stadium in San Bernardino, graduates from spring 2020 and winter 2021, along with current graduates, will be able to participate in an in-person regalia event. At last, they can walk across the stage and hear their name read aloud, accompanied by the cheers of family and friends.
Gallery of Images
---