University of La Verne Celebrates In-Person Commencement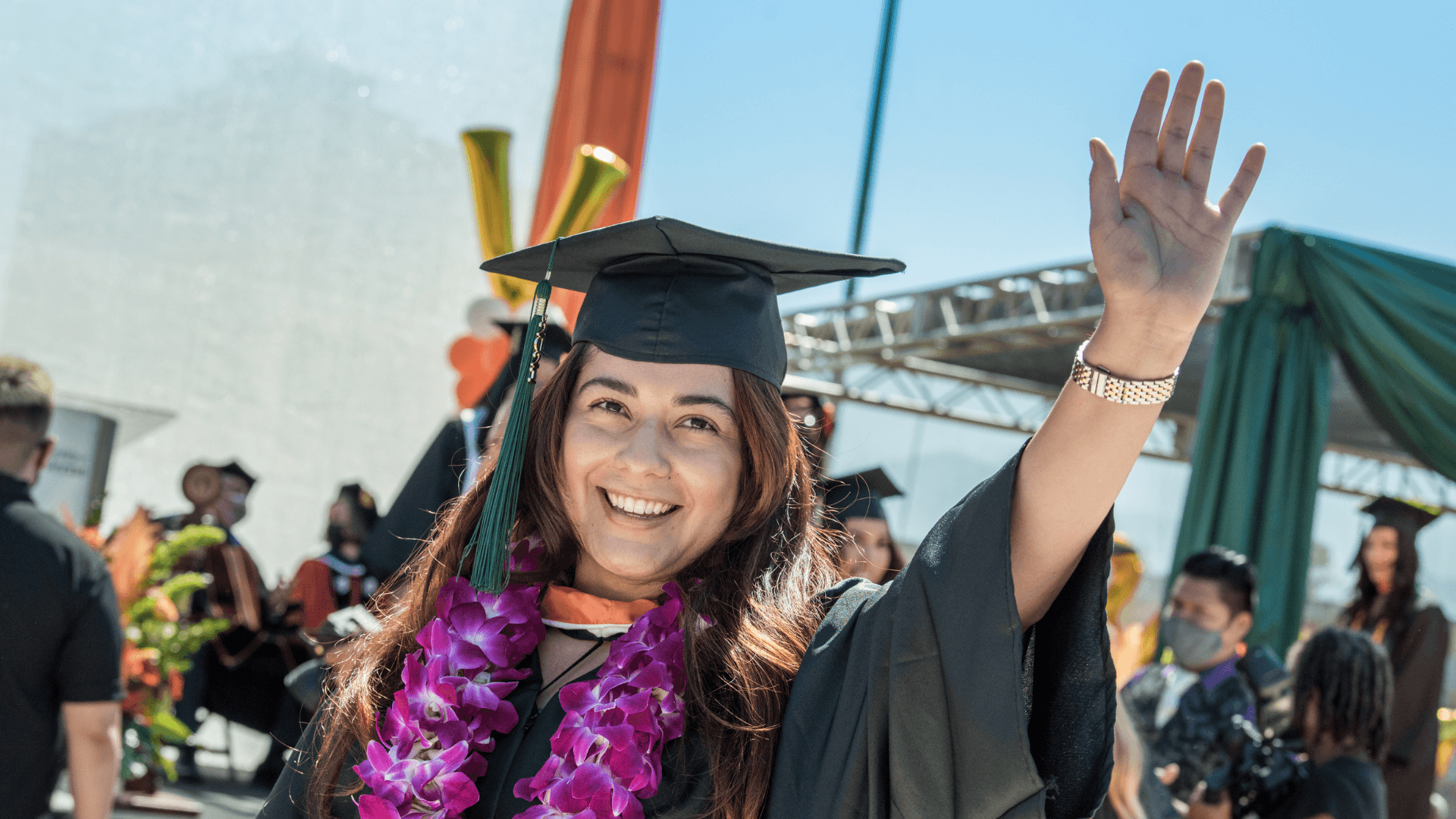 The University of La Verne graduates of spring 2020, and winter and spring 2021 finally had their day in the sun—literally—on June 12 as they proudly marched into San Manuel Stadium in San Bernardino for in-person commencement ceremonies. The easing of statewide restrictions on large outdoor gatherings made it possible for the university to hold an in-person graduation ceremony for the first time since pandemic-related closures began in March 2020.
"The in-person ceremony was everything I could've hoped for," said Elizabeth Galioto '20, who earned a bachelor of science degree in sociology. "It gave me closure for my senior year getting cut short. My name being called and walking across that stage is a moment I will cherish forever. I am so thankful University of La Verne gave us this opportunity and didn't forget about the 2020 grads. I am a proud Leo for Life."
Jasmine Jancan '20 noted that "it meant a lot to me being first generation to walk and have my family there to celebrate with me." And, she added, "it also meant the world to see all my friends again and, in a sense, bring closure to my undergrad years." Jancan earned a bachelor of science degree in criminology. "I felt like I didn't get the live some of my college 'lasts,' so getting to walk, even being a year later, gave me that one last memory," she said. "It was very special to me."
To accommodate the approximately 1,500 graduates who wanted to participate, the university held ceremonies at 9:00 a.m., 1:00 p.m., and 5:00 p.m. Each graduate could request up to four tickets for family and friends. The ceremonies included the traditional entry to "Pomp and Circumstance," remarks by university President Devorah Lieberman, the alma mater school song, and the turning-of-the tassel marking the transition from student to graduate.
The proudest moment came, though, as each graduate's name was called as they walked across the stage. It was a moment to savor, and one that many perhaps thought they would never get to experience. "The school did an outstanding, phenomenal job," said Giovanni Trejo, MS '21. "This is a closure of one chapter in my life, and an opening of a new chapter."
Missed the in-person commencement? Relive the experience by clicking the ceremony links available at laverne.edu/commencement.
---