Professor Wins Prestigious Athletic Training Educator Award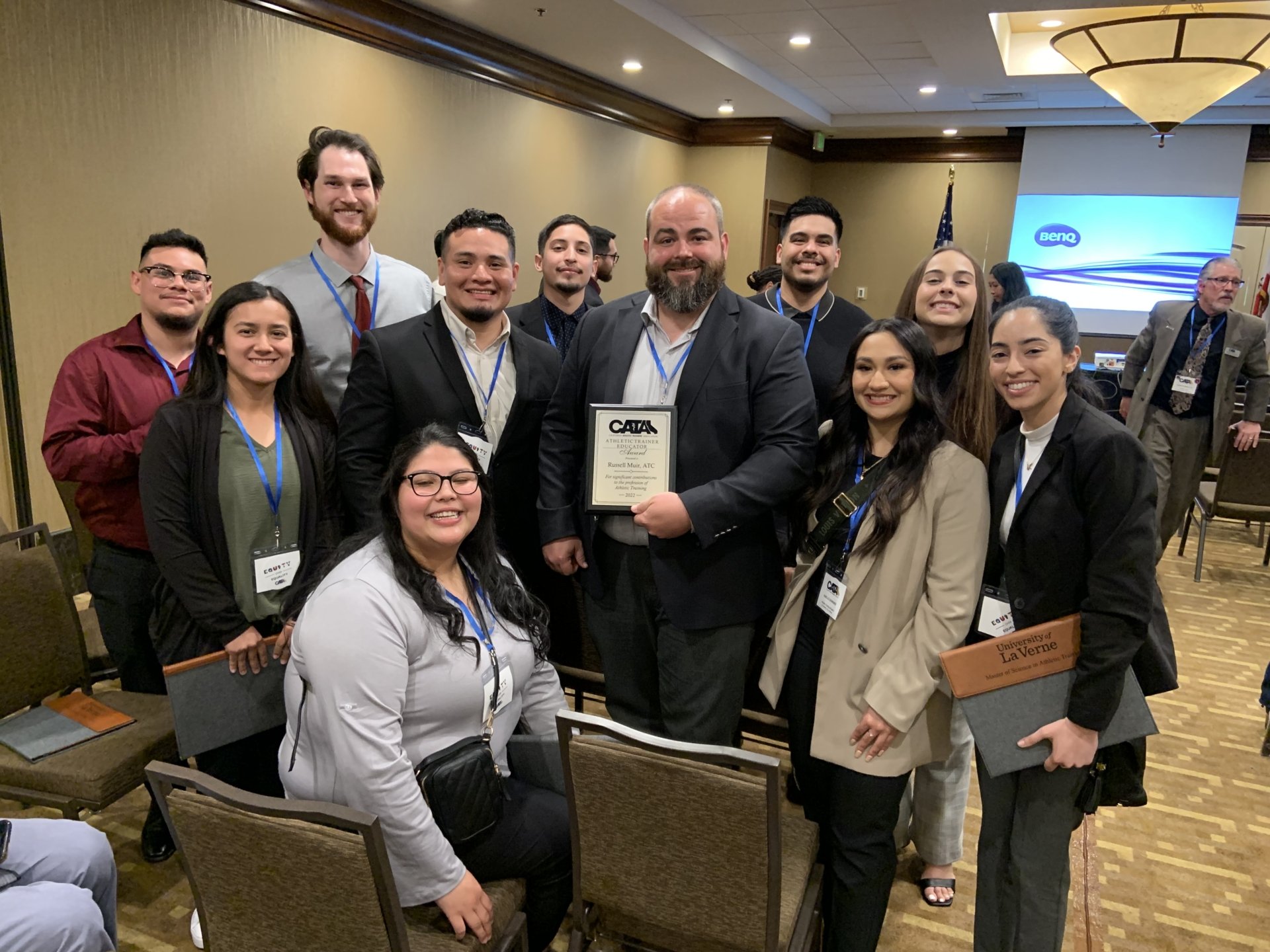 University of La Verne Professor Russell Muir won the Athletic Training Educator Award during the 13th annual California Athletic Trainers' Association (CATA) Meeting and Clinical Symposium in Sacramento, California over the weekend.
The award is given to teachers or preceptors who make significant contributions to athletic training education and demonstrate exceptional dedication to students.
Muir has been an anchor within the department for four years and is widely regarded for his dedication to students. He has instructed many trainers in the graduate program who have gone on to have successful careers in the field.
In accepting the award, Muir was "ecstatic and humbled" to hear cheers of support from his colleagues and students in the audience of about 250 trainers and students from throughout the state. He also shared his satisfaction for the services the department has provided to create meaningful and fulfilling student experiences.
"The growth of the program has allowed us to find our own path and do things in different ways to accomplish great things," Muir said. "We feed off of each other and aim to put forward the best product for our students."
Alongside Muir's accolade, both he and Megan Granquist, professor of kinesiology and director for the athletic training program, were invited as speakers for the annual meeting. Muir presented on "Integrating Social Determinants of Health into Clinical Reasoning" and Granquist presented on "Incorporating Interfaith Concepts in Athletic Training for Patient-Centered Care."
Muir's talk was inspired by research he conducted with his colleagues as an inaugural member of the Randall Lewis Center for Well-Being and Research's Faculty Research Fellowship.
"These presentations not only incorporate current topics, but very much align with the mission and vision of the College of Health and Community Well-Being," said Kathy Duncan, interim dean of the college.
Twelve students participating in the master's in athletic training cohort program networked with peers and future colleagues during the conference, setting foundational groundwork to become the next leaders in the profession.
To learn more about the Master of Science in Athletic Training, please visit health.laverne.edu/msat.
---